What's Up With Miley Cyrus and Cody Simpson? The Two Cozied Up For A Romantic Movie Night
Things are getting romantic between Miley Cyrus and Cody Simpson, and fast. After hew recent split from Liam Hemsworth and Kaitlynn Carter, Cyrus is moving on whether anyone likes it or not.
When did Miley Cyrus and Cody Simpson get together?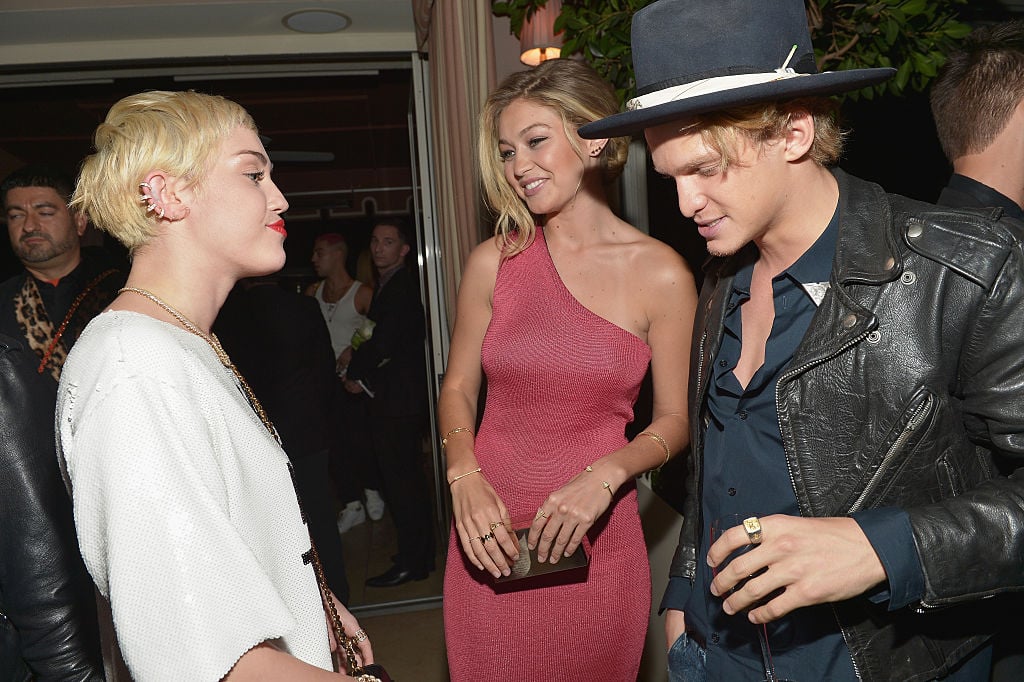 A video interview resurfaced from 2012 that shows Simpson's crush on Cyrus way back then.
"Miley Cyrus has always been my childhood celebrity crush," he told Fuse. "I know all the words to her songs, I'm not gonna lie. I'm not ashamed about it at all."
He added, "I was a big Miley Cyrus fan and I think she will be forever the most date-able Disney star."
That's all it took for Cyrus and Simpson to become friends. Simpson even leaned onto Cyrus for support when it comes to living in the spotlight. The friendship gradually evolved.
Maybe this new relationship between Cyrus and Simpson was written in the stars long before Cyrus's marriage to Hemsworth or fling with Carter.
Miley Cyrus and Cody Simpson had a romantic movie night in over the weekend
E! News reported Cyrus and Simpson got cozy with a romantic movie night this past weekend. Their film of choice was one of Cyrus's favorites, Blue Hawaii, starring Elvis Presley.
Simpson posted to his Instagram Story Sunday with the caption, "more today than yesterday." The clip showed the couple snuggling and singing along to "Ku-U-I-Po."
Cyrus previously shared her love of the film, saying Elvis was a big inspiration for her album, Younger. She even went as far as honoring him through fashion.
Before the movie night, Cyrus and Simpson sent the internet into a frenzy with their affection.
"Pre swim breakfast courtesy of baby," Simpson captioned a photo showing his meal. You can assume "baby" is Cyrus. That aside, the two couldn't keep their lips off each other while out and about in Los Angeles.
A source told E! News Cyrus and Simpson came into a store "real quick" to grab food and drinks and also shared a "quick kiss."
Some speculate Cyrus's recent relationships are a publicity stunt draw attention to her single, Slide Away" and video for "Mother's Daughter." Either way, Cyrus is intent on doing things her way.
How do Miley Cyrus's exes feel about her new relationship with Cody Simpson?
Critics didn't shy away from knocking Cyrus for moving on with Simpson so quickly after her breakups with Hemsworth and Carter. She took to an Instagram Story (and Twitter) to fight back.
"Can a girl not get a f**king açaí bowl and a morning make out session in peace?!?!" she posted Friday.
She continued, "This 'dating' thing is new to me too. I've never been an 'adult' / grown ass woman experiencing this…I was in a committed relationship for almost all my teens and early 20s; with the exception of a few breaks, which usually in those times I was working my ass off with not much R&R…and 'meeting / trusting' people in my position is really tuff. Don't f–king pity me, not what I'm asking for."
She added, "I have a great life I wouldn't trade for 'privacy' but PLEASE don't make this awkward for me! I am trying to make light and like always MAKE FUN of myself / and the public's perception of me! Get used to me dating – this is where I am at! #HotGirlFall."
So how do Cyrus's exes feel about all of this? While Carter isn't "bothered" by Cyrus's relationship with Cody Simpson, TMZ reported, "Kaitlynn has expressed concern over Miley's behavior to friends … and she's worried for her well-being."
Cyrus and Carter broke up in September but a source previously told People they've "been friends forever." Cyrus reportedly wanted to focus on her career.
The pair's relationship was confirmed the day Cyrus's representatives confirmed her split from Hemsworth. Carter ended things with her husband, Brody Jenner around the same time.
As far as where Hemsworth stands, he and Cyrus will finalize their divorce soon. For now, Cyrus and Simpson will likely continue documenting their budding romance.