The Real Reason Miley Cyrus Joined The Cast of 'Black Mirror'
Love her or hate her, you can't deny that Miley Cyrus has undeniable talent. Having been in the spotlight for over half her life, the musician got her start acting and singing on the hit Disney show, Hannah Montana. Cyrus played the role of Miley Stewart; a tween who was secretly living a double life of a pop superstar. Shortly after the show's premiere back in 2006, Cyrus developed a cult following and the show continued for five more years. Though the "Mother's Daughter" singer took a break from her acting career, she recently returned to the small screen as Ashely O on the hit Netflix series, Black Mirror. But what exactly enticed her to take on the role?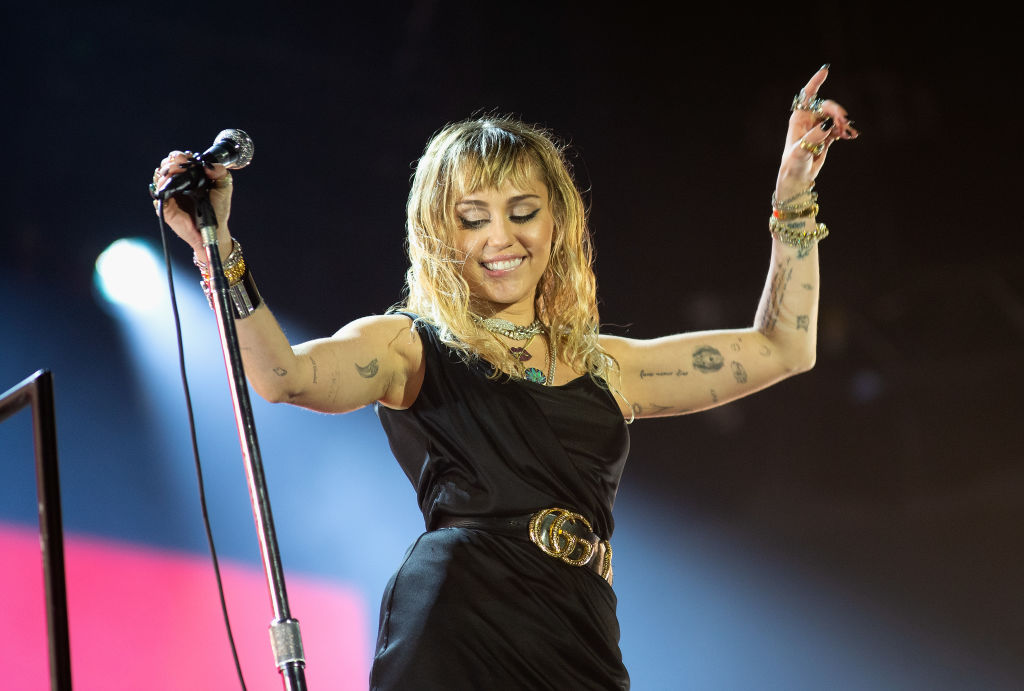 From Hannah Montana to Ashley O
In the latest season of Black Mirror, Cyrus plays the role of Ashley O, an ultra famous pop star whose biggest dreams are to shed her pop persona and embrace her dream of making real music. Donning a bright lavender wig and chock full of endless smiles, people quickly noted that Ashley O's story is astonishingly similar to that of Cyrus'. Of course, fans weren't the only one who noticed the glaring similarities. Cyrus herself recently admitted that the character is based on her life.
Joining the Black Mirror cast
In a recent interview with ELLE Magazine, the "Malibu" singer opened up about how she came to be involved with the project. The 26-year-old said that Charlie Booker (Black Mirror's director and showrunner) approached her directly about the role to gauge her interest. "Yeah. They gave me the script and were like, 'Let us know if you're interested.' And I read it and was like, 'It's not even if I'm interested or not. It's just that no one else can play this because this is my life. Like, you just took my life.'" Cyrus confessed.
And Cyrus notes that the character of Ashley O doesn't just represent her past, but she also sees parallels with the character in her current life. She admitted that while she was making her upcoming album, She Is Miley Cyrus, there were instances where she felt as if she were Ashley O. "The character is me. They twisted it up the way they always do, but the industry is already pretty dark. And at times, I've definitely felt like Ashley O. I still do. Making this record, I felt like Ashley O at times" the "Can't Be Tamed" singer said.
Music industry
Cyrus then spoke of some of the challenges she faces as a female artist. Despite proving herself time and time again in the music industry, people are still questioning Cyrus' musical instincts. But, the singer has never been one to take no for an answer. She admits that she is adamant about challenging the norms and expectations and she sticks to her guns when she knows she is right. Her upcoming album definitely required the 26-year-old to assert will. She spoke a bit of the obstacles she had to overcome in order to make the record that felt honest and truthful to her.
Never Be Me
"I have a new song, "Never Be Me," and the chorus says, 'If you're looking for faithful, that'll never be me. If you're looking for stable, that'll never be me. If you're looking for someone that'll be all that you need, that's never going to be me.' When I first played it for Mark Ronson, he was like, 'You can't say that. You have guy fans, and they're not going to understand what you mean. I don't even understand what you mean.' And I'm like, 'But you wouldn't say anything about it if a man came in and played that record.' And then two days later, he hit me up and he's like, 'You're absolutely right. I totally get your perspective'" the "D.R.E.A.M." singer said.
She Is Miley Cyrus
It's great to see Cyrus standing by her vision for her artistry. It's been a treat to watch her embrace her past in a newer, darker way by way of Ashley O. We hope that Black Mirror inspires her to do more acting in the future. Until then, she's given us plenty of musical bangers to keep us satisfied.