How Miley Cyrus Is Breaking Tradition With Her 2020 MTV VMAs Performance
Singer Miley Cyrus is among the performers at the 2020 MTV Video Music Awards. She's made waves for her shocking, viral moments on stage at the award show in the past. Here's why Cyrus' involvement in the 2020 event marks a change from a previously established pattern. Miley Cyrus made a statement with her first …
Singer Miley Cyrus is among the performers at the 2020 MTV Video Music Awards. She's made waves for her shocking, viral moments on stage at the award show in the past. Here's why Cyrus' involvement in the 2020 event marks a change from a previously established pattern.
Miley Cyrus made a statement with her first VMAs performance
Though she had attended the award show as a nominee and a presenter in years prior, Cyrus made her MTV VMAs performance debut in 2013. First, she sang her song, "We Can't Stop." Then, she stripped down, and singer Robin Thicke joined her onstage for his song "Blurred Lines," in what quickly became the most-talked-about moment of the night.
The impact of Cyrus' performance impact was felt everywhere. Many parents of children who adored the entertainer for her role in the Disney Channel series Hannah Montana were outraged, and Cyrus discovered she has a robust platform on which she can make a difference. Meanwhile, MTV learned that the singer is a big draw for the VMAs.
She returned as the host of the award show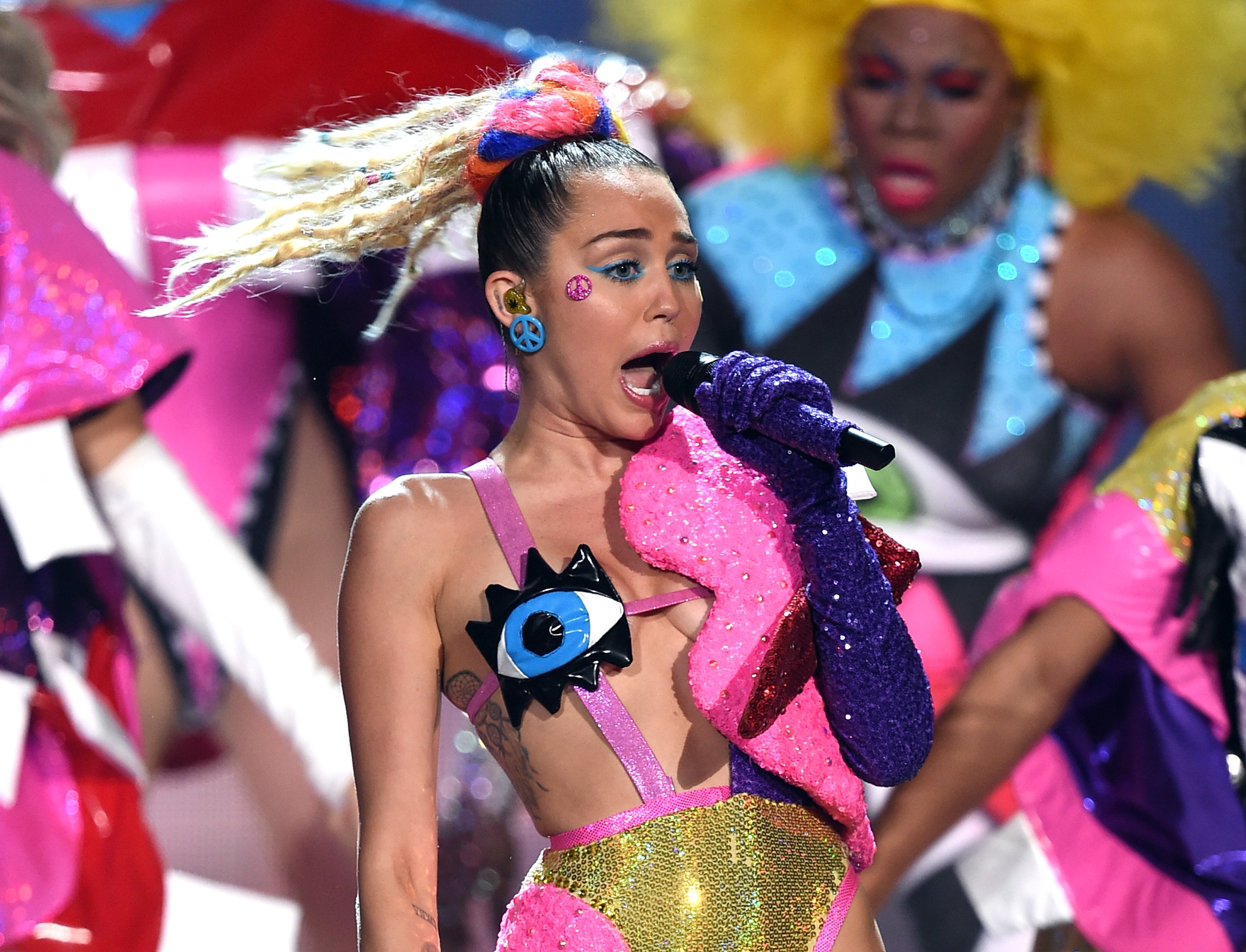 Cyrus attended the VMAs in 2014, where she received the top prize: Video of the Year for her single "Wrecking Ball." But she didn't return as a performer until the next year when she took the event by storm as host. Cyrus had multiple costume changes and more viral moments, including her exchange with Nicki Minaj.
In addition to all of the above, the artist closed out the night with a previously unheard song, "Dooo It!" This performance was even bigger than her 2013 one, and featured the band The Flaming Lips and contestants from RuPaul's Drag Race. Cyrus also announced her latest album, Miley Cyrus & Her Dead Petz, was free online.
She performed at the 2017 and 2019 shows too
Cyrus has performed at the MTV VMAs twice since her hosting gig. She sang the title track and second single off her album Younger Now at the 2017 award show. While still a very colorful performance (in more ways than one), it marked a decidedly different phase of her career, as she leaned into her country roots.
Then, in 2019, Cyrus skipped the theatrics. She attended as a nominee, but, at the last minute, MTV announced that the singer would perform her standalone single, "Slide Away," which she dropped just days earlier. Cyrus ditched her usual dancers and colors for a soulful vocal performance.
Cyrus' 2020 MTV VMAs performance of 'Midnight Sky'
At this year's event, Cyrus will again take on a recently released single. On August 14, the artist dropped her first solo song since "Slide Away," titled "Midnight Sky." And if the flashy music video for the disco-pop track means anything, her VMAs performance will be a return to form.
Cyrus has been open about doing things differently this time around, and the sheer fact that she's performing at the 2020 VMAs is proof of that. There's a pattern above: She's performed every other year in service of an upcoming album. Cyrus breaks that this year with "Midnight Sky."