Why Miley Cyrus Calls Godmother Dolly Parton a 'Superhero': 'She Just Found This Balance of Being'
Singer Miley Cyrus' 2020 album, Plastic Hearts, showcases her talent in a way no previous records have. It features rock legends Joan Jett and Billy Idol. But one musical inspiration who didn't quite fit is Cyrus' godmother, Dolly Parton. Still, Cyrus dished out plenty of praise for the country icon while promoting the album.
Dolly Parton is Miley Cyrus' godmother
Cyrus became famous for starring in Hannah Montana as Miley Stewart, who spends days with her friends and nights performing under the titular moniker. The series was something of a family affair — Cyrus' actual father, Billy Ray Cyrus, played her dad on the show. And her godmother, Dolly Parton, played a character known as Aunt Dolly.
Parton and Cyrus frequently praise one another in public. "Miley is dear to me," the former told Entertainment Tonight in 2019. "I think she's one of the most talented people I know. She's a great host. Her comedic timing is absolutely great. Great actress. She sings great. I just love her to pieces. I'm glad she's mine."
Cyrus says that music came naturally to her
Cyrus' journey from TV star to pop icon has seen her delving into different genres. Though she continued to act a bit after Hannah Montana, she's all about the music these days. Talking to Zane Lowe for Apple Music about Plastic Hearts, Cyrus explained how the industry is in her blood.
"My favorite part of the process is just singing and making music," she said. "I really don't know how I sing. I never really focus much on training or understanding or reading music. My grandma plays piano by ear. My dad plays guitar just by what he's taught himself. It's just — it's genetic."
She compared her talent to that of a superhero
As far as her lack of training, Cyrus had a metaphor for her experience. "My pitch is just there; I don't really think about it," she said of her voice. "I don't really know where it comes from." "It's just like Spider-Man discovering that if he goes like this, he's got the web," she added, making the character's infamous gesture.
The comparisons continued when discussing her showmanship. "Spider-Man, he's a showman, you know? He's an entertainer. So like you wanna see that show, you want the costume, you want the whole thing." Oddly enough, Cyrus is familiar with Marvel superheroes, having voiced Mainframe in Guardians of the Galaxy Vol. 2.
Why Cyrus calls Parton 'an ultimate icon'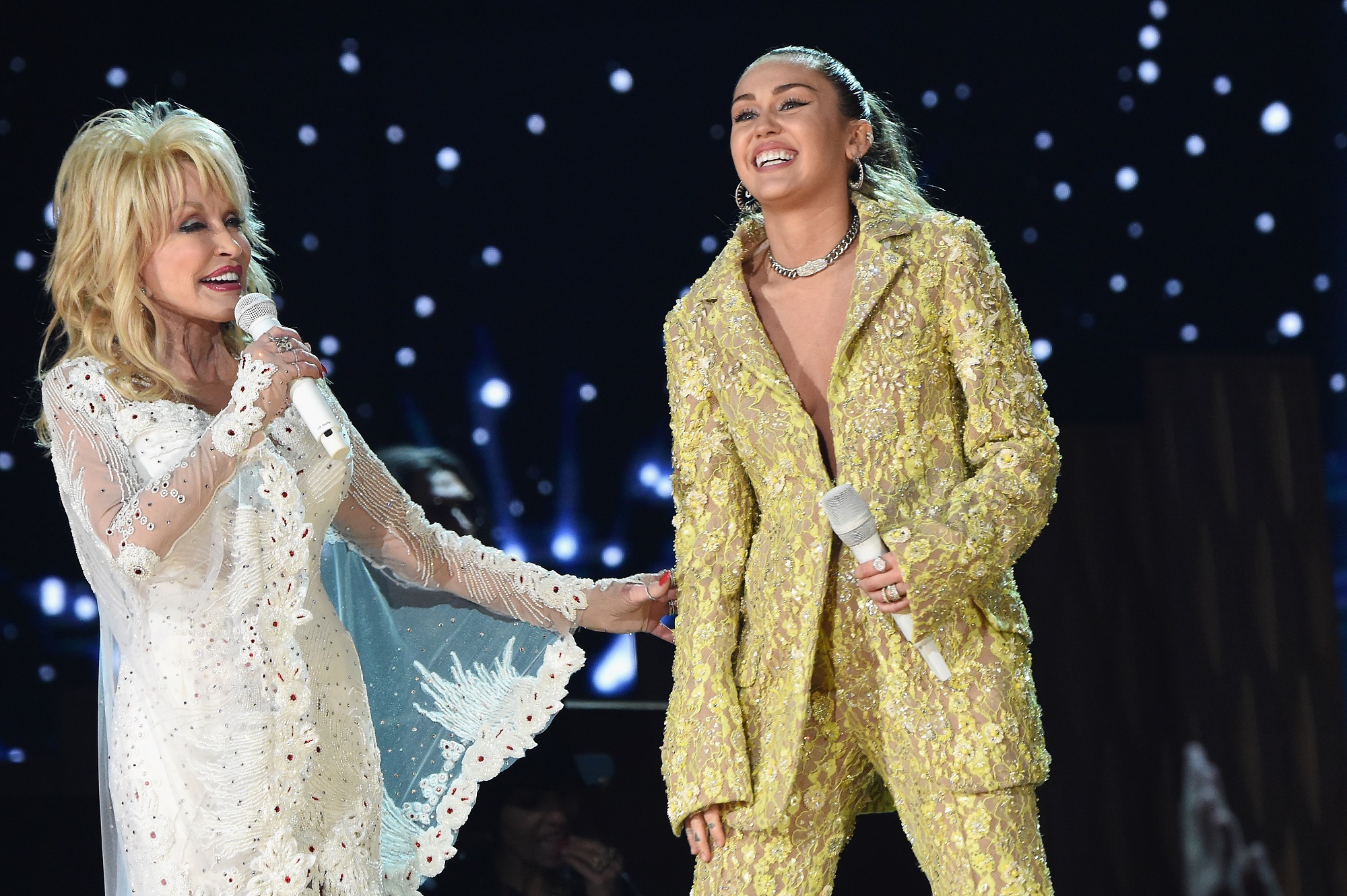 But Cyrus wasn't necessarily calling herself a superhero. She was referring more to people like her godmother. "That's why I f*cking love Dolly Parton, is because she has it all," the "Prisoner" artist continued. "That, to me, is just an ultimate icon. Because she's never lied. Her songs are the truth."
"Even if they don't resonate with her now — she's just detached from something she's written before, that's what happens when you have a career that's as expanded as hers," Cyrus added. "But she just found this balance of being. She is a superhero. Like she almost has a character. But it's true."