Miley Cyrus Debuts a New Breakup Tattoo Amid Liam Hemsworth Split
Did you watch the MTV Video Music Awards on Aug. 26? If not, you really missed out. Not only did Missy Elliott bring down the house with a career-spanning performance, but Miley Cyrus also debuted a new tattoo, which seems inspired by her recent split from Liam Hemsworth.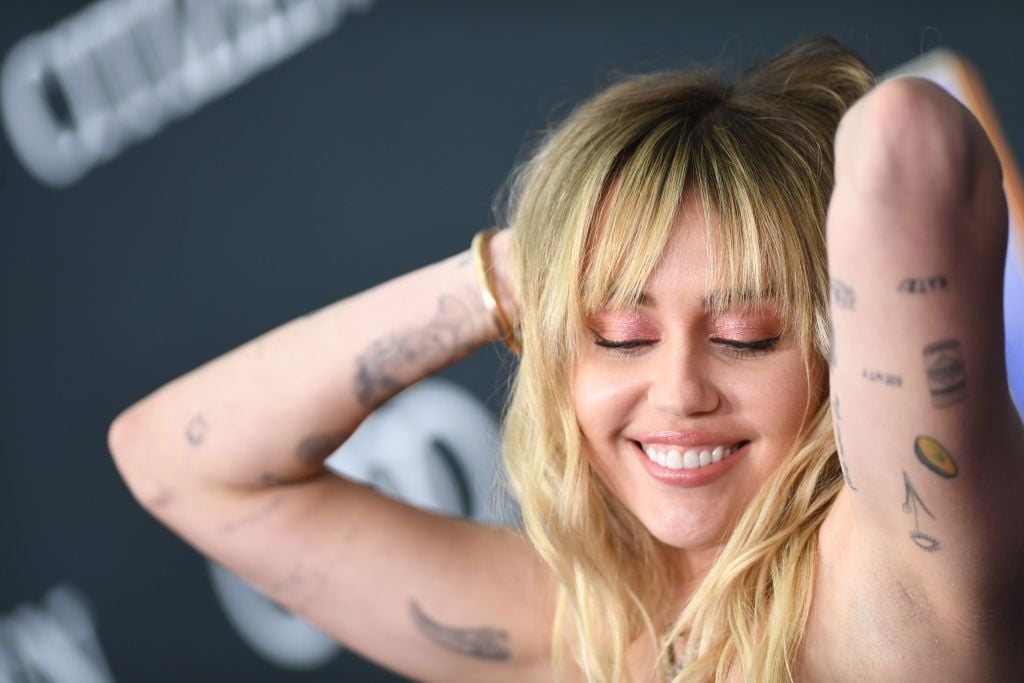 Cyrus' breakup tattoo is on her left bicep
Cyrus debuted the ink while performing her new song, "Slide Away," during the show. 
"My head was feeling scared, but my heart was feeling free," it reads. 
The lines are actually lyrics from a song called "The Thing" by alternative rock band the Pixies. People reports that the tattoo was done by celebrity tattoo artist Winter Stone.
The meaning of the tattoo
We can't say what the exact meaning of the ink is. However, it seems obvious that it's about her split from Hemsworth, whom she dated for about 10 years. 
The lyrics align with comments a source made to People on Aug. 21 about how the singer was doing amid the breakup.
"She didn't expect it and is a bit disappointed, but she is still doing well and has obviously moved on as well," the source said.
"What she and Liam had for a long time was very special," the source continued. "It's just hard for her to think that she will never have this again with Liam. There are really so many things that she loves about him."
Another insider added to Entertainment Tonight that, "Miley doesn't want to answer to anyone. She still feels the need to explore herself, her sexuality, and her music. Miley has been working in the studio and wants to blow off steam."
The ink comes days after Hemsworth filed for divorce
The Hunger Games actor filed for divorce on Aug. 21, citing irreconcilable differences. The move came shortly after they announced their separation, and after Cyrus was seen making out with Brody Jenner's ex, Kaitlynn Carter.
"Liam's decision to file for divorce is sad, but in the end, it was never going to work," a source told Entertainment Tonight on Aug. 21. "They are too different. Liam never wanted to share Miley with anyone. He loves her and he is far too traditional. He finally realized he just wants to start fresh."
"Liam has come to terms that it was time to move on," the source continued. "Liam's family has been incredibly supportive. They are relieved it's over."
Cyrus and Hemsworth announced their separation just over a week before the divorce filing
Cyrus' representative had previously announced their separation on Aug. 10 with this statement:
"Liam and Miley have agreed to separate at this time. Ever-evolving, changing as partners and individuals, they have decided this is what's best while they both focus on themselves and careers. They still remain dedicated parents to all of their animals they share while lovingly taking this time apart. Please respect their process and privacy."
Well, folks, it looks like it's the end of an era. But they're seemingly just getting started with the tattoos.