Miley Cyrus Fuels Rumors That She and Demi Lovato Hooked Up During Their Disney Days
Miley Cyrus made some comments that have fans convinced she and Demi Lovato hooked up.
Disney gave us so many iconic friendships both on and off-screen, including Miley Cyrus and Demi Lovato. The pair met in 2007 during the production of Hannah Montana and went on to become good friends. But was there more to their relationship than the stars let on?
Cyrus has fans convinced that she and Lovato had a fling after she went on Instagram Live with the "Sober" singer and made what they call suggestive comments. Let's recap what happened below and then you can decide what you think about all of this.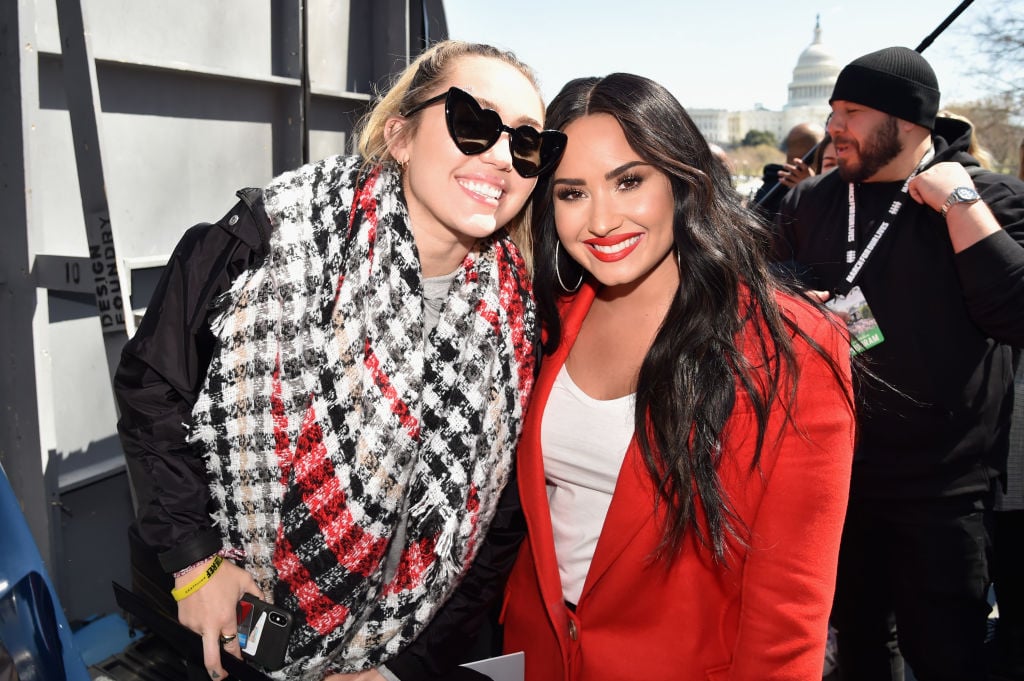 Watch Miley Cyrus' Instagram Live with Demi Lovato
Amid the coronavirus pandemic, which has forced people into isolation, Cyrus launched a new Instagram talk show, Bright Minded: Live With Miley, to keep her fans entertained.
During the week of March 15, she invited Lovato on the show and had a wide-ranging chat with the singer. They discussed everything from their past on The Disney Channel to their longlasting friendship.
"You've always been a light in my life and that's why we connected at 14," Lovato told Cyrus at one point in the conversation (via StyleCaster). "I had a f*cking gap in my tooth. And we still connected then because we just saw something in each other."
"Or maybe we were gay as f*ck," Cyrus said.
Cyrus' comment sent them both into a fit of laughs, with Lovato even turning red and covering her face. After a few moments of pure awkwardness, Cyrus finally moved on to the next question.
Some people are convinced something happened
Fans almost immediately rushed to other social media platforms such as Twitter to react to the comments.
"finding out that miley cyrus and demi lovato used to hook up is the best piece of news i've ever heard," one person tweeted.
"When Demi was talking about their relationship/friendship when they were younger and stuff saying that they had such a bond and Miley just said 'also we were gay af' I lost it," commented another.
While the two have yet to address these rumors, it seems likely that Cyrus meant that they are so close because they bonded over their sexuality — not because they had hooked up or anything of that nature. (Cyrus identifies as queer and Lovato is fluid.) But then again, who knows?
Miley Cyrus and Demi Lovato have moved on
Regardless of what might or might not have happened, these two are putting their past behind them.
They had a huge falling out around the early 2010s, with Lovato saying in a 2014 interview on The TJ Show: "I don't have anything in common with her anymore." But the pair reconnected in 2018 at the March for Our Lives gun control rally in Washington, D.C., where they posed for the sweet photo you saw above.
Read more: Miley Cyrus Opened Up About the Love of Her Life in This Sweet Instagram Post