Did Miley Cyrus Just Hint at a Collaboration With the Jonas Brothers?
Former Disney Channel stars Miley Cyrus and the Jonas Brothers have a history in common. Could they reunite over a decade later?
Musician Miley Cyrus has had quite a career. She got her start on the Disney Channel but has gone in many directions since. The Jonas Brothers have also had a similarly changing path throughout their years in the spotlight. So what are they all up to now, and is there a collaboration in their future? Let's find out.
Miley Cyrus and the Jonas Brothers go way back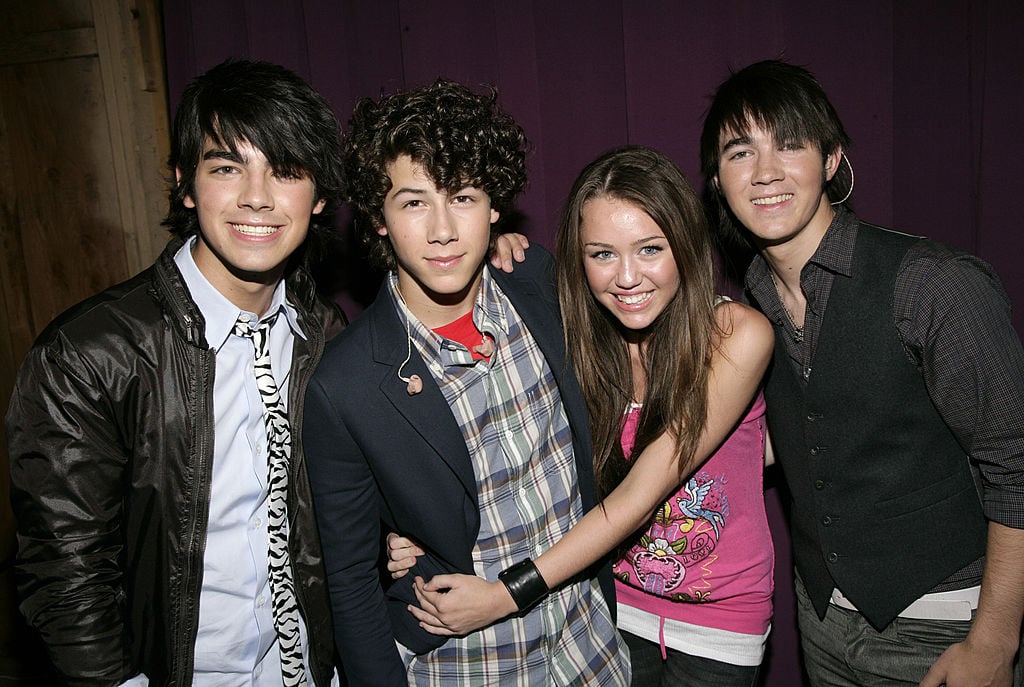 Along with Selena Gomez and Demi Lovato, Cyrus got her start on the Disney Channel. She starred in the sitcom Hannah Montana in 2006, which is right around the same time that the Jonas Brothers signed with Hollywood Records (which is owned by Disney).
From there, the brothers and Cyrus continued to interact. They appeared on her show and opened for her on her Best of Both Worlds Tour. Along with Lovato and Gomez, they were the center of Disney Channel's wholesome tweenage brand.
She even dated Nick Jonas
Cyrus and the youngest of the Jonas Brothers, Nick, were actually a thing for some time. Though they didn't confirm is in the early years, later reports indicated that they began dating around the time they first met, when Cyrus was just 13 years old. They then went on the aforementioned tour together.
The relationship ended after a year or so. Nick allegedly went on to date Gomez briefly, but he and Cyrus were then spotted together in 2009. Whether they got back together or not is unknown, but we know it must have been short-lived, as that's the year Cyrus began dating her future ex-husband, Liam Hemsworth.
They have grown apart in their careers
The Jonas Brothers left Disney and Hollywood Records shortly thereafter. They went on to take a hiatus in which they pursued music separately, as well as an acting career for Nick. Meanwhile, Cyrus also focused on acting, and later signed with RCA Records, where she's released three albums.
When they left Disney behind, there wasn't much to keep the friendship between Cyrus and the Jonas Brothers together. Still, they never expressed any ill will towards one another. And since the Jonas Brothers have reformed, now is as good of a time as ever for them all to interact.
Cyrus posted this throwback
Cyrus has taken to sprinkling her social media with plenty of throwbacks that she knows her audience will eat up. Case in point: On the day of the Jonas Brothers' release of their new single, "What A Man Gotta Do?," Cyrus noted that this day was important for another reason.
On her social media accounts, she shared a photo of herself with the brothers, writing, "12 years ago today. DOn't say I haven't always been punk." The photo in question is from the Hannah Montana and Miley Cyrus: Best of Both Worlds Concert film premiere, which, according to her book, was shortly after she and Nick first broke up.
What would a Jonas Brothers-Miley Cyrus collab look like?
At this point in their careers, we wonder what a team-up between Cyrus and the Jonas Brothers would sound like. The latter are still very much categorized as pop, though their new album is more mature. Meanwhile, Cyrus has gone back and forth between genres over the years, though again, she's still always had pop at the forefront.
One thing is for sure: Fans of both have been waiting for another collaboration here since the above hit from over a decade ago. So while we doubt anything as romantic as "Before the Storm" is in the works, here's to hoping the Jonas Brothers and Cyrus have something else up their sleeves.