Did Miley Cyrus Insult Her Fans Who Have Been Asking For New Music in 2020?
Singer Miley Cyrus has been teasing her upcoming music for a long time. However, it's now been many months since a planned release, and some of her Smilers aren't pleased. Did the former Disney Channel star turn the tables and say something out of line? Here's what we know.
Miley Cyrus' planned 2019 album
Cyrus has been fairly consistent with her releases over the years. After 2017's Younger Now, in which she reverted back to her country roots (and a more wholesome image), the singer revealed that she was hard at work on her next album, which she teased would be "genre-less."
The first of three EPs, She Is Coming, was released on May 30, 2019. The lead single, "Mother's Daughter," came shortly thereafter. A new era of Cyrus' music was underway as she performed at music festivals and. She then released an additional single, "Slide Away" following her split from Liam Hemsworth.
Here's why 'She Is Miley Cyrus' was held up
The turning point that came when Cyrus and Hemsworth called it quits in mid-2019 led to a lot of changes for the artist and her pending releases. She didn't speak much on the pending EPs She Is Here and She Is Everything. After "Don't Call Me Angel" from the Charlie's Angels soundtrack came out, her releases halted.
Of course, there was another reason for that. In Oct. 2019, Cyrus had her tonsils removed. If that's wasn't enough, this was shortly thereafter followed by a scheduled surgery on her vocal cords. The artist was put on strict vocal rest for weeks.
Cyrus began 2020 by teasing a 'new era'
By the end of 2019, Cyrus appeared to have made a full recovery. She was heard singing in clips posted on Instagram, and she teased photos of her with producers and other big names, indicating that she was back in the studio.
Cyrus sent the message home with her New Year's posts in Jan. 2020. In addition to images where she wore a shirt that pointed to her She Is Here release (captioned "New Year. New era."), she shared the above photos, which explicitly say that new music is on the way.
She (may have) changed her Instagram bio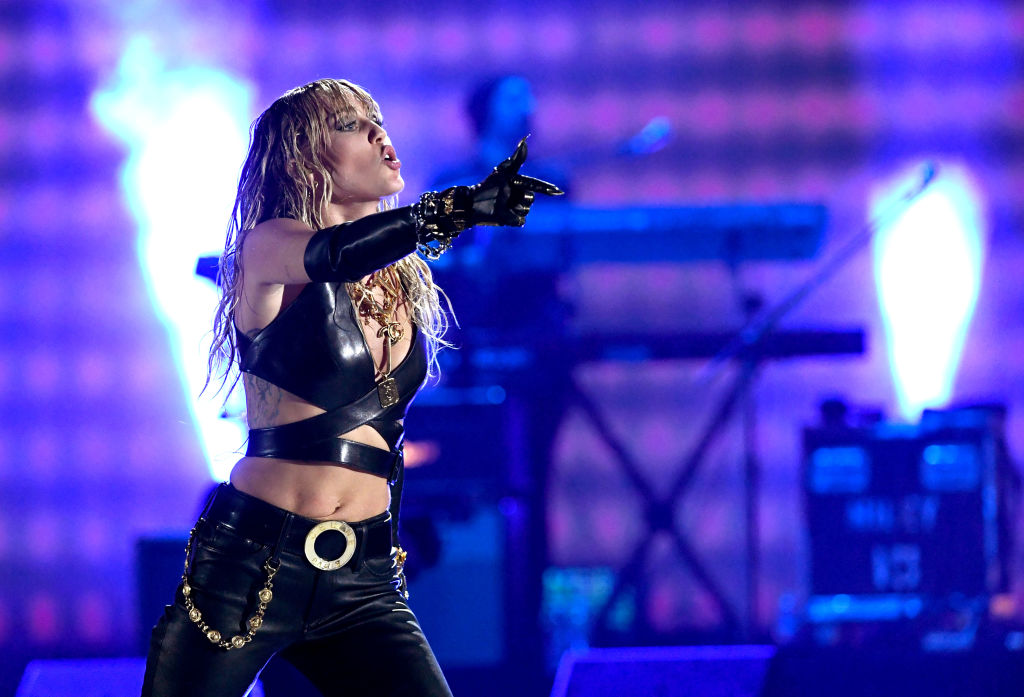 We're living in a day and age where people expect near-immediate results. So now that the first two months of 2020 are essentially gone, Smilers are getting antsy. And apparently, Cyrus noticed.
A screenshot, in which Cyrus appears to have changed her Instagram bio to read "Stop rushing the f*cking music," was shared by a Twitter fan account, @CyrusReports. They wrote, "LMAO @mileycyrus [you] should be happy that some fans are still asking about your new music! Because for many people your career is over."
Why Smilers aren't happy
Many who commented on the screenshot asked if it was fake. It certainly could be, though other argued it as real and she deleted it almost immediately. It does echo comments she's made in the past, as seen above.
Regardless, fans aren't happy either way. One Twitter user, @ramona_e95, wrote in response, "I asked [about new music] under the new post. And after this answer, I think I don't care any longer for her and her new music. I don't buy tickets for a festival just for a few rock covers." It sounds like Cyrus might need to put in work to win back some of her fans.