Miley Cyrus Insured Her Tongue for $1 Million After Her Infamous 2013 VMAs Performance
Miley Cyrus has never hesitated to stick out her tongue — so it's probably a good thing her tongue is insured.
Fans are usually shocked when teen stars try to translate their wholesome image into adult success, and for Miley Cyrus, it was no different. Her infamous 2013 VMA performance blew up social media with surprise, awe, and some disgust as fans saw more of the Hannah Montana star than they were accustomed to.
While her new, more adult style caught the viewer's attention, her creative use of her tongue during the bombshell performance created a lasting buzz. Regularly sticking out her tongue in photos, the particular body part has become synonymous with the star, and she even took steps to protect the vital asset.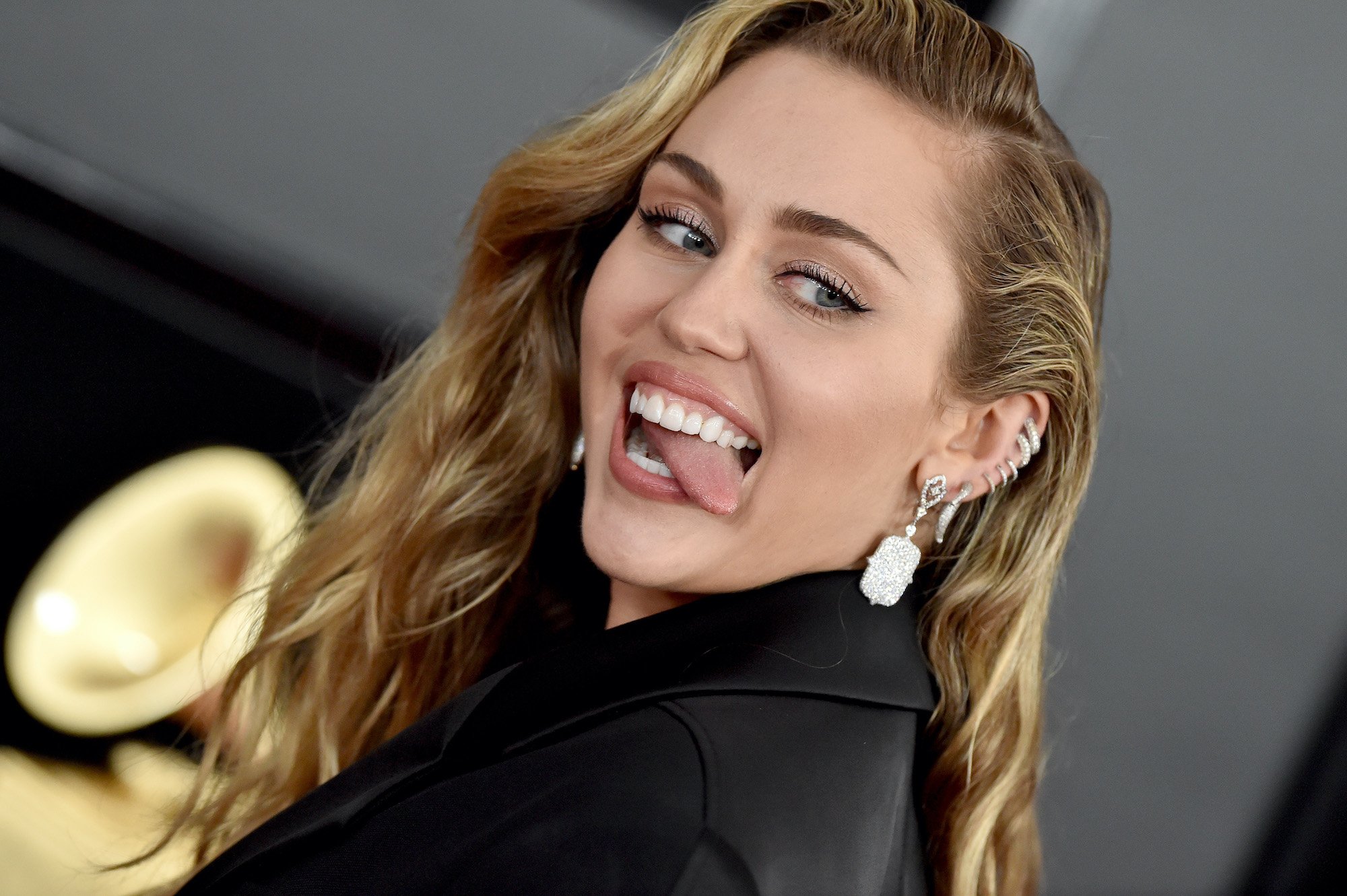 From Hannah Montana to grown up Miley
As a former Disney star, Miley Cyrus dealt with all the struggles children emerging from the mouse house often face. As the daughter of country music star Billy Ray Cyrus, Miley had grown up cultivating a wholesome image as a family-friendly child star.
Former Disney alums had often struggled to capitalize on their young successes and translate the momentum into adult fame. Cyrus chose to take a different approach and metaphorically take off the Hannah Montana wig forever.
Her 2013 VMA performance may have lost some edge with everything the star has done since. In 2013 though, seeing Cyrus twerking in a tiny, flesh-colored outfit was a genuine shock that everybody was talking about.
Harnessing the haters
The buzz generated by her bombshell performance had social media filled with a lot of hate for the star. Cyrus didn't seem to care though, Tweeting "Smilers! My VMA performance had 306,000 tweets per minute. That's more than the blackout or Superbowl!" the next day.
A lot of the fan reaction from social media was negative, but the attention got everyone talking about social double standards that are often applied to teen stars. Unlike teen stars, before whose shocking attempted breakouts into grown-up fame failed to keep them in the limelight, Cyrus wouldn't be intimidated or deterred by internet hate.
The star capitalized on her trending status and treated any publicity as good publicity. With several hits to follow up the performance, she successfully translated her Disney success to adult fame and fortune, while also dispelling any delusions of her still being a little girl. Though outlets like Rolling Stone would still predict that the VMAs were the beginning of the end for the star a year later, her success since then has proven them very wrong.
Million dollar tongue
The initial shock of Cyrus taking the stage at the VMAs was punctuated by the now trademark stuck-out tongue. Dangling out of her mouth most of the performance, it wouldn't be the last time the artist featured the look. Cyrus began sticking her tongue out at every photo opportunity.
After living for so long with a carefully crafted Disney image, the star didn't know how to pose for pictures. "I didn't know what to do with my face, so I stuck my tongue out, and it became a rebellious, punk rock thing." She said to reporters at the time, according to The Scottish Sun.
Her tongue was so visible to the public, that some got a close enough look to begin to speculate about problems with her oral health, according to Irvine Dental Care. Fans commenting on her tongue color on the internet definitely indicates a massive amount of buzz.
The tongue would be such an iconic part of her look, that she would have it insured by Lloyd's of London for £1m ($1.4m). Not taking any risks with a valuable part of her image, she joined a long line of celebrities who have insured parts of their bodies.