Miley Cyrus Questions Ex-Boyfriend, Nick Jonas, About His Sex Life
Miley Cyrus and the Jonas Brothers are all having a phenomenal year. Just today, Cyrus released her second EP entitled She Is Coming, which features six, new songs from the 26-year-old songwriter. Cyrus is also returning to acting on June 5 for the upcoming season of Netflix's Black Mirror. Meanwhile, the Jonas Brothers are having massive success with ticket sales for their comeback tour, the Happiness Begins Tour. This comes on the heels of their number one hit single, "Sucker" which was their first single to release after getting back together.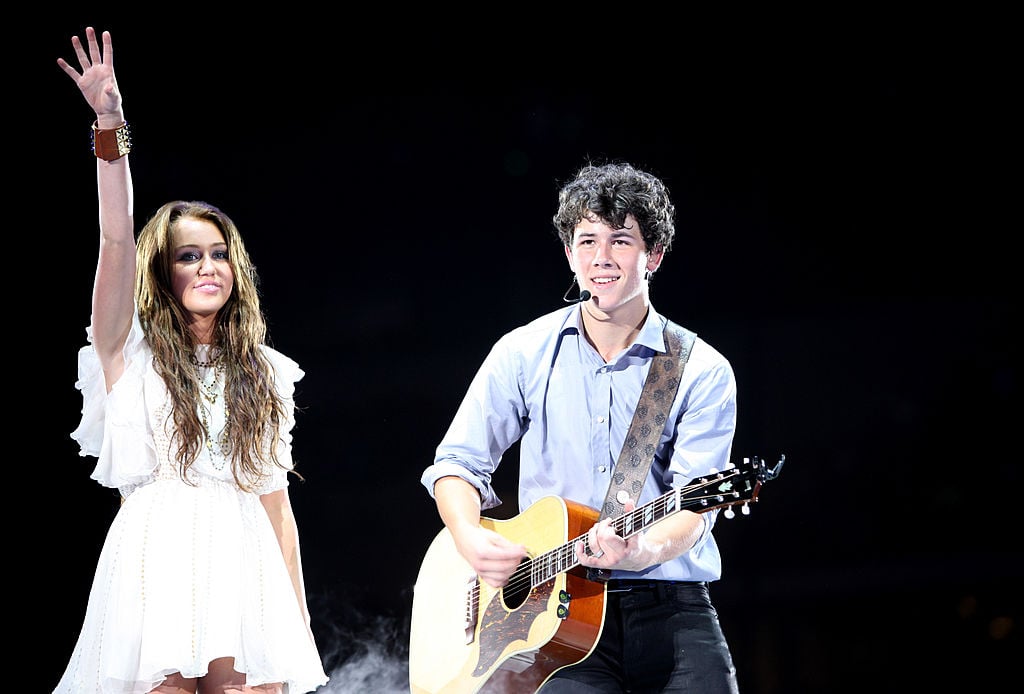 She Is Coming
This past Wednesday, Cyrus got up close and personal with the Jonas Brothers by way of a very invasive question. While the brothers were promoting their upcoming tour and documentary on a popular U.K. radio show, the "Nothing Breaks Like A Heart" singer had a very intimate query for all three brothers.
Of course, the Jo Bros are no stranger to Cyrus and her antics. The youngest brother, Nick Jonas, and Cyrus actually dated way back in 2006, and the brothers even appeared on her hit television show, Hannah Montana, before the couple split in 2007. So much has changed in the last 12 years. Perhaps the biggest change is that all three Jonas Brothers, as well as Cyrus herself, are married. But, of course, that didn't stop Miley from asking a question about their sex lives.
Sucker punch question
"Did it feel so good taking off your purity ring and did it feel so good taking off your purity ring — you know what I'm saying" the "Mother's Daughter" singer asked the brothers in a pre-recorded interview, saved from her own interview on the same radio show. Joe Jonas was the first to respond after a few awkward chuckles and he gave a pitch-perfect response. "Uh, yeah." the "Cool" singer responded simply.
Though the question seemed pretty personal and a bit awkward (and truly we'd expect nothing less from Cyrus) it is something that the Jonas Brothers have discussed in the past. In fact, they address their decision to part ways with their purity rings in their upcoming Amazon Prime documentary Chasing Happiness.
Chasing Happiness
Joe Jonas had this to say about the decision to wear purity rings, "In the church, it was encouraged that we go through this program to wait for the right person or until marriage. All the kids I grew up with were doing it so I was like, 'This is cool.' Probably by like 15, I was like, 'What?' That was not who we were, it was just something that we did when we were young kids. But we wore the rings through the first part of the band starting to explode and at that point, it was already too late because it was in the media."
Joe continued on to say how the media added fuel to the fire and continued to bring up their decision to wear said purity rings. "They were saying Disney created a band who were these cookie-cutter boy band brothers and that everything was perfect and that they used Christianity and purity rings as a way to sell music to kids. I mean, they weren't far off, that's for sure." the 29-year-old songwriter said.
Comeback tour
We know all too well that the craziness of the Disney Machine can sometimes pressure artists to uphold a certain narrative. We're happy to see that all four of these Disney alumni are thriving in their careers.