Miley Cyrus Once Said Liam Hemsworth Has 'a Little Bit of an Anger Problem'
The ups and downs of the Miley Cyrus and Liam Hemsworth relationship have been well-documented. But occasionally, old clips and interviews surface, revealing that the problems between the "Slide Away" singer and the Hunger Games actor were there all along. Here's a look back at a 2012 incident in which Cyrus hinted at Hemsworth's "anger problem."
Miley Cyrus hosted 'Punk'd' in 2012
Let's set the scene for a second. It's 2012, and Cyrus was thriving, hot off the release of her third album, Can't Be Tamed. The Hannah Montana era was in her rearview mirror, and she was focused on her relationship with Hemsworth and a few then-pending film releases. She hosted Saturday Night Live, and was shifting away from her Disney days and into her new, less-wholesome image.
What better way to mark the transition than to appear on a popular show like Punk'd? At this time, the show was in its second iteration, having been revived at MTV by none other than Justin Bieber. Cyrus was a victim of the host's practical jokes in March 2012, but got her chance to be the ringleader with a May 2012 episode.
She pulled a prank on then-boyfriend Liam Hemsworth
This was the prank: A couple, played by two of the show's writers, get into the back of Cyrus' car while Hemsworth was getting money from an ATM. She runs out and tells him what's happened, and when they get back, the couple has locked the doors.
Hemsworth starts banging on the door, yelling, "Get out of the f*cking car!" The police show up (not real cops, of course) to detain the couple, but they lie and say that they know Cyrus and Hemsworth. The cops tell him he could be charged with a felony, and he continues to get angrier.
When Cyrus reveals it was a prank, he laughs, saying, "That's so f*cked up." After kissing her, Hemsworth says, "You were really good, babe." In the episode, Cyrus also pranks Kelly Osbourne and Khloé Kardashian.
Cyrus told the producers about his 'anger problem'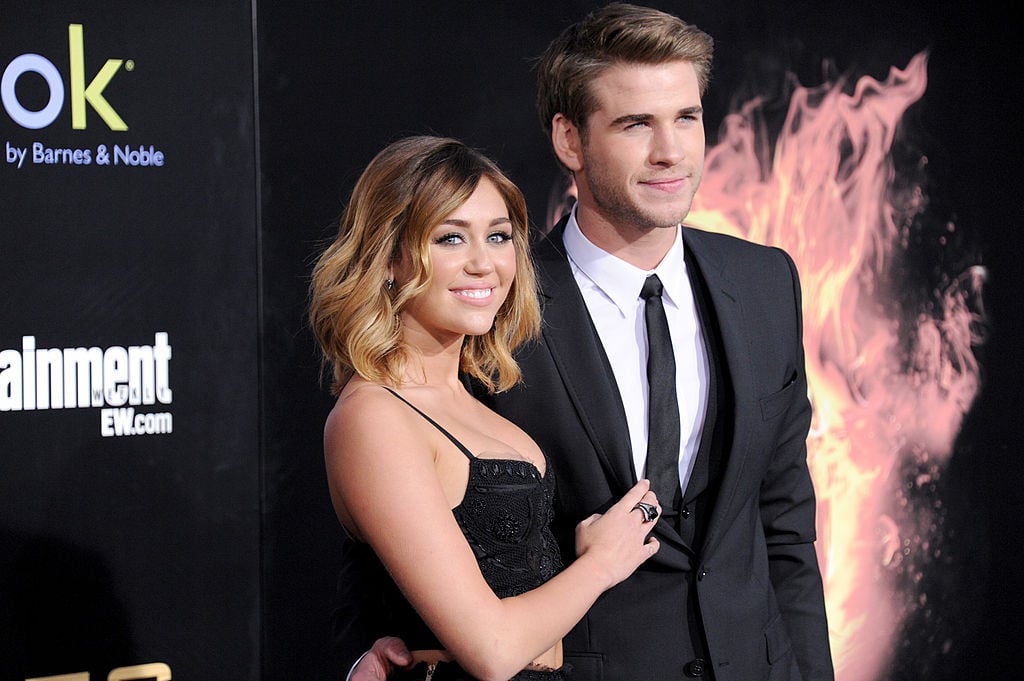 Before setting the prank in motion, Cyrus met with the writing team to learn what they had in mind. She explained to them why she wanted to mess with her significant other, saying, "He's kinda always a prankster, so I'm happy to get him."
When they posed that he might laugh as a reaction, Cyrus quickly said, "He won't," adding "especially when the cop [comes in]." "He does have a little bit of an anger problem, you know. I don't know how [he'll] feel about a naked dude in the car," she said.
Does Hemsworth have anger issues?
Though everything worked out with the prank, Hemsworth definitely lost his cool there for a bit. And this definitely isn't the first time his temper has been a point of interest for the tabloids.
Back in 2009, the Daily News ran a story about his "violent past," referencing a "brawl" he and his brother, Chris Hemsworth, were allegedly involved in. Then, in a 2015 video posted by the Daily Mail, he appears unhappy when he thinks he's being called by his brother's name (as it turns out, the journalist, named Chris, was introducing himself).
Could this have played a part in his split from Cyrus? Around the time their 2019 separation was announced, People Magazine published an article on the subject. A source called Hemsworth "moody," saying, "She's been supportive of him when things get dark, but it's tough…He can also lash out at her, and he hates the attention their ups and downs bring." Perhaps the 2012 comment was a preview of what came later.