Are Miley Cyrus and Lil Nas X Related? She Calls Him Her 'Baby Brother'
Musicians Miley Cyrus and Lil Nas X have a few things in common -- among them, Billy Ray Cryus. Are they actually related to one another?
Singer Miley Cyrus has made plenty of celebrity connections in her time in show business. And she has a few well-known siblings, like Noah Cyrus. The "Slide Away" singer has referred to rapper Lil Nas X as her "brother," so fans may be wondering — are they really related? Let's find out.
Miley Cyrus comes from a famous family
Cyrus is now famous in her own right. But growing up, she was known as one of the children of country music star Billy Ray Cyrus, occasionally appearing in interviews with him. She then starred on Hannah Montana alongside her old man. And the rest is history.
The former Disney Channel star has now made a career all her own. She has gone from a teen pop star to a very grown-up celebrity who is constantly in the tabloids. Oh, and her music style has changed quite a bit as well.
Lil Nas X teamed up with Billy Ray Cyrus for 'Old Town Road'
As for Lil Nas X, he didn't become famous until much later. Prior to 2019, he was a struggling rapper. He then recorded "Old Town Road," which grew in popularity through memes and the app TikTok. The artist worked hard to promote it all on his own.
Then, he stuck gold. Billy Ray came on board for the first remix, which was released in April 2019. This propelled the song up the charts, making it a massive success and the year's most popular song. Lil Nas X wrote on Instagram that the country star "took [his] career to the next level."
She supported him when he came out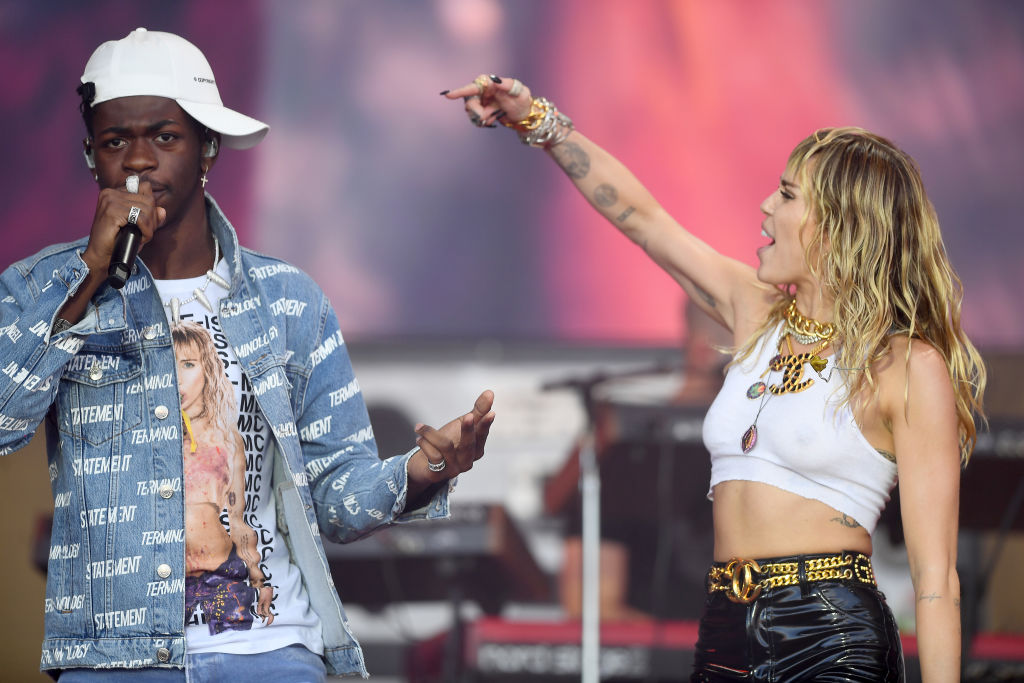 On June 30, 2019, Lil Nas X, with the No. 1 song in the country, came out as gay. While many of his fans were shocked. He explained that he "thought [he] made it obvious," telling people to listen to his song, "C7osure (You Like)."
That same day, he and Billy Ray Cyrus took the stage with the latter's daughter to perform "Old Town Road" at the Glastonbury Festival in England. The next day, the "Mother's Daughter" singer shared a photo of them together, writing simply, "SO proud of my baby brother @lilnasx. In your corner forever my friend!" (Cyrus previously came out as pansexual.)
Cyrus congratulated him on his Grammy wins
Clearly, Cyrus and Lil Nas X care a great deal about one another. Though she wasn't there to see him and her father take home Grammys at the 2020 event (she jokingly claimed she's "not invited to award shows anymore"), she did take the time to post a congratulatory message on social media.
Sharing a video from the Glastonbury performance, Cyrus wrote "Huge congrats to @lilnasx and @billyraycyrus on their Grammy wins last night! I love you both like family …. well one I HAVE to love like family and the other one I want to! love u bro." So though they are not blood related, it's a familial bond.
Lil Nas X and Cyrus are friends
Cyrus hasn't been attending a lot of public events these days. She's been working on new music, which Smilers are very excited about. But she did take the time to go to the Tom Ford pre-Oscar fashion show — and when she got there, she revealed that she was waiting on Lil Nas X to arrive.
When he did arrive, they managed to get some adorable photos together. Cyrus again referred to him as her "baby brother" as they posed alongside her older (biological) sibling, Trace Cyrus. As both continue to focus on new music, it looks they'll always have the "Old Town Road" to look back on.