Why Miley Cyrus 'F*cking Loves' Her Song 'We Can't Stop': 'That Gave Me Some Security'
Singer Miley Cyrus has evolved from Disney pop star, to rebellious artist, to country singer, to full-blown rocker, all in the last decade. Though she's now working with musicians like Joan Jett rather than the Jonas Brothers, she fondly looks back on her old hits. Discover what Cyrus likes one of her biggest songs, "We Can't Stop."
Miley Cyrus released 'We Can't Stop' in 2013
Following her time on the Disney Channel, Cyrus took a break from music. She starred in a couple of films but found herself turning away from acting after a bad experience. The artist left Disney's Hollywood Records for RCA Records in 2013, releasing her first single via the label, "We Can't Stop."
The song painted an entirely new image for the star, complete with very not Disney friendly drug references. And the music video (above) features her partying. "It really just turned out to be perfect and exactly what I wanted, and exactly what I wanted my first sound to be, and my first look to be," Cyrus told Billboard at the time.
Her controversial MTV VMAs performance 
In August 2013, two months after the "We Can't Stop" music video, Cyrus performed the song at the 2013 MTV Video Music Awards. She entered the stage via a massive teddy bear while wearing a one-piece costume, also of a bear. She danced alongside dancers wearing bears on their backs and others in full bear costumes.
Cyrus' opening number was considered a bit strange and a little provocative. But it was what happened next that made the night. She was joined on stage by Robin Thicke, performing his song "Blurred Lines." Cyrus stripped off the bear costume and twerked on him while gyrating with a foam finger.
Cyrus loves what 'We Can't Stop' 'gives to people'
Cyrus has changed a lot since then. Ahead of the release of her rock album, Plastic Hearts, she spoke about her pop origins. "That was who I was and who I had been," she told Zane Lowe for Apple Music. "And people had loved me for making pop music," she added, citing "We Can't Stop" and earlier hit "Party in the USA." 
"That was a part of a staple of my career that gave me some security," Cyrus continued. "I knew that at home, I've never listened to "We Can't Stop' one time. But I f*cking love it! It gives me this. It gives me a platform. And I love what it gives to people. I love what they feel when they listen to it. I love what it meant to me at the time."
Her honesty led to the infamous costume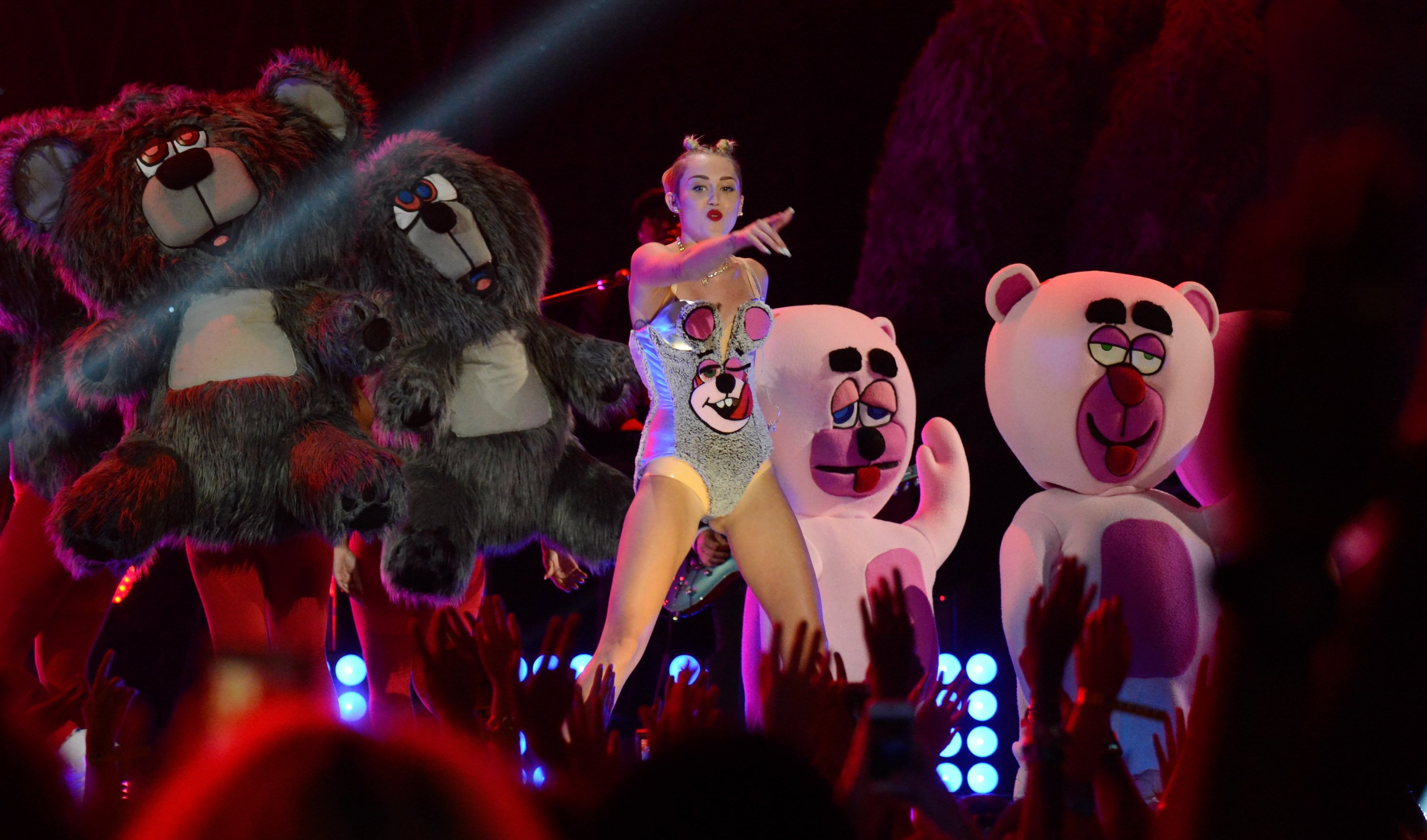 At another point in the interview, Cyrus spoke about honesty. She told Lowe that she can't lie, and she has to be completely herself in everything she does. The artist also talked about how her uniqueness shines through in her decisions, using the 2013 VMAs performance as an example.
"Me being a teddy bear, shaking my a**, isn't a costume," Cyrus explained. "Me not being a teddy bear, not shaking my a**, would be the costume. 'Cause that's what it is. That's what I feel. When I hear that song, I see a teddy bear shaking its a**. And so I have to become it." She added, "It would be a lie — which I can't do."