Miley Cyrus' Most Popular Songs About Liam Hemsworth
When singer Miley Cyrus married actor Liam Hemsworth in 2018, it was after nearly a decade of a very public on-again, off-again romance. After meeting on the set of The Last Song, they got engaged, later calling it off in 2013, and rekindling it years later. Their divorce was finalized in 2020.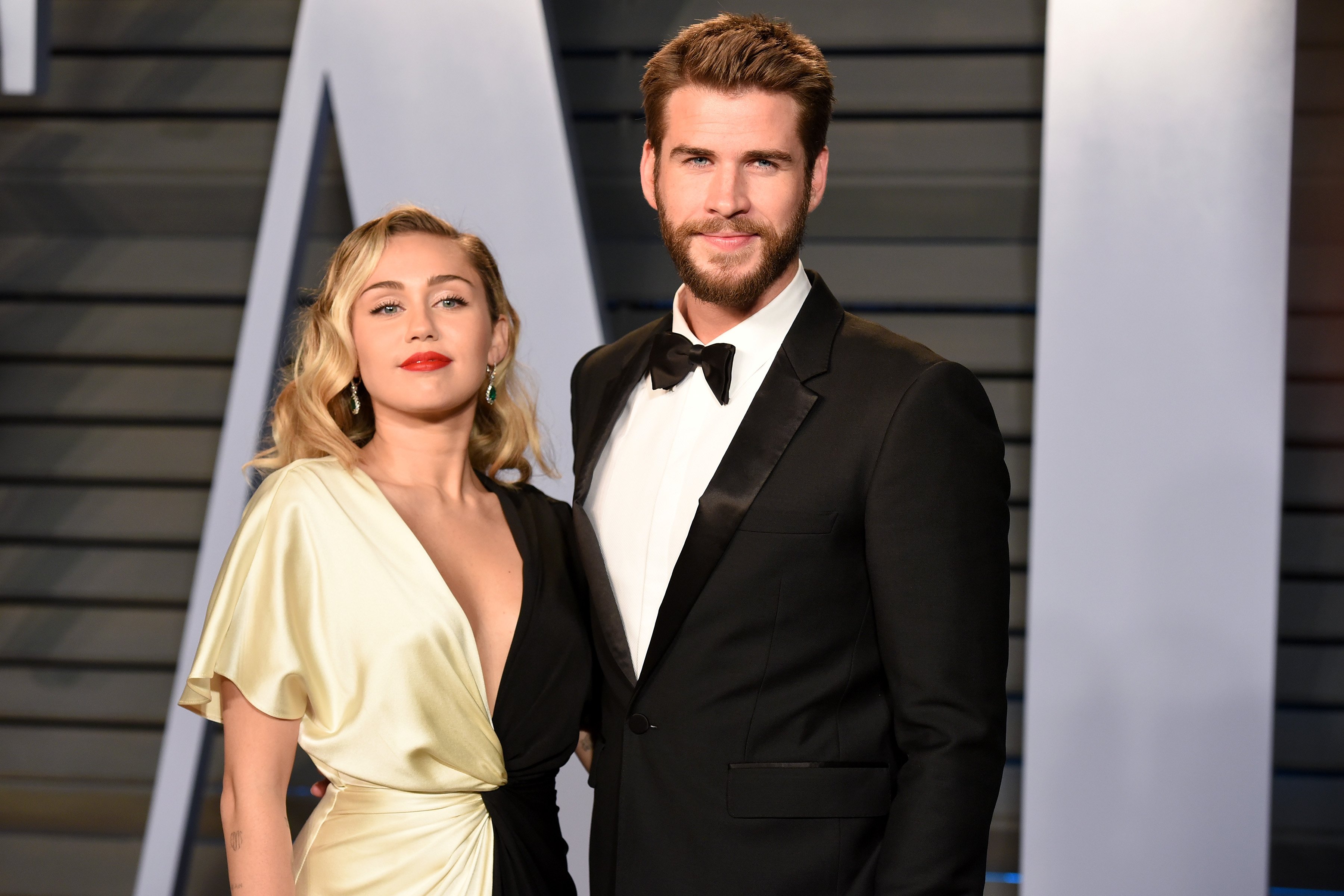 Over the years, Cyrus has poured her heart into her music, and with that has come a few songs about Hemsworth. Here are her biggest hits (according to the Billboard Hot 100) that fit the bill.
'Wrecking Ball'
RELATED: Miley Cyrus Once Sang' Wrecking Ball' About Someone Other Than Liam Hemsworth
Cyrus' biggest song of all time is "Wrecking Ball." The second single off her 2013 album, Bangerz, it is her only No. 1 hit to date. "Wrecking Ball" spent 32 weeks on the Billboard Hot 100, and brought with it plenty of controversy with its music video, which features Cyrus in her underwear.
When the single debuted in August 2013, she and Hemsworth were together. However, they broke off their engagement soon after, leading fans to believe it was autobiographical. But while she may have had him in mind when she performed it, Cyrus doesn't have a writing credit on the song, meaning it's not really about him.
'Adore You'
One song from Bangerz that Cyrus did receive a songwriting credit for? "Adore You." The track, which was released as the third single from the album, definitely didn't' do as well as "Wrecking Ball." It peaked at No. 21, spending 18 weeks on the Billboard Hot 100.
Cyrus admitted that the song was, in fact, about Hemsworth. On The Ellen DeGeneres Show, she told the host, "the whole album is a story of [their relationship]. And I think it says that, starting with 'Adore You' and ending with 'Someone Else,' is I feel like you can really find this arc of growth."
'Malibu'
Following her 2015 album Miley Cyrus & Her Dead Petz, the artist and Hemsworth got back together. Her first single off her 2017 album, Younger Now, titled "Malibu," addressed this and more. It spent 15 weeks on the Billboard Hot 100, peaking at No. 10.
Cyrus was upfront about the subject matter. She told Billboard of choosing to write the song about Hemsworth, "They're going to talk about me if I come out of a restaurant with Liam. So why not put the power back in my relationship and say, 'This is how I feel'?"
'Don't Call Me Angel (Charlie's Angels)'
RELATED: Did Miley Cyrus Shade Liam Hemsworth in 'Don't Call Me Angel'?
Cyrus sings on "Don't Call Me Angel," the lead single from the soundtrack for the 2019 film Charlie's Angels. The single song was released in September 2019, a couple of months ahead of the film's premiere and shortly after her separation from Hemsworth. It peaked at No. 13, spending seven weeks on the chart.
Cyrus is credited as a songwriter on the track with fellow vocalists Ariana Grande and Lana Del Rey. Because of the release timing (and a few choice words), some fans believed that Cyrus wrote her verse about Hemsworth. While the song was written before their official split, it's possible she knew where they were heading then.
'Slide Away'
RELATED: Does Miley Cyrus' New Song 'Slide Away' Reveal The Reason For Her Split From Liam Hemsworth?
Before "Don't Call Me Angel," Cyrus released an independent single with none of its ambiguity. "Slide Away" dropped in August 2019, just days after her separation from Hemsworth was made public. The song peaked at No. 47 on the Billboard Hot 100, spending six weeks on the chart.
Though she hasn't said so publicly, "Slide Away" is undoubtedly about Hemsworth. From the references to his alleged drug use, to their Malibu home that burned down, to meeting as teenagers, it's crystal clear. Cyrus made the last-minute decision to perform the song at the MTV Video Music Awards that same month, proving that she had officially moved on.