Miley Cyrus Shares NSFW Taylor Swift GIF for Women's Day
Miley Cyrus went on a social media spree in honor of International Women's Day, but one tweet and Instagram post about Taylor Swift had fans kind of confused. Among the praise and love she shared for some of her favorite women, Cyrus' NSFW GIF featuring Swift is nothing short of wild.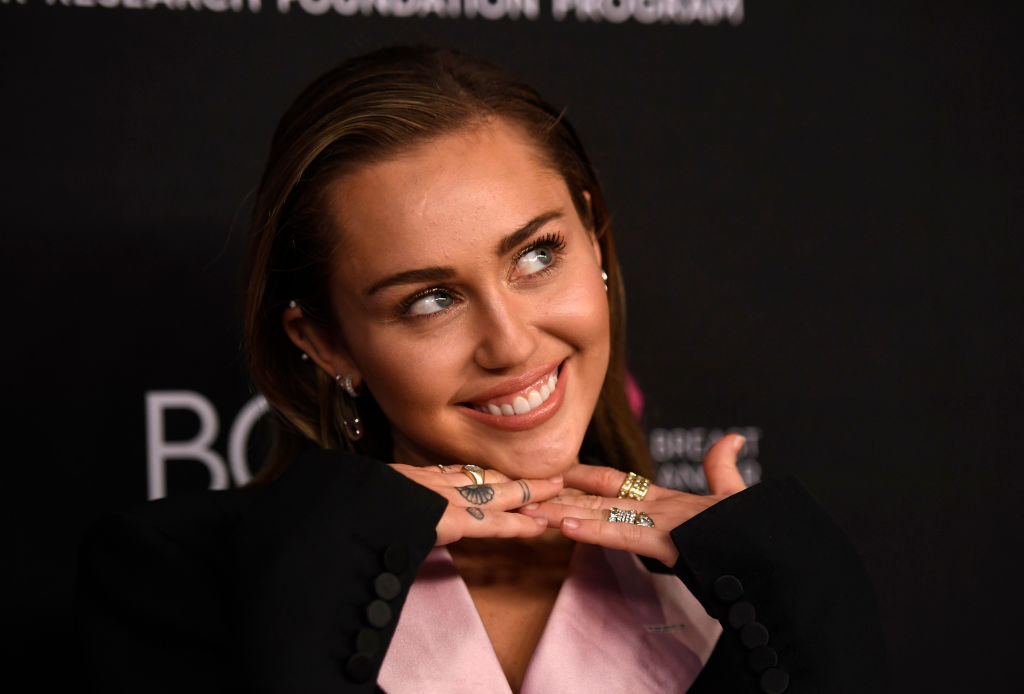 Cyrus had a lot of International Women's Day tributes
Cyrus kicked things off with a sweet video of her with Ariana Grande, as she explained: "Celebrating some of my favorite #Women." She followed it up with a collection of pics of herself with some kick-ass women, captioning it: "In honor of International Women's Day here's some of my favorite bad ass bitches! @janefonda@beyonce @joanjett @cyndilauper@arianagrande."
Even though the day came and went, Cyrus continued to sing the praises of amazing women, writing: "Is it still Women's Day? Oh wait… that's EVERY. F**KIN. DAY!" That included a GIF of her with Nicki Minaj, which she captioned "Ohhh YEAH we dooo @nickiminaj #WomensDay #Top#TopEnergy."
There was also a tribute to Rihanna, in which Cyrus explained, "Yes, I know it was officially 2 days ago. But I've officially declared Women's Day Every F**kin Day. so BAM @badgalriri."
Cyrus' NSFW Taylor Swift GIF was… interesting
Among these fun shoutouts to some of her favorite women, Cyrus posted a GIF of herself twerking with Taylor Swift gyrating behind her. She noted in the caption: "It's Women's Day! To celebrate, will you Top like Taylor? Or Twerk like Miley? Please Answer in comments below."
There were definitely a range of reactions, as some fans were completely confused and others found it hilarious. Others wondered if Cyrus was throwing shade in some way or just having some fun. Needless to say, Swift didn't respond.
Cyrus honored other famous friends too
Cyrus took to her Instagram Story to share some love over other friends who inspired her as well. She had mad love for Ariana Grande, shared a pic of herself holding a magazine with Selena Gomez gracing the cover (captioning it "I never leave the house without my Selena issue of @vmagazine #securityblanket"), and included a photo of her with actress Millie Bobby Brown.
She continued the love fest with photos of her snuggling up with Emily Osment, Ashley Tisdale, and sharing a kiss with Katy Perry ("I kissed a WOMAN and I LOVED it"), as well as a pic with Nicki Minaj, Kylie Jenner and Kim Kardashian.
At one point, Cyrus shared a throwback pic of herself having a laugh, with the caption: "Actual footage of me LOLing at all the 'Are you hacked or just high' comments."
An old pic of her with Hailey Bieber followed as well as a photo of the singer with actress Emma Roberts, another throwback with Vanessa Hudgens, and a pic of Cyrus hanging with Kylie and Kendall Jenner and a couple of Kardashians.
Swift and Demi Lovato made an appearance in another old school pic of Cyrus and Osment, as the singer explained "This is not an edit." She captioned a pic of herself posing with Gomez and Lovato: "Very Rare. I'm talkin' about the boots."
Cyrus' friends react to her tributes
Some of the women Cyrus honored definitely noticed — and responded. One of the cutest pics was of Cyrus and Lovato sporting sunglasses, which she captioned "We define a f**king era. Sorry, not sorry." Lovato reposted the Story and shared "Hell yeah! Miss you @mileycyrus."
Grande was thrilled by Cyrus' shoutout as well, writing on Twitter: "i cant believe how much a. u love / cannot get over this video b. how much i love u." On her Instagram Story, Grande reposted Cyrus' Story and wrote, "kajsjsjsjsjsjsj i love u. hi liam [hemsworth] can we pls share your wife i'm so sorry."