Miley Cyrus' 'Plastic Hearts' Tracklist Includes a Duet With Joan Jett — and It's the Song Her Fans Have Been Waiting For
At long last, singer Miley Cyrus delighted her fans by sharing the tracklist for her upcoming album Plastic Hearts. It includes a few surprises — and one title confirmed what many had been hoping for. Not only that, but the song in question includes musician Joan Jett.
Miley Cyrus announced her 2020 album, 'Plastic Hearts'
Cyrus had planned to release an album in 2020. She released the first of three planned EPs, titled She Is Coming, in 2019. What followed was a series of shifts in her personal life, including a divorce. So the artist switched gears, which led her to create Plastic Hearts, debuting November 27, 2020.
"I began this album over 2 years ago," Cyrus wrote. "Just when I thought the body of work was finished it was ALL erased. Including most of the music's relevance. Because EVERYTHING had changed," she explained. "In triumph + gratitude I present to you my 7th studio record, Plastic Hearts."
The tracklist includes classic rockers Joan Jett and Billy Idol
Though she considers herself a talkative person, Cyrus has remained relatively quiet on what's to expect from Plastic Hearts. She promised fans it would be a rock album, and they caught a glimpse of that with her disco-inspired first single "Midnight Sky." But the tracklist confirmed it.
On November 13, 2020 (two weeks before the album drops), Cyrus shared the official tracklist. Plastic Hearts has 12 tracks, three of which are collaborations. Aside from her previously teased Dua Lupa song, Cyrus teamed up with Billy Idol for "Night Crawling," and Joan Jett for "Bad Karma."
Are Cyrus and Jett friends?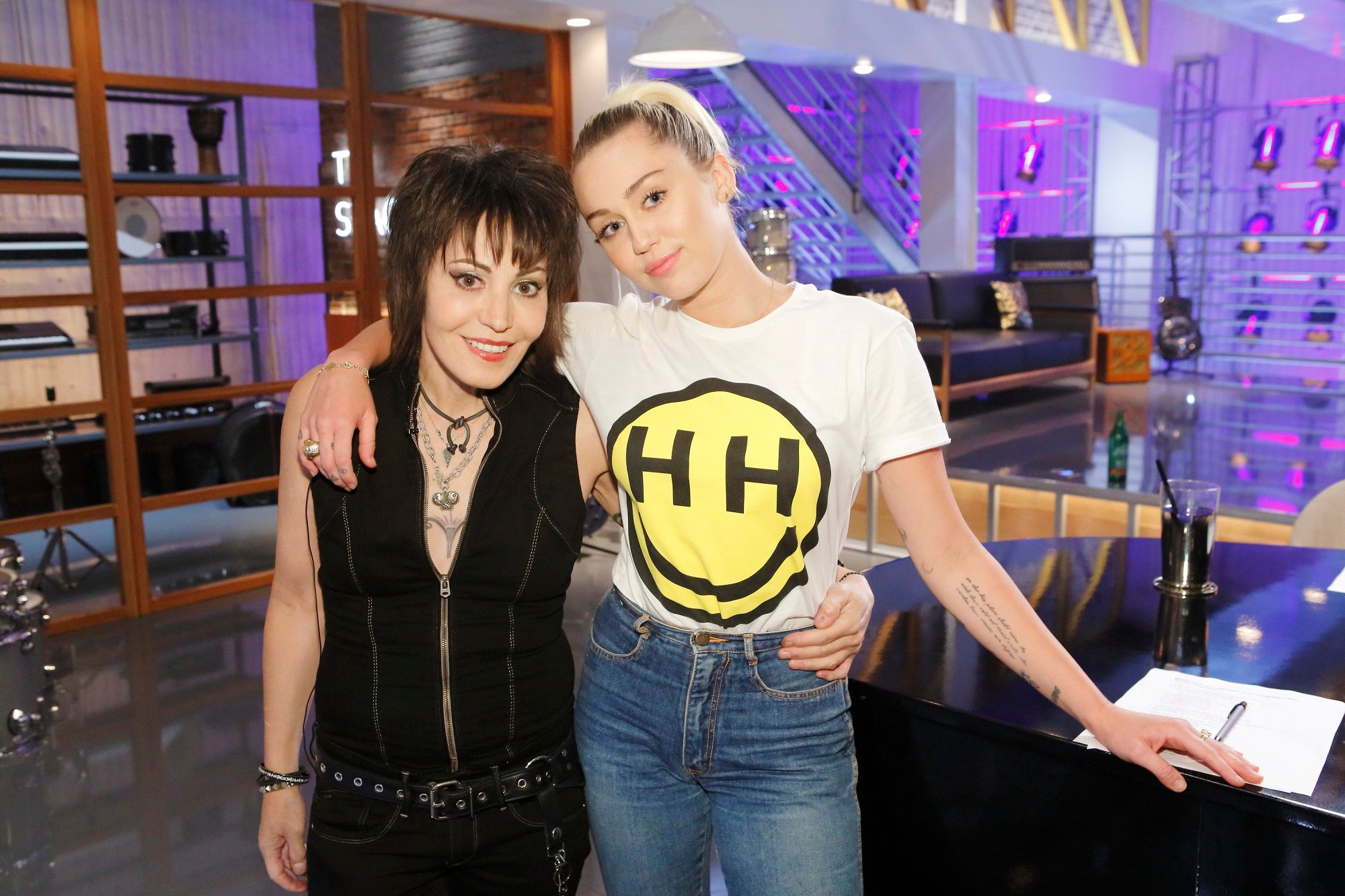 Getting a big name like Jett on an album isn't easy, but Cyrus and the rock star go way back. When answering questions about her album Can't Be Tamed, the singer cited Jett. "I grew up on rock n roll. Nirvana, Joan Jett, Blondie," Cyrus tweeted. "So I was just super inspired and influenced by the artists my dad rotated on our juke box."
In 2015, Cyrus honored Jett and her band, the Blackhearts, when she inducted them into the Rock And Roll Hall Of Fame. She even performed with them that night — just one of several times she's been on stage with Jett. The next year, while Cyrus was a judge on The Voice, Jett came on as a mentor for her team.
Smilers have been waiting for 'Bad Karma'
RELATED: The Lost Miley Cyrus Track Fans Are Begging Her to Release
As has unfortunately been the case for many artists, several of Cyrus' tracks aren't surprises due to being leaked. But there's one song that her fans (who call themselves Smilers) have been waiting for ever since the singer herself teased it back in 2019, in an Instagram Story with then-husband Liam Hemsworth.
At the time, Cyrus was on track to release her originally planned EPs. But after She Is Miley Cyrus was scrapped, fans were hopeful that "Bad Karma," at least, would make her new album. "BAD KARMA IS FINALLY GETTING RELEASED," one tweeted of the news. "I CAN'T WAIT! I have been waiting for this for what seems like eternity," replied another.