Miley Cyrus Revealed Hannah Montana Doesn't Exist Without Dolly Parton
It's no secret that Miley Cyrus and Dolly Parton have the utmost fondness and respect for one another. The pair have collaborated professionally on both acting and music projects for years. However, one of their most memorable collaborations was undoubtedly the hit Disney Channel show, Hannah Montana.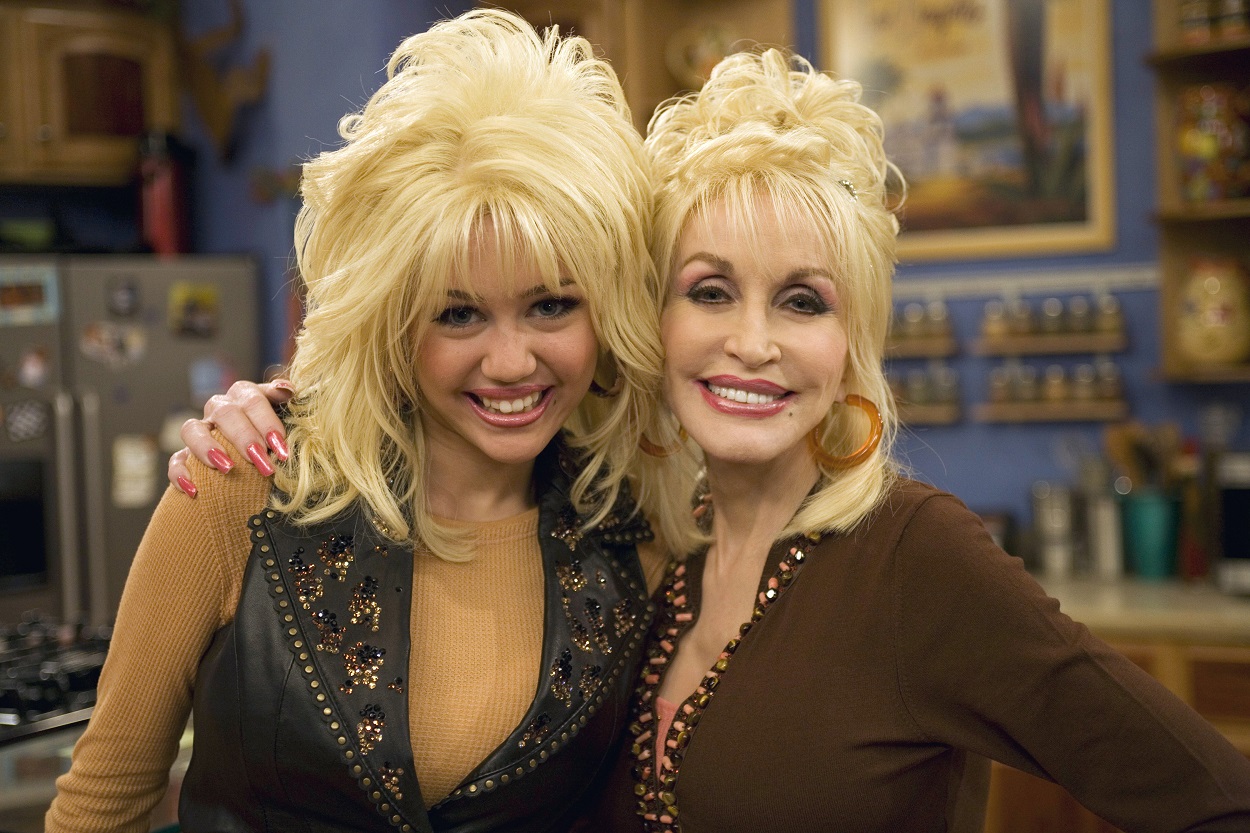 Premiering back in 2006, Hannah Montana catapulted Cyrus straight into superstardom. Growing up with a famous father, the "Malibu" singer grew up adjacent to the spotlight. But even that couldn't have prepared her for the millions of young girls who worshiped her thanks to the wildly popular show. Portraying a normal teenage girl, Miley Stewart, who lived a double life as pop star, Hannah Montana, quickly made Cyrus Disney's newest "it girl."
How Miley Cyrus advocated for her godmother, Dolly Parton
Though Cyrus was candid about the fact that she didn't get paid as much as her Hannah Montana castmates, she did have a fair amount of influence on the show. For example, it was Cyrus' idea to write Parton into the show as Miley's godmother. Funnily enough, Parton is also the "We Can't Stop" singer's godmother in real life and had known Cyrus since she was a baby.
"But here I am, you know, Miley's fairy godmother and on the show and kind of sharing all that with her and I really loved the time that we spent with her doing the show," Parton shared with Vanity Fair about working with Cyrus on Hannah Montana. "And, for me, watching her being such a pro she didn't know it but I was watching her like a proud mama thinking 'You go you little thing I'm so proud of you and I've always been proud of Miley she is so talented."
Parton received tons of new fans after she guest-starred in a few 'Hannah Montana' episodes
The "Jolene" singer also credits Cyrus and Hannah Montana for introducing her to a younger audience. Though Parton is a living legend, her brief stint on the Disney show allowed younger fans to discover her for the first time and she's appreciative of that exposure. In fact, Parton recently paid tribute to the show on the 15th anniversary of its series premiere.
"Happy 15th anniversary, @hannahmontana 💗 Love, your Aunt Dolly," Parton wrote, sharing a photo of herself and Cyrus rocking their infamous blonde wigs on Instagram. The Hannah Montana account, run by Cyrus, was quick to comment back on the photo.
Cyrus credits Parton for Hannah Montana
"I love you Aunt Dolly!" Hannah Montana penned. "You taught me about the important things in life! Like how to glue down a wig, use a bedazzler, and treat everyone you meet with kindness! Without you HM doesn't exist! 💕" We can't deny that some of Hannah's signature looks seem to emulate Parton's iconic style. Whether the people at Disney did it intentionally or not, Hannah Montana's look likely took quite a bit of inspiration from the 9 to 5 artist.