Miley Cyrus Makes Self-Quarantining Fabulous With an Instagram Live Featuring 'RuPaul's Drag Race' Queens Trixie Mattel and Milk
Staying home is the new, cool thing to do. Jimmy Fallon is hosting The Tonight Show from his house, Josh Gad is reading bedtime stories to children every night and now, Miley Cyrus is spending time with her Instagram followers and a few familiar faces from RuPaul's Drag Race. Here's how Miley Cyrus is helping (and how you can help) with the coronavirus pandemic.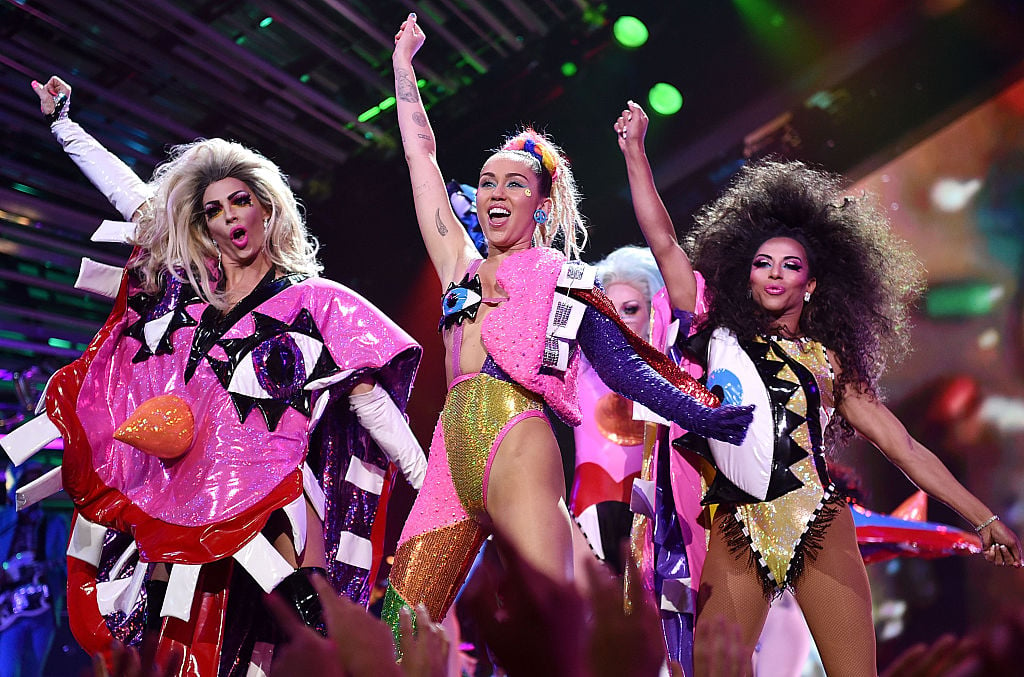 Miley Cyrus is doing her 'Bright Minded' series on social media
These are confusing and challenging times for everyone. As a result, some celebrities took to social media, using their platforms to spread positivity and raise money. That includes singer, actress, and activist Miley Cyrus, the founder of the Happy Hippie Foundation and the leader of the "Bright Minded" series.
This daily "Instagram Live" is broadcasted by Miley Cyrus (from her home, of course,) and features other public figures. So far, "Bright Minded" featured Rita Ora, Jeremy Scott, Hailey Bieber, and some of the former cast members from RuPaul's Drag Race. There's even merch on the way, in which some profits will benefit coronavirus relief and prevention efforts. 
On Friday, Hailey Bieber and the queens from 'RuPaul's Drag Race' joined Miley Cyrus
This may not be Miley Cyrus' first "Bright Minded" Instagram live, and it certainly won't be her last. However, this Friday was a little more fabulous, thanks to the queens from RuPaul's Drag Race who appeared on Cyrus' stream. 
One of the featured contestants was Trixie Mattel former All-Star, current chart-topping folk artist and owner of Trixie Cosmetics. There, Trixie explained, she's also doing live streams for charity. That includes a video game-related stream held on Tuesdays. 
Then, season 6 and All-Star contestant, Milk, shared her makeup tips with the "Malibu" singer. Cyrus even learned how Milk overlines her lips with a liner. (No lipstick is necessary, squirrel friends!) Milk shared, "I use lip liners I use eye shadows, I use powders."
Miley Cyrus formerly appeared as a celebrity guest judge on RuPaul's Drag Race season 11, even dressing as a member of the crew during the premiere. She's a longtime fan of the series and an honorary member of the Haus of Edwards.
Miley Cyrus is advocating for various nonprofit organizations, including Feeding America
These live streams are meant to raise spirits and inform viewers about the coronavirus outbreak in the United States. They also help to raise awareness, and funds, for nonprofit organizations including Feeding America.
According to the artists' Twitter account, she will likely host these daily conversations from Monday through Friday, 11:30 a.m. – 12:30 p.m. PST. Until then, fans can support organizations in the fight against coronavirus. 
"So many of us are feeling helpless and hopeless! Let's channel that energy into action! If possible, please join me in supporting @FeedingAmerica @2HarvestMidTN @oasisnashville," Miley Cyrus tweeted.
Music by Miley Cyrus is available on most major streaming platforms. To learn more about Feeding America, or other charities Miley Cyrus is involved with, visit their website.