Is Miley Cyrus a Vegetarian? Her Comments About Meat Suggest Otherwise
Miley Cyrus once proudly touted her status as a vegetarian. But in 2021 she made a comment that makes it sound like she's left that lifestyle behind. On the surface, it sounded like a silly joke. But it may also provide an update on her attitude towards eating meat, something she has publicly wrestled with in the past. And it marks the latest example of Cyrus' willingness to go through personal changes in front of an audience. 
Does Miley Cyrus' goofy tweet suggest she's not a vegetarian?
In September 2021, Cyrus shared a set of photos of herself from her time at BottleRock Napa Valley. The main reason for the artist's recent post was to show off her looks. But her more eagle-eyed fans took note of the tweet for its caption. "I like my men how I like my steak …. bloody & tender," she wrote.
Previously, Cyrus spoke about adhering to a strict vegan diet. But she gave it up due to the effect she felt it had on her physical and mental wellbeing. Cyrus switched to a pescetarian diet, but eating fish was difficult for her to stomach.
"My ex-husband cooked me some fish on the grill," Cyrus said on the Joe Rogan Experience in 2020. "I cried, like, for a long time. I cried for the fish… it really hurts me to eat fish." Cyrus may have simply been making a joke, but it's also possible that her relationship with meat has evolved in the time since that interview. 
Her love of animals is a big reason for her conflicting feelings about eating meat
Cyrus' anguish about her diet is understandable given the depth of her love of animals. She's taken in dozens of dogs, four cats, two horses, and two pigs over the years. It's almost impossible to get an official number about how many animals she currently cares for, but animal advocacy is clearly very important to her.
She's also taken steps to pay homage to her pets via her tattoos. Cyrus has at least four tattoos honoring her animal friends. The first one was for her late dog Floyd, which she got after he passed away in 2014. (She also wrote "The Floyd Song (Sunrise)", a song about her fallen pup for her 2015 album, Miley Cyrus & Her Dead Petz.) She later got ink for blowfish, Pablo; her Shetland Sheepdog, Emu; and her pitbull, Mary Jane. 
Cyrus' career has been defined by sudden changes in her persona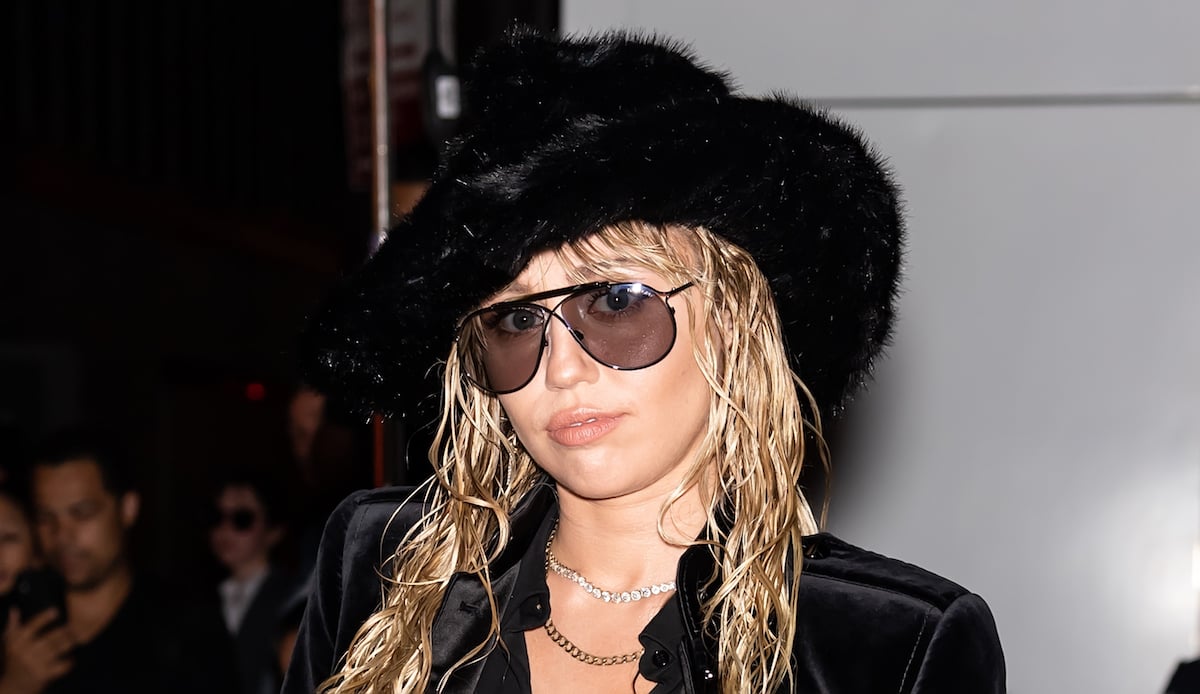 Cyrus' career has been shaped by consistent changes to her public persona. She has lived a lot of lives as a celebrity. Hannah Montana and "Party in The USA" made her a star at a very early age, but those experiences were tougher to deal with than they appeared from the outside. And she's made a lot of moves to put that version of herself as far in the rearview as possible. 
The most famous example of this was her breakout album Bangerz. Songs like "We Can't Stop" and "Wrecking Ball" became huge singles, and the video for the latter song was talked about for months after it debuted, though not always for the best reasons. Cyrus' change of artistic direction drew criticism from some for being too subversive for children watching her performances, or for appropriating hip-hop culture and twerking without paying due deference. 
Cyrus has continued to expand and explore different sounds for her music, openly supported the LGBTQ community, and has also experimented with drugs in order to find the best version of herself. It comes as no surprise that her journey may include changing her mind about what she's willing to eat.