Is Miley Cyrus Worth More Than Her Friend Demi Lovato?
Before they were world-famous pop stars, Demi Lovato and Miley Cyrus were working on Disney Channel together. A decade after leaving behind the network, here's how both are doing financially.
Miley Cyrus and Demi Lovato met through Disney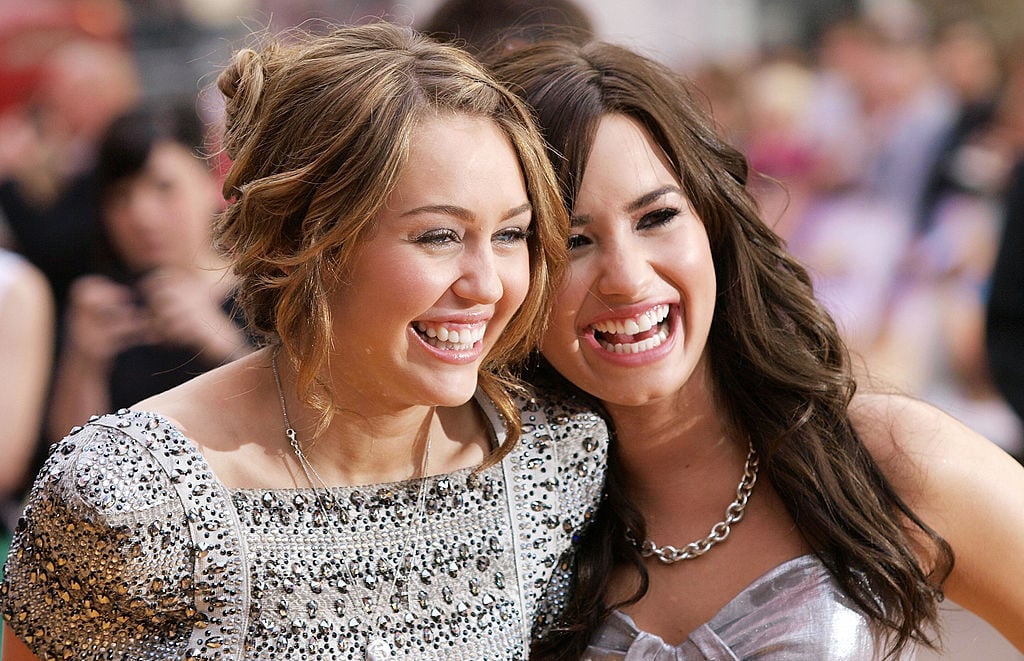 In the mid-00s, Disney became a factory for TV stars who were also hit-makers in the music world. Cyrus became famous as the star of Hannah Montana, a show about a girl who leads a double life as a singer and a regular teenage girl. Hannah Montana aired from 2006 to 2011, ending with a feature film.
Meanwhile, Lovato rose to prominence as the lead of the Camp Rock Disney Channel Original movies (released in 2008 and 2010), about a girl who pursues her musical dreams by attending a performing arts camp. Lovato was then cast in her own series, Sonny With a Chance, in which she stars as a young actress. The show also ended in 2011.
Cyrus' career over the years
RELATED: Did Miley Cyrus Insult Her Fans Who Have Been Asking For New Music in 2020?
After Hannah Montana ended, Cyrus focused on her music career. She left Disney's Hollywood Records after two albums, putting out Bangerz, Miley Cyrus and Her Dead Petz, and Younger Now through RCA Records. Cyrus made headlines for doing drugs, partying, and her controversial performances. She returned to her country roots with Younger Now but is heading in a new direction with her more recent releases.
In 2013, Katie Couric interviewed Lovato and asked her about Cyrus. Lovato called her friend "a businesswoman" and said, "she knows what she's doing." She added, "I think that the world kinda needs to get over the fact that she was Hannah Montana when she was 16," adding that "no one knows her, and nobody really knows who I am."
Lovato left the Disney Channel abruptly
RELATED: Demi Lovato on 'Feeling Like a Fraud' When Writing 'Confident'
Though no less full of ups and downs, Lovato's journey has been very different. She left Sonny With a Chance in 2010 when she checked into rehab for the first time. Lovato has put out six albums: Don't Forget, Here We Go Again, Unbroken, Demi, Confident, and Tell Me You Love Me. Like Cyrus, she's working on a new album, her first since her 2018 overdose.
Lovato has been asked repeatedly about her old pals at Disney. For a long time, she was close with Nick Jonas of the Jonas Brothers, but that has since faded. And her on-again, off-again friendship with Selena Gomez has been firmly in the "off" category for quite some time. Lovato told Harper's Bazaar in 2020, "I'm not friends with her."
They reunited years later
RELATED: Miley Cyrus Talks to Demi Lovato On Her Instagram Live Show' Bright Minded': How Long Have They Been Friends?
Cyrus and Lovato have also had their ups and downs. But they've been spotted together a few times over the years, including at the 2018 March for Our Lives. As Lovato said in the Harper's Bazaar profile of Cyrus, "She's awesome, and I love her to death and always will, always have."
In March 2020, Cyrus proved she and Lovato were close by having her friend on her Instagram Live talk show Bright Minded: Live With Miley. They spoke about a number of serious topics, but also expressed how unique it is that they've stayed connected "Maybe we just saw something in each other," Lovato said.
Who has a higher net worth: Cyrus or Lovato?
While both have had impressive careers, there is a large discrepancy in income. According to Celebrity Net Worth, Cyrus is worth $160 million. Meanwhile, Celebrity Net Worth puts Lovato's net worth at approximately $40 million. Having released the same number of albums, there are likely a few reasons for this gap.
The most obvious difference is that Cyrus spent more years on Hannah Montana than Lovato did on Sonny with a Chance. However, there are other possibilities. Lovato's rehab is, no doubt, costly. And while Lovato has brought in big crowds on her tours, it's hard to measure up to what Cyrus earned for her Bangerz World Tour.