How Did Millie Bobby Brown and Drake Meet & What Do They Text About?
Though it's been years since Millie Bobby Brown commented on her friendship with Drake, fans continue to discuss the unorthodox confidants. In fact, some fans speculate that the Certified Lover Boy artist addressed his friendship with the Stranger Things actor in his song "When to Say When." But how did these two celebrities even meet and what do they talk about considering their significant age gap?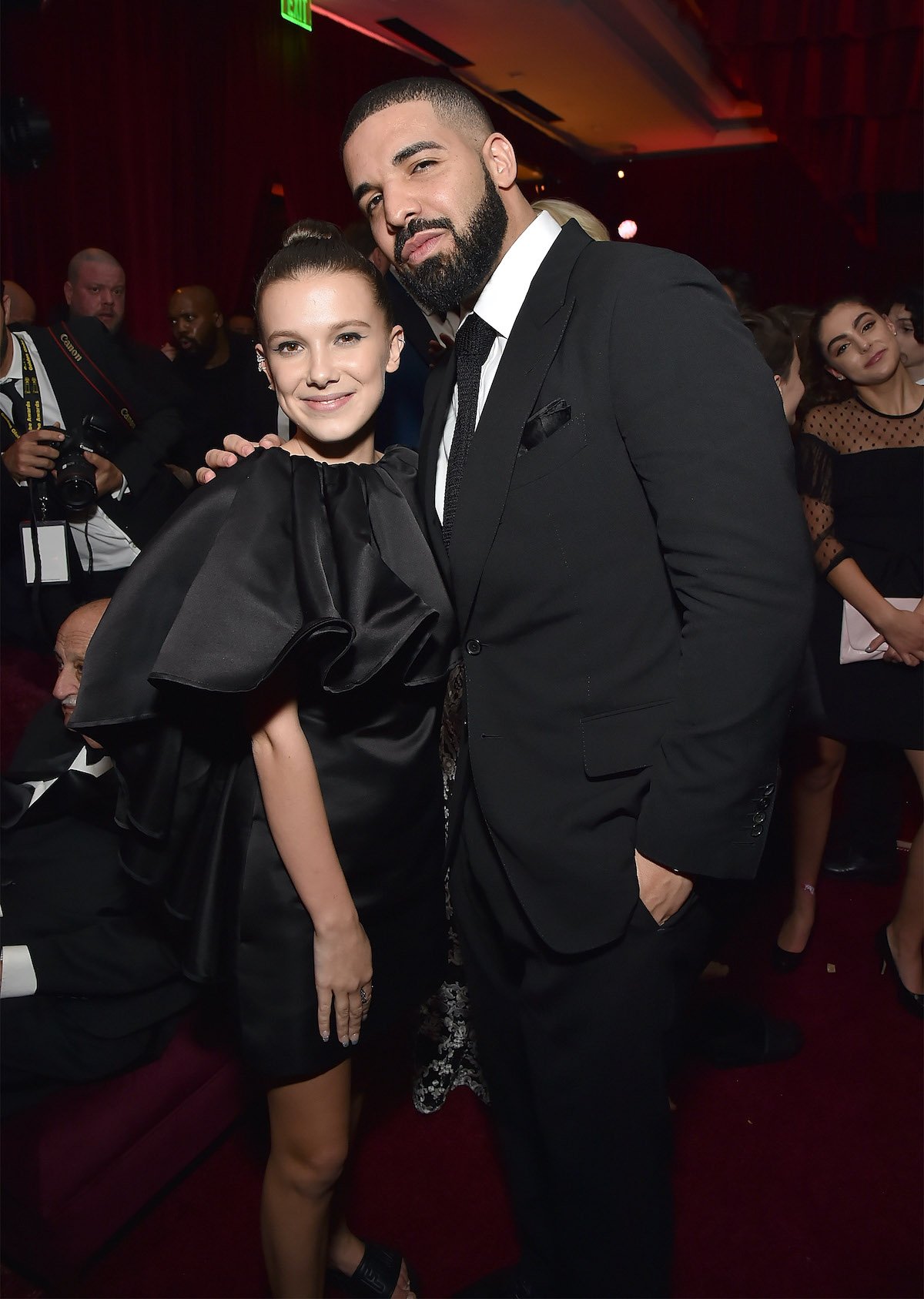 How did Millie Bobby Brown and Drake Meet?
Like millions of others, Drake is a fan of Brown's show Stranger Things. The Netflix drama made the teenager a millionaire and a household name. Back in 2017, when Brown was just 13 years old, the pair crossed paths at the Brisbane Supernova Convention in Australia. Because the dad of one was such a fan of the show, he was excited to meet Brown. The pair even took photos together doing the signature Eleven pose.
It wasn't long before the chance meeting grew into a friendship. The pair kept in touch via text and even made plans to meet up again at a later date. In an interview with Access Hollywood at the 2018 Emmys, Brown was singing Drake's praises.
What do the 'Stranger Things' star and the 'Certified Lover Boy' artist text about?
"I love him," Brown shared about Drake. "I met him in Australia and he's honestly a great friend and a great role model. You know we text. We just texted each other the other day and he was like 'I miss you so much,' and I was like 'I miss you more,' he's great. He's coming to Atlanta, so I'm definitely going to go and see him. I'm so excited."
When asked what she and Drake were texting about, Brown revealed that the "Nice for What" rapper provided her with advice about boys. "About boys, he helps me," she declared. "He's great, he's wonderful, I love him." While Brown was willing to share that Drake gave her dating advice, she wasn't keen about sharing the particulars. "That stays in the text messages," she stated.
Brown defended her friendship with Drake
Of course, not everyone supported the friendship between the two celebrities. Because of their significant age gap, Drake received some backlash. Many felt that the pair's relationship was inappropriate and didn't understand why Drake felt comfortable texting a young girl. When the backlash reached Brown, she hopped on her Instagram stories to defend the friendship.
"Why you gotta make a lovely friendship your headline?" Brown penned about Drake. "You guys are weird… For real. I'm lucky to have people in the business extend their time to help me further my career and offer their wisdom and guidance. I'm very blessed to have amazing people in my life. You don't get to choose that for me. It's nice to have people understand what I do. Now get back to talking about real problems in this world other than my friendships… jeez."
What is the age difference between Drake and Brown?
Brown may have been annoyed with the media's coverage of her friendship, but considering she and Drake have a 17 year age gap, the scrutiny makes sense. It's unclear if the pair are still as close today, but we don't fault people for expressing concern for Brown who quite literally grew up before their very eyes.