Millie Bobby Brown Isn't the Only Famous Teenage Girl Drake Has Texted
Millie Bobby Brown and rapper Drake have a relationship that's arguably stranger than the hit show that Brown stars in on Netflix. Though there is an 18-year gap between two celebrities, Brown (who is 15) has been open, in the past, about the fact that she and the "The Motto" rapper share a close friendship. The pair met in Australia back in November of 2017 and from there, began chatting frequently via text messages.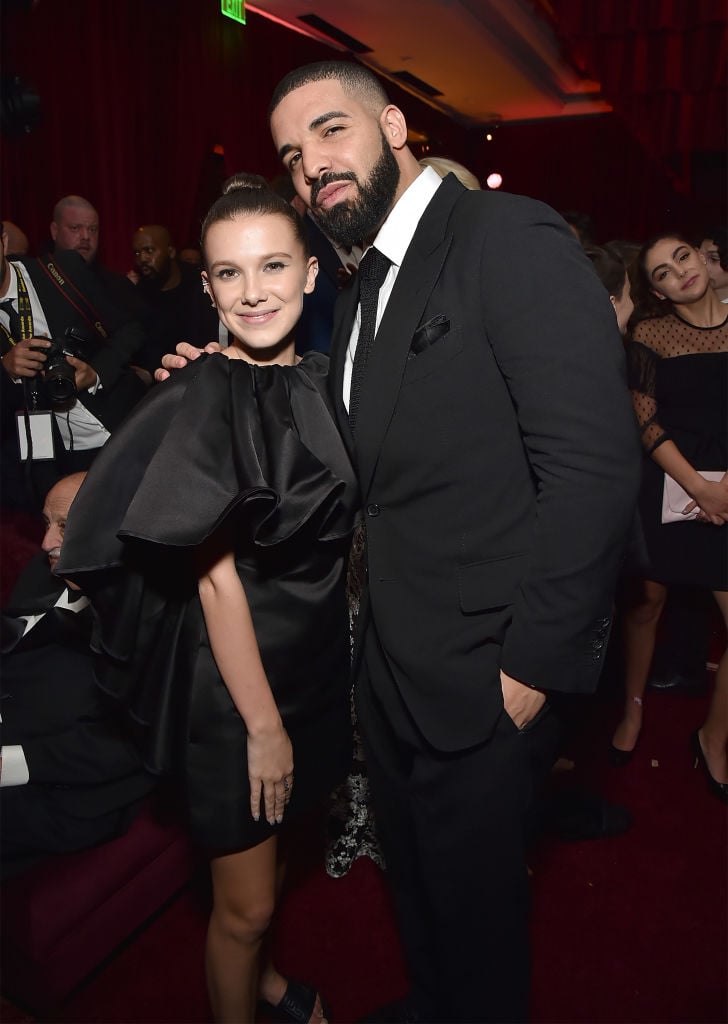 Millie Bobby Brown and Drake have a strange friendship
At the 2018 Emmy Awards show, Brown famously spoke openly about her friendship with Drake "I love him. I met him in Australia and he's honestly a great friend and a great role model. You know we text. We just texted each other the other day and he was like 'I miss you so much,' and I was like 'I miss you more,' he's great. He's coming to Atlanta, so I'm definitely going to go and see him. I'm so excited," she gushed. When she was asked what they chat about she responded, "About boys, he helps me. He's great, he's wonderful, I love him." However, Brown was tight-lipped about the specific advice Drake had given her. "That stays in the text messages," Brown stated. in an interview with Access Hollywood back in September of 2018.
An interview at every age
But, Brown isn't the only famous teenage girl Drake texts. Recently, Billie Eilish sat down with Vanity Fair for the third year in the row where she was given identical interview questions. In the video, Eilish is asked a series of questions about her life and her career. The genius of the interview is that Eilish's old interviews are played back for her so that she can react to them and notice how her life has changed in a year or two. One of the questions that Eilish got asked was "Who is the most famous person in your phone?" In 2017, the "Ocean Eyes" singer easily cited as fellow singer, Khalid, who she also referred to as "a homie of mine."
Billie Eilish talks celebrity contacts
In 2019 though, Eilish had a lot of people famous people in her phone to cite. She listed off Hailey and Justin Bieber, Young Thug, Avril Lavigne, Ariana Grande, Kid Cudi, Ty Dolla $ign, Teyana Taylor, and countless others that she chose not to mention before she landed on Drake. She then went into a brief monologue about how nice the rapper is, especially given his celebrity status and success. She continued on to mention that they have spoken via text in the past.
Drake texts both Millie and Billie
"But like Drake, c'mon. Drake. Drake is like the nicest dude I've ever spoken to. I mean I've only like texted him, but he's so nice. Like, he does not need to be nice. You know what I mean? He's at a level of his life where he doesn't need to be nice, but he is. You know?" the "Bad Guy" songstress implored. Though the exchanges between Drake and Eilish may very well be harmless, some fans found it suspicious that the 33-year-old "Right Hand" artist was once again texting teenage girls.
Fans express their concern
Almost immediately, fans of Eilish began to crack jokes and express concern about the text relationship. "'Drake texted me' FBI has entered the chat," one person wrote on in a comment on YouTube. "'He's really nice' yea wonder why," another chimed in on the comment thread in response. "Who's not surprised that Drake's texting Billie? That dude likes underage girls," another commented on the video. Despite the jokes, we hope that the texting between the two musicians has remained completely innocent and platonic. After years of increasing fame, Eilish is finally in a place where she considers herself to be happy. We can only hope she remains that way for the upcoming year.