Millie Bobby Brown Explained How She and Maddie Ziegler Met
It's been a while since Millie Bobby Brown and Maddie Ziegler hung out together publicly. However, a few years ago, the Stranger Things star and the Dance Moms alum were thick as thieves. The pair had sleepovers together and Brown wasn't shy about naming Ziegler her best friend. But how did the famous pair even meet?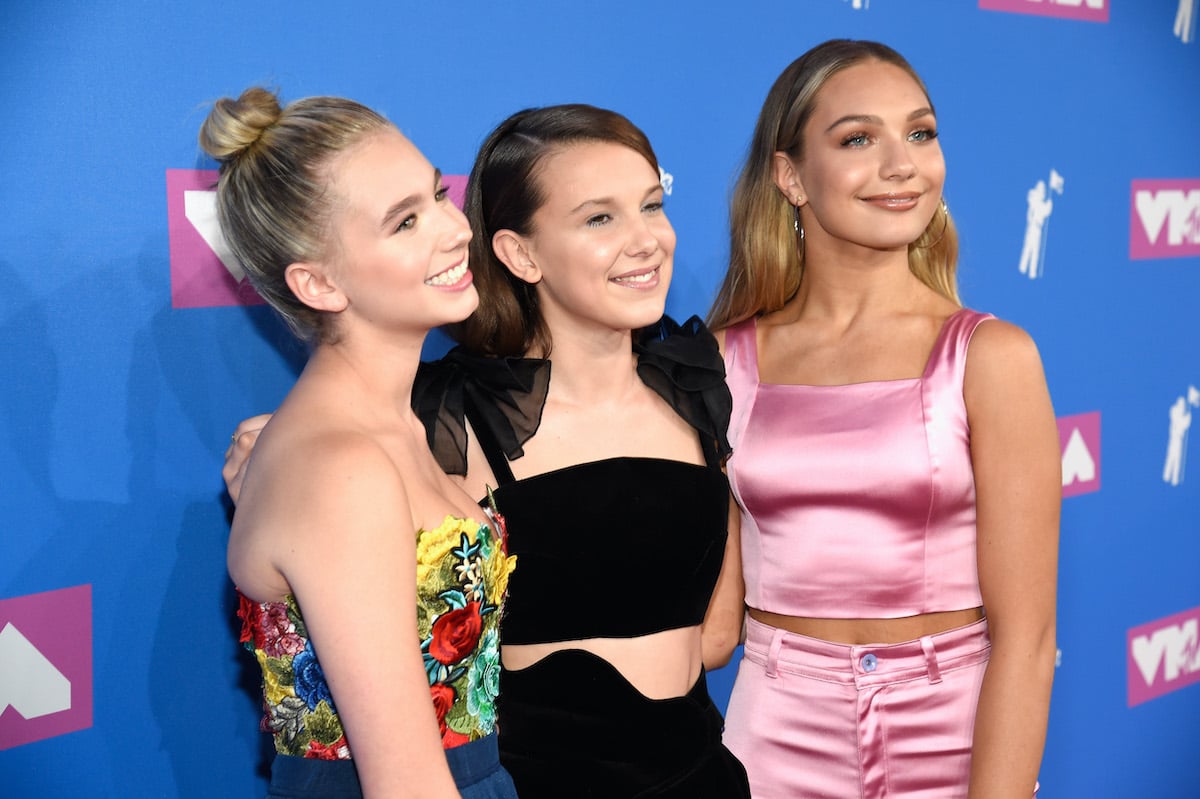 Like many of Ziegler's fans, Brown became familiar with The Fallout star thanks to her dancing skills. Ziegler captivated audiences with her performances on the hit Lifetime show, Dance Moms. Thanks to her passion for dance and her emotional execution, Ziegler also captured the attention of Australian pop star, Sia and gained even more fame through her performances in the singer's popular music videos like Chandelier and Elastic Heart.
Maddie Ziegler and Millie Bobby Brown met at a taping of 'So You Think You Can Dance: Next Generation'
Eventually, Ziegler's dance skills allowed her to be a judge on Season 13 of So You Think You Can Dance: Next Generation. When Brown got tickets to see a taping of the show, she couldn't help gushing over Ziegler. When the Enola Holmes actor was given permission to meet Ziegler, she was a bit starstruck. Fortunately, the dancer quickly put her at ease.
RELATED: Millie Bobby Brown Reveals Fans Have a Hard Time Accepting Her True Age
"I got tickets to go see So You Think You Can Dance because I've been watching you since I was about 7, and I was crazy when I knew you were actually going to be on the show," Brown recalled to Ziegler in a conversation for Interview Magazine. "And the whole show I was looking at you like, 'Please let her look at me.' And then they told me that I could go backstage and meet you, and I'm literally, like, taking deep breaths, like, 'Oh my goodness,' and then you were a normal human being."
The pair developed a friendship after the 'Dance Moms' alum followed the 'Stranger Things' star on Twitter
Though the pair first met right around the time that Brown's star was rising, Ziegler didn't really know who Brown was because she hadn't watched Stranger Things. Still, the dancer decided to follow Brown on social media after their chance meeting and that eventually led to a full-blown friendship.
RELATED: Millie Bobby Brown Has 'Hannah Montana' to Thank for Her Interest in Acting
"You were Maddie Ziegler," Brown gushed to the Dance Moms alum. "Then you followed me on Twitter—and I had a meltdown—and the rest is history, really. I finally got your number, and then we met, and we had that very hysterical day where we met some funny people at the pool. We just clicked."
Will the actors work together one day?
After that, the pair were pretty inseparable for a period of time. Though they both had ridiculously busy schedules, they still made time to hang out, FaceTime each other, make TikTok videos together, and even have sleepovers. Though the pair haven't posted anything about each other in quite some time, it's clear that they did have a strong friendship with one another at one point. Considering Ziegler is also an actor, it would be interesting if the pair work together on a project in the future.