Millie Bobby Brown and Maddie Ziegler Slapped Each Other at a Sleepover
Millie Bobby Brown and Maddie Ziegler may not hang out much anymore, but there was time when the pair were inseparable. The actors developed a fast friendship in 2016 and kept in pretty close contact despite the fact that they had busy schedules. The pair walked red carpets together, made TikTok videos, and even presented awards together on occasion.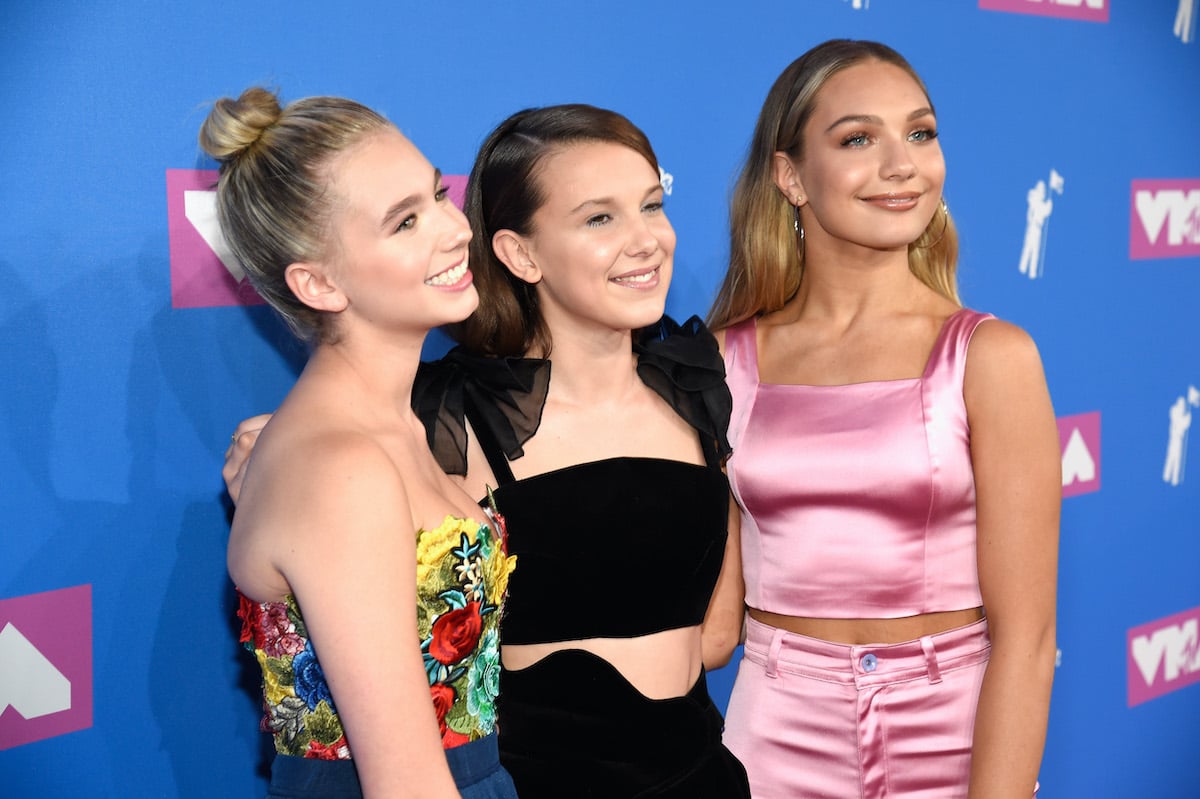 How did Millie Bobby Brown and Maddie Ziegler meet?
Though Brown is extremely well-known now, the Stranger Things star met Ziegler right before she exploded into superstardom. Brown grew up watching Ziegler on Dance Moms and was a bit starstruck when she was introduced to her at a taping of So You Think You Can Dance: The Next Generation. After their meeting, Ziegler followed Brown on Twitter and when they hung out again, they really hit it off.
RELATED: 'Dance Moms': Do Maddie Ziegler and Chloé Lukasiak Still Hang Out?
From that point on, the pair tired to hang out as much as possible. After Ziegler learned that Brown had never had a real sleepover, she invited the Enola Holmes actor over her house to spend the night. But, as Brown had a history of night terrors, the actors had to prepare in case Ziegler needed to help Brown. In an conversation for Interview Magazine, the pair confessed that they took the preparation process pretty seriously and ended up slapping each other.
Why the 'Stranger Things' actor and the 'Dance Moms' alum were slapping each other
"Yes, okay, so first of all, this was Millie's first proper sleepover, and she kind of has some night terrors, and I had never seen them before, and I didn't know how to handle it," Ziegler shared about Brown. "I was like, 'What do you do if you have them?' You said you scream a lot and try to climb up the walls. And I was like, 'What do I do to help you?' And you were like, 'You just have to slap me really hard.' So we practiced on each other, and I was like, 'Is this how hard I would slap you?'"
RELATED: Maddie Ziegler Reveals How She And Her Godmother, Sia, First Met
The pair admitted that they slapped each other an embarrassing amount of times. However, their preparation ended up being completely unnecessary as Brown didn't have a night terror that evening. However, the sleepover became pretty eventful for an entirely different reason. As it happens, the fire alarm when off in the middle of the night and the pair had to evacuate Ziegler's house.
Brown's first sleepover was interrupted by a fire alarm
"Maddie's stepdad comes in and goes, 'Girls, you have to go downstairs,'" Brown recalled. "We go downstairs and we have pillows in our hands. We're sleeping on each other, and what frightened me the most is the firemen all came in one by one and held the door open, proper gentlemen, like, 'You go in first, you go in.' I'm like, 'Oh no, I'm dying.' And then I went out and I met a couple of your neighbors. It was a pretty groovy night at 3 a.m."
Clearly, Brown's first sleepover was an eventful one. Between slapping Ziegler, being slapped herself, and dealing with a fire alarm, it's likely a memory she won't soon forget.