Millie Bobby Brown Reveals What Playing Eleven on 'Stranger Things' Has Taught Her About Herself
Millie Bobby Brown might not be able to drop any Stranger Things Season 3 spoilers, but she did reveal what paying Eleven has taught her about herself.
Stranger Things star Millie Bobby Brown may only be 15 years old, but she's an inspiration to her fans, not only in her role as UNICEF's youngest-ever Goodwill Ambassador but also for the effort she takes to use her platform in an important way. During a recent chat with fellow Goodwill Ambassador Orlando Bloom, Brown shared some of the ways she hopes to help young people and what playing the character Eleven on Stranger Things has taught her.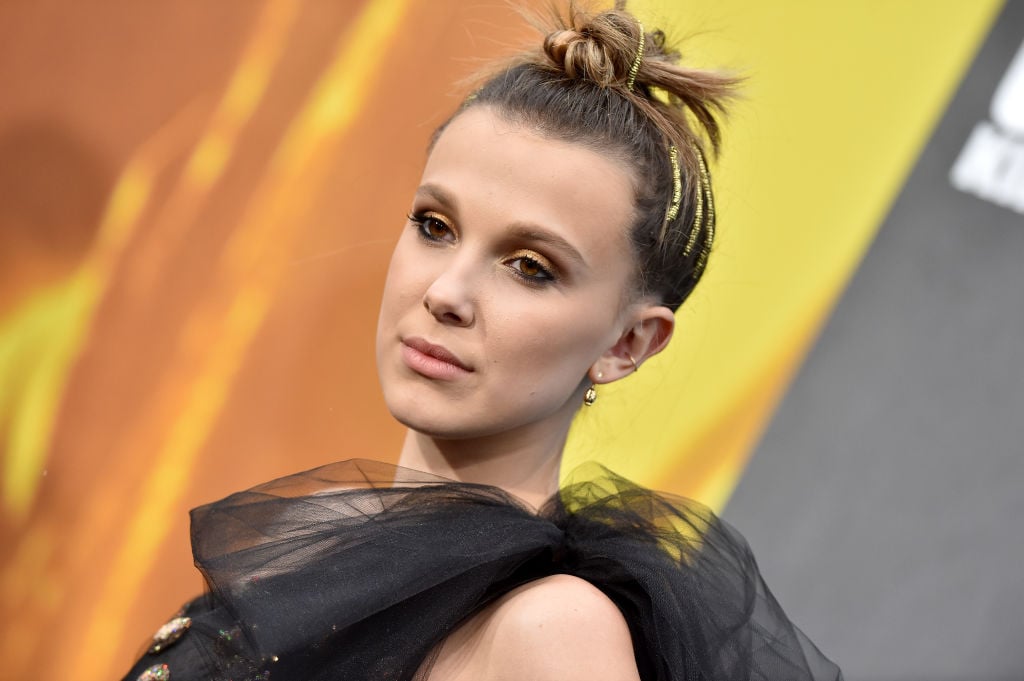 Her role as UNICEF Goodwill Ambassador
In 2018, Brown became UNICEF's youngest Goodwill Ambassador, a role she doesn't take lightly. Brown told Bloom during the interview with Glamour magazine: "UNICEF is the biggest and best children's organisation in the world…. I am very passionate about children getting the education they need, providing vaccines for them, protecting children against violence and ensuring they know what their rights are. Being named an ambassador — honestly it was one of the craziest situations. I can't even put into words how I felt, but it was just so exciting."
At the top of her list is the issue of bullying and how it impacts young people, something that Brown has experienced first-hand, unfortunately. She shared her personal experience, noting, "I was bullied at school back in England. So, it's extremely important for me to speak out against bullying. I actually switched schools because of it, it created a lot of anxiety and issues that I still deal with today."
Brown called bullying "soul breaking," adding, "it genuinely hurts reading some of the things people have said. Being in this industry we have become so aware of negativity and it's made me appreciate the love so much more. People receive so much love on social media and then only focus on the hate."
How the character Eleven has impacted her personally
Playing the role of Eleven on Stranger Things has been a highlight of Brown's career so far and likely will always hold a very special place in her heart.
When Bloom asked what the character taught her "about your own personal power," Brown shared: "It's really a story of individuality, too. I have learned a lot from Eleven. Yes, she's powerful, but she is also a loyal friend and protector. Even though she's still learning how to use her voice, her resilience, loyalty and strength inspires me."
She continued: "My message is always to spread love, light and positivity. The world can be a scary place sometimes, but it's important to remain hopeful and to be kind to others."
Brown shared one clue about Stranger Things season 3
As for Stranger Things' upcoming third season on Netflix, well, obviously, Brown couldn't reveal any plot points, telling Bloom: "There's not much I can say. But I can say it's one of the most important things in my life. I am so excited about it because I worked really hard on it. It's like my baby. I shaved my hair off for it, so ever since then it's become one of my favourite projects I have ever done."
She did give just a tease to Entertainment Tonight, however, saying that there will be an "evolution" of her character: "Eleven's character evolves greatly," she hinted, adding, "And I can say its spreading fast. And that's all I can tell you."
Stranger Things comes to Netflix on July 4.