'Million Dollar Listing': Fredrik Eklund Skipped 'WWHL' – 'Because He's a Horrendous Human Being,' Josh Flagg Says
Fredrik Eklund was noticeably missing from the Million Dollar Listing Los Angles cast appearance on Watch What Happens Live with Andy Cohen. Josh Flagg says he skipped the show "because he's a horrendous human being."
The cast shaded Eklund throughout the show and Tracy Tutor asked host Andy Cohen why Eklund didn't appear with the rest of them. "Let me tell you this, he was invited," Cohen said during the After Show. The virtual interview included six boxes, but one featured the WWHL logo where Eklund would have sat.
'Million Dollar Listing' cast wonders where is Fredrik Eklund
Flagg was quick to answer why Eklund wouldn't appear on the show. "Because he wouldn't come on," he said during the WWHL After Show. David Parnes wondered if that was true and asked why Eklund wasn't on the panel.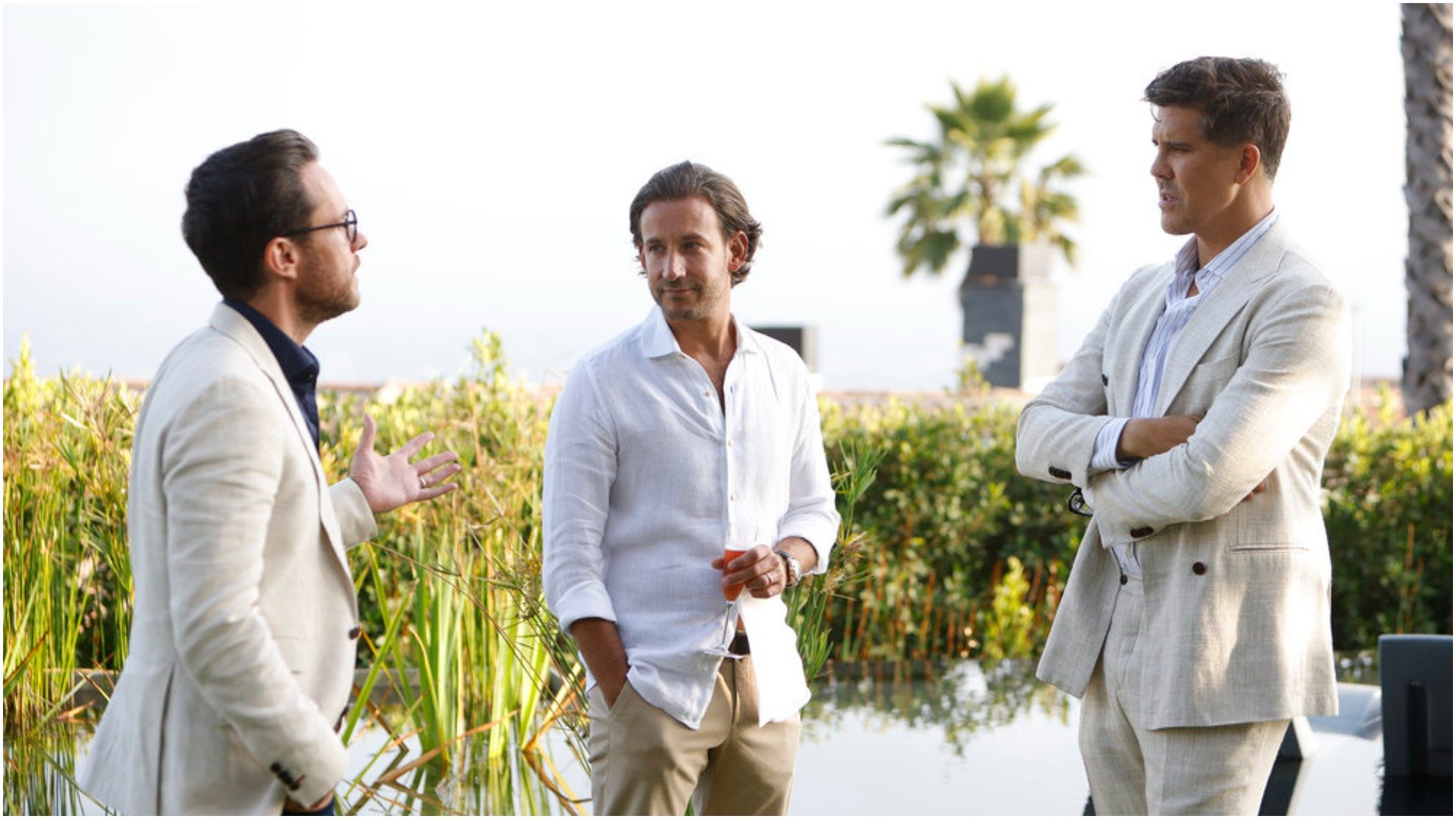 The rest of the cast then pressed Cohen. Flagg jumped on Cohen's response that he was invited. "I wonder why he isn't here," he said. "Because he always complains because everyone picks on him."
Josh Altman added, "Yeah, you know he can dish it but he can't take it. And that's the issue with it. If you wanna be in the game, in the sandbox, with the other kids, you gotta stay in there. You can't be half in, half out. And then every time someone comes at you, you call the upper management."
"I would take anybody over Fredrik," Flagg said about any other broker coming to LA. "I think he's a horrendous human being."
Josh Flagg and Josh Altman slams Fredrik Eklund from 'Million Dollar Listing'
The shade began early in the show when a fan asked why Flagg referred to Eklund as a "phony" on Instagram when Eklund congratulated him on his move to Douglas Elliman.
"Well, I guess we can go there because he's a complete phony," Flagg replied. "And he's a complete liar. He's a completely two-timing human being." Flagg explained that Eklund prematurely leaked the news about his move, so he was angry.
Altman chimed in that he was cutting people out of his life and Eklund ended up on the "shortlist." Adding, "I think he came out to LA to prove a point and I think he rubbed a lot of people the wrong way. No one's threatened by him. He's not a force to be reckoned with out here. And I think what he did to Flagg was a real poor show of judgment."
The cast prefers Steve Gold or Ryan Serhant
And while Flagg and Altman are steamed at Eklund from Million Dollar Listing, James Harris and David Parnes have let their early feud go with Eklund. Harris said they were angry because he arrived in LA a little too cocky. But he thinks Eklund may have learned his lesson. "I've let it go," Harris said on the After Show. "But I don't know if the guy's learned his lesson or not because he seems to be pissing off a lot of people."
The Million Dollar Listing LA cast would have preferred any of the New York brokers over Eklund, although Tutor said, "I prefer Steve Gold!" But when it came down to Ryan Serhant versus Fredrik Eklund, the choice seemed easy for the cast.
"I spent some time with Ryan for a couple of speaking engagements in the past," Altman said. "It's a different mentality. Look, we all have big egos. It's all good, that comes with success. I don't think Ryan would approach this the way Fredrik did. I think Ryan is more professional." Adding, "I also think he's not full of sh*t. That's the problem that we have with Fredrik."