'Million Dollar Listing LA': Josh Altman Has to Get Creative in Order to Sell Former 'RHOBH' Cast Member's Castle Home
Can Josh Altman from 'Million Dollar Listing LA' find a buyer for this 'RHOBH' castle inspired home?
Josh Altman from Million Dollar Listing Los Angeles is tasked with selling former Real Housewives of Beverly Hills cast member, Carlton Gebbia's home. Apparently, the castle-designed home hasn't been easy to unload.
The home went on the market in 2018, listed for $22 million, according to Realtor.com. Gebbia shared that building the home was a labor of love when she was on RHOBH, revealing that she dreamed of a castle home since childhood.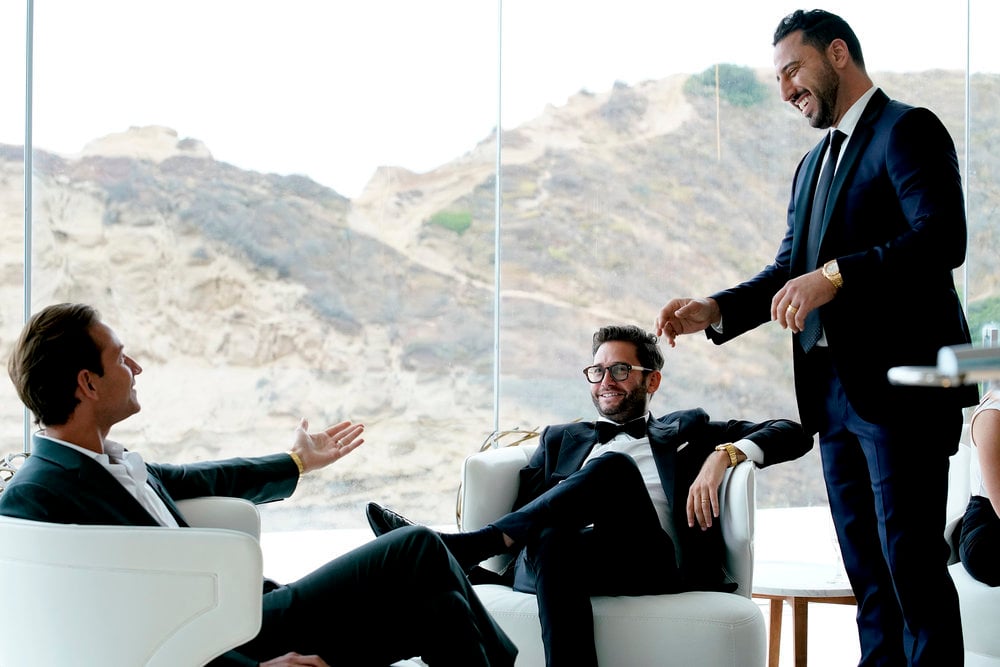 "I believe that your home is your sanctuary," Gebbia said in a flashback clip. "It's very necessary to put your imprint in there. I was probably about seven years old and I would imagine the castle that I would build. And we did it. We bloody did it." Gebbia is seen describing her burlesque inspired "adult" playroom too.
The couple listed the home after they divorced
Gebbia and her husband divorced in 2017 so they put the 15,000 square foot mansion on the market. The castle home is going to appeal to a very specific buyer, which is likely why it is still on the market. RHOBH viewers likely recall that Gebbia discussed being a Wiccan on the show. So she included a slew of "cross carvings, wooden gargoyles, and even a cross-shaped pool," Bravo's Style & Living reports.
Gebbia's ex-husband David, who also gives the Altman brothers a tour described the process his ex-wife went through to design the home.  "At the time, we visited every high-end home in Beverly Hills and Los Angeles and we wanted to bring the best of both worlds from Renaissance Europe and the castles of Versailles, and incorporate the California lifestyle of indoor-outdoor living," he told Daily Mail. 
Altman marvels over the home's detail. The ceiling in one room is hand carved which cost $300,000 alone. Gebbia's ex-husband notes that nearly everything in the home is custom-made. The 200 year old fireplace in the master bedroom was procured from a church in Paris. "It would cost about $30,000," Gebbia's ex estimates.
Atlman's wheels are turning because while he notes the home oozes gothic flare, it also includes state of the art features and finishes.
Altman goes goth for the broker's open
The series loves a good costume party and Altman is no exception. He goes with a medieval-themed broker's open with wife Heather by his side. Altman hires actors to dress in medieval costumes and he dons the attire of a knight. Heather Altman rocks a crown and traditional gown as the couple greets the agents who attend the party.
Altman injects humor into his presentation because although he is dressed in garb from centuries ago, he reads his speech from his phone. The brokers laugh as he reads, using his best English accent. "We welcome you to Beverly Ridge of nine," he dramatically announces.
The home is not staged even though the family has long departed. So Altman hired actors to re-enact a medieval sword fight as the brokers enter the home. One broker tells Altman she had been at the home previously but it was staged at the time. "Six or seven months ago?" she asks Altman. When the broker saw the home it was listed for $20 million. Now the home is being offered for $16.5 million.
Will Altman find the right buyer? Stay tuned. Million Dollar Listing Los Angeles is on Tuesday at 9/8c on Bravo.