'Million Dollar Listing Los Angles: Tori Spelling Teases Season 13 Appearance With Josh Flagg
Tori Spelling seems to be joining the list of guest stars on Million Dollar Listing as she teased a cameo on Million Dollar Listing Los Angeles Season 13.
She shared a photo on Instagram with Josh Flagg and his husband Bobby Boyd, along with a caption indicating that fans will be seeing her on the series next season. "Filming Million Dollar Listing…," she wrote. "With my friends @joshflagg1 and @bboydla and the lovely @carlyjsteel in BH for @bravotv." Spelling did not indicate she was buying or selling on the series and is also joined by actor Carly Steel.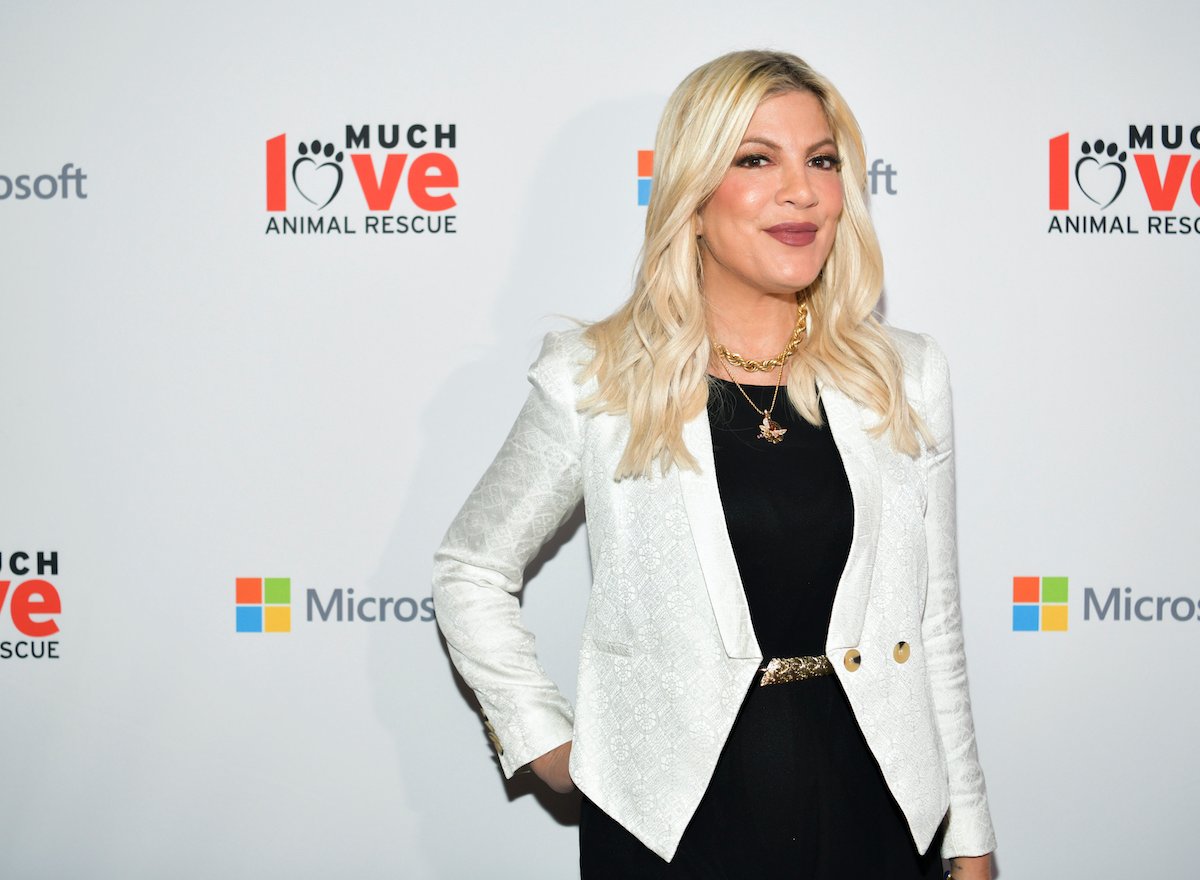 Tori Spelling and Josh Flagg got in trouble on Instagram Live
Spelling and Flagg made news in 2018 when she went live on Instagram after having a few too many adult beverages at Flagg's house. Spelling and her children were at Flagg's house to celebrate his one-year anniversary with Boyd.
She playfully rummaged through his refrigerator when Flagg decided to view her film, Troop Beverly Hills. But when she went live, fans were shocked and lashed out when she appeared to slur her words. "Are you drunk?" one person asked, Radar Online reports. "Yo, you been drinking girl?" another person added. Radar Online added, "In another post to her Instagram story, she screamed while rolling around with her kids and Flagg in bed."
Spelling later replied to the remarks. "I was raised to believe that if you can't say anything nice about someone then don't say anything at all," Spelling said. "Lift others up and you in turn lift yourself up #endcyberbullying."
Tori Spelling was a rumored 'RHOBH' cast member
Spelling has flirted with joining the Bravo family for the past year. Beyond her friendship with Flagg, she was rumored to be joining the cast of The Real Housewives of Beverly Hills.
As an "OG" of 90210, Spelling says rumors have followed her for years. "There's rumors every single season," Spelling told ET in 2020. "I don't even know where they come from. I've always said I'm a huge fan. Jen [Garth] knows I'm a huge fan. I watch all the Housewives — I love it! It's my entertainment."
"We work hard, we mom hard and at the end of the night I'm like, 'I'm putting on my Housewives,'" she added. "[But] no clue where [the rumor] came from."
While Spelling made it seem as though she preferred to watch Housewives than be on the show, she said she wished she'd been asked to join RHOBH. "It actually makes me really sad," she said on Sirius XM's The Jenny McCarthy Show, in 2019, CNN reports. "Drama follows me everywhere. I have a feeling you might get the shout out now." Jennie Garth, who also starred in 90210 then said that producers already asked her to join the series. She turned them down adding she was the "furthest thing from a desperate housewife."