'Million Dollar Listing New York': Tyler Whitman Leans Into the Stir Caused by His Giorgio Armani Sweatpants
Fans could not help but comment on the sweatpants Tyler Whitman rocked in the Million Dollar Listing New York Season 9 cast photo. Some comments were positive, but an overwhelming number of people didn't seem to understand the reference.
Ryan Serhant was the first cast member to share the photo on Instagram, which is where fans dropped their remarks. "My guy in joggers on the left hahaha," one person observed. I'm sorry, but…. sweatpants and a coat? …. No," another person added. One fan simply suggested that producers "find" Whitman some "better pants."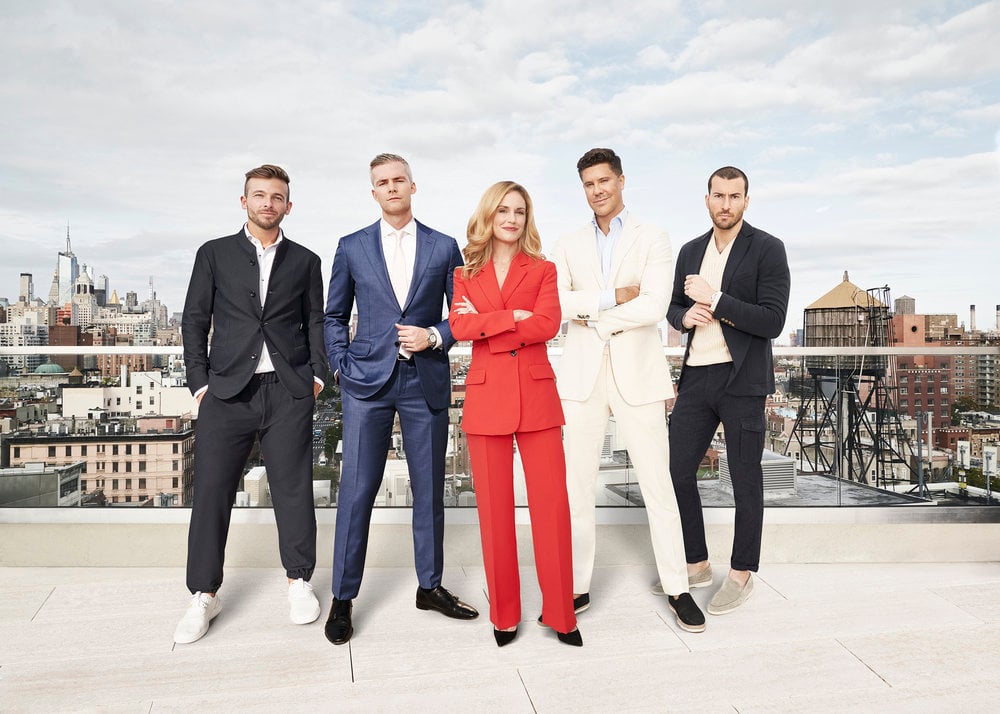 Tyler Whitman rocks Giorgio Armani sweatpants
Whitman is known for his acerbic wit but also his kind heart on the show. He took the comments in stride but shared that the pants were definitely not from a discount store, honey.
"Woke up feeling overwhelmed with gratitude for @giorgioarmani  designing the pants that made me relevant in the comment section for the first time since being on tv," he shared along with another shot of the super comfy, but stylish pants. "Dreams come true. In comfort."
New cast member Kirsten Jordan replied, "I love this and you so much. They are @giorgioarmani people!!!!" One fan insisted though they hated the pants. But Whitman had the perfect response, "That's because you haven't tried them on."
Whitman did not reveal the price of the pants. But a quick search on the Armani site indicates they weren't on sale for $10. Armani sells a men's pair of "Trousers in cashmere jersey fleece" that look similar to what Whitman is wearing. They cost close to $3,000. The "discounted" version in a more affordable fabric is $695. Whitman also wore a matching jacket which completed the look.
2020 was the year of the sweatpants
Even before the pandemic hit and everyone was working in sweatpants, designers created comfort-wear for professionals. Fortune magazine featured a 2018 article, "Now You Can Wear Sweatpants to Work and No One Will Know." And Men's Health identified a sweatpants trend for professionals in 2016.
Professionals who were used to being choked by a suit and tie found freedom in tasteful (not to mention expensive) leisurewear when they pivoted to a home setup. Researchers spent time diving into dress code norms during the pandemic, concluding that the year in sweatpants may bring a welcome and even permanent change for many professionals.
"In a twist in the we-are-what-we-wear story, researchers at Harvard identified what they called the red-sneakers effect," according to The Atlantic. "It posits that as long as the person ignoring workplace guidelines is perceived to be doing it purposefully, evaluations of that person improve—think Mark Zuckerberg and his "f**k you" hoodies in early Facebook business meetings. After all, there's no greater power than being exempt from the rules that govern everyone else."
And while Whitman was seen in the trailer in a traditional suit (and even a smart bow tie), his nod to the unusual year is entirely appropriate, delivered with his signature playful sense of humor.
Million Dollar Listing New York premieres on Thursday, May 6 at 9/8c on Bravo.