Million Dollar Listing: Ryan's Renovation Documents Ryan Serhant's Big Greek Brooklyn Renovation
Garlic in the walls to ward off evil Greek spirits? House blessings? Ryan Serhant from Million Dollar Listing New York gives fans a peek into what it was like to renovate his 7,900 square foot Brooklyn townhome, Greek-style.
Bravo announced a limited series spin-off, Million Dollar Listing: Ryan's Renovation that follows Ryan Serhant and wife Emilia in their journey through renovation hell. Gutting a home is hard enough. But add in Emila's big Green family and Ryan maybe bit off more than he could chew.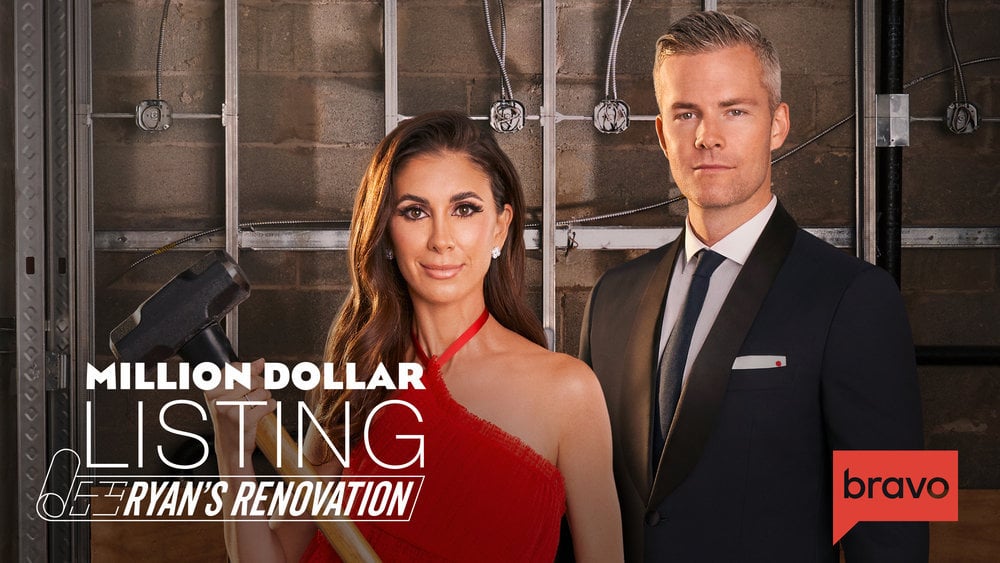 'Million Dollar Listing: Ryan's Renovation' is a family affair
Bravo revealed to Showbiz Cheat Sheet that, "viewers will see the transformation of the constantly evolving townhouse, with more than a few hiccups along the way" in each episode. Ryan and Emilia purchased the home to build a family together. Little did Ryan know building a family meant more than a space where little Zena will grow up.
"Embracing Emilia's very large Greek family, they are building out the basement level as a suite for Ryan's mother-in-law…but with mom comes dad, sister, brother, and the rest of the family," according to Bravo. "Since everyone wants a room, everyone wants their opinions heard. With so many voices chiming in, the Greek chorus starts to sound like chaos."
RELATED: 'Million Dollar Listing New York': Kirsten Jordan Admits 'Junk Juice' Tastes a Bit Like Dirt and Licorice (Exclusive)
Ryan is seen showing Emilia's father around the new townhome. His response? "Living room is too small," Emilia's father points out to Ryan. "That's my opinion. We should put some personal labor in this house."
Ryan has a confession for his wife. "Your dad is a little scary," he laughs.  
Will Ryan Serhant sell his 'Million Dollar' Home?
The renovation is truly a product of blood, sweat and plenty of tears. "I think you are struggling," Emilia's father tells Ryan as he is painting the inside of the house. Ryan is then seen embedding bulbs of fresh garlic inside the walls before he adds the drywall. The garlic is meant to keep away the Greek evil spirits.
But Greek evil spirits are not going to be Ryan's problem. Emilia's sister and mother announce that they plan to spend plenty of time in the home. In fact, Emilia's mother says, "I'll take the room upstairs," she says as Ryan hands his mother-in-law the baby. Emilia just laughs in a confessional, "Don't mess with the Greeks."
RELATED: 'Million Dollar Listing New York': Tyler Whitman Goes for the Big Fish This Season (Exclusive)
"In a renovation of this magnitude, there are always bumps and curveballs, including COVID-postponements, elevator installations, questioned decisions, and millions spent over budget," Bravo teases. "In an empty, concrete shell of a property, can Ryan see a forever home to grow old in, or will the chaotic, expensive construction make an unexpected multi-million dollar offer worth considering?"     
Ryan is seen receiving a potential $15 million offer for the townhome after everything the family has been through. He admits the broker in him is finding the deal hard to resist. Emilia isn't keen to sell. What will the family do?
Million Dollar Listing: Ryan's Renovation premieres on Thursday, June 3 at 10:15 pm ET/PT on Bravo.