Who Is Milwaukee Bucks Forward Khris Middleton's Girlfriend Samantha Dutton?
Milwaukee Bucks forward Khris Middleton has become an NBA superstar. He was selected with the 39th overall pick of the 2012 draft and didn't receive his first All-Star selection until 2019. While Giannis Antetokounmpo gets the majority of the credit for the team's success, Middleton was also a big part of the Bucks making it to the NBA Finals.
The athlete is much more private than Antetokounmpo or anyone else on his team but because he's playing on such a big stage now, fans want to know as much as they can about Middleton's personal life and his longtime girlfriend. Here's more on Samantha Dutton and how Middleton made it to the birth of their daughter when he was playing in a different city.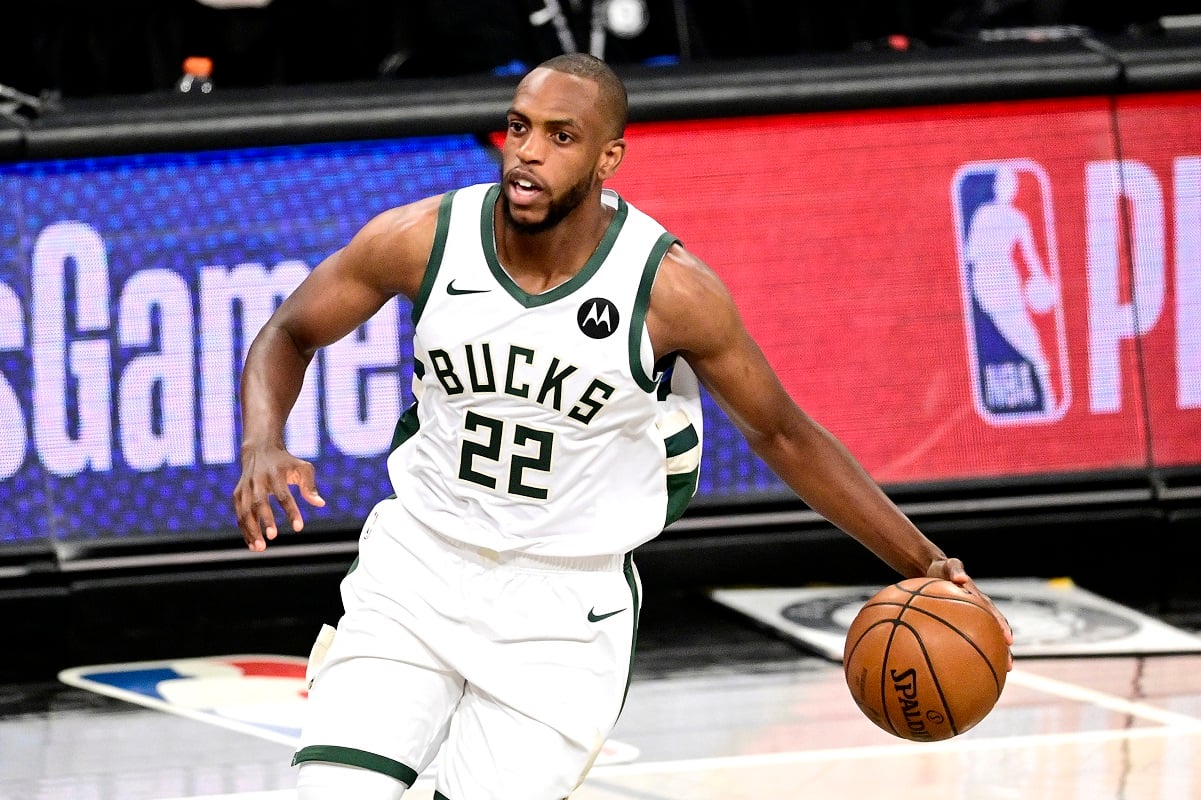 Samantha Dutton's early life and career
Samantha Marie Dutton, also known as Samantha Sneor, was born on Oct. 15, 1989, to parents June Sneor and Ruben Sneor in Farmington, Michigan. She has two brothers Jack and Zachery. Jack is a system administrator at Tapper's Jewelry in Movi, Michigan and Zachery works as a manager at TEXT2DRIVE in Phoenix.
Dutton attended West Bloomfield High School and later attended Oakland University where she graduated with a journalism degree in 2016. According to Fabwags, she was a community manager at CLUBHAUS in Detroit and then worked in the enterprise data and communications department for the Volkswagen Group of American in Auburn Hills, Michigan. In addition, she has also worked as a teacher and youth mentor.
How long have Dutton and Middleton been together?
Middleton has always been one of the more quiet players in the league and therefore doesn't comment on his relationship much. Dutton prefers to stay out of the spotlight as well but does make some appearances on her beau's Instagram on occasion.
It has been reported that the pair started dating sometime in 2016 and they have been together ever since. However, it hasn't been confirmed exactly where or how they met each other.
How many children they have together
Middleton and Dutton have one child together. Dutton went into labor during a Bucks playoff game against the Detriot Pistons. Middleton wasn't able to finish that game, which his team won, because he jumped on the private plane of Bucks co-owner Marc Lasry to make the birth. "It was fun to know we won that series, but I didn't get the joy of celebrating our first playoff series win," Middleton said during an interview with the Journal Sentinel.
Middleton's father, Dutton's brother, and a friend who had been at the game in Detroit also hopped on the plane back to Milwaukee. "It was actually a wild plane ride," the basketball star recalled. "The weather was bad, so the turbulence was crazy in the air… Everybody was talking nonstop. It was just hectic. I know Marc was talking a lot, my dad was talking a lot, but if you asked what exactly they were saying I have no idea. My mind was just racing at the time."
Dutton actually wasn't due to give birth until June but Audrielle arrived two months early on April 23, 2019.
Despite Dutton being so private, Middleton does shout his girlfriend out on Instagram from time to time just like he did on Mother's Day 2020. "Happy Mother's Day to this Mom and all the Moms out there!" Middleton captioned a photo of Dutton holding their baby girl. "We are lucky to have you in our lives and thank you for everything you do!"