Miranda Lambert Is Secretly Responsible for a Blake Shelton No. 1 Hit
Miranda Lambert and Blake Shelton had an epic relationship. Their pairing was so important to country music that people are still talking about it five years after the two announced their divorce.
For the four years they were married, these two were a country music fantasy. Although divorce rumors basically started as soon as they got married in 2011, their years together didn't seem turbulent. On the contrary, Lambert and Shelton were more relaxed than most other celebrity couples. They preferred hanging out on their Oklahoma ranch to living large, despite their celebrity status.
The pair sang together, recorded together, and influenced each other's music during the most important periods in their careers. In fact, Lambert is responsible for one of Shelton's most popular songs.
Miranda Lambert is the reason Blake Shelton recorded 'Home'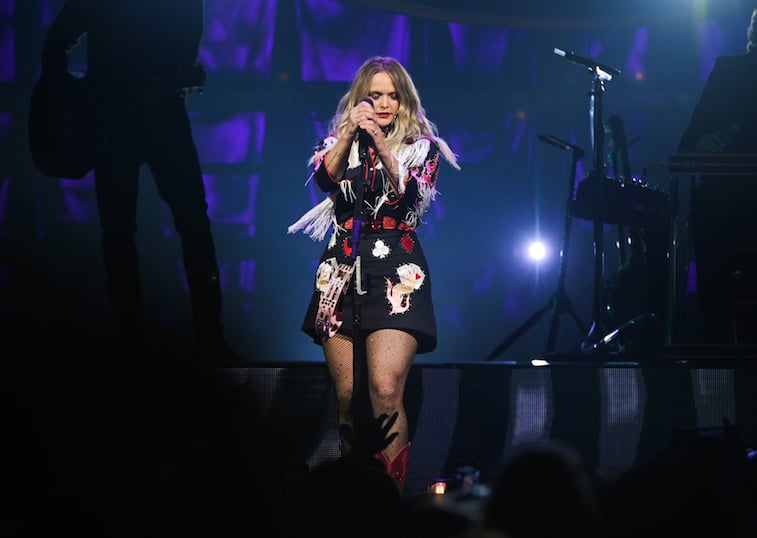 The Michael Bublé cover released by Shelton in 2008 was an instant hit. It was Shelton's fourth number one song. Lambert and Shelton were together at that point, although they weren't married yet. Either way, Lambert is one hundred percent responsible for the hit.
"Home" as Bublé sang it isn't exactly in Shelton's wheelhouse. He's straight country, and that's usually what he listens to. Lambert, on the other hand, is open to listening to other musical styles.
She also happened to be the only one in the Lambert-Shelton household who knew how to put music on an iPod.
Shelton asked her to load up his iPod with some of his faves, but she took some liberties. "I asked her to put John Conlee and the Bellamy Brothers' greatest hits on there. When I got to the bus, I had Michael Bublé on it. I had no idea who that was."
Lambert put a few of her non-country favorites on as well, but Shelton only connected with the Bublé hit. "If you look at my iPod now, there's other things on it, like Coldplay, the Gorillaz and other crap that I've never heard of. That shows you the power of 'Home,' because most of that stuff, I won't even give it a chance."
Blake Shelton made one of his most popular albums while he was married to Miranda Lambert
The song "Home" was on the second release of Shelton's popular Pure BS album. The album was originally released in 2007, and debuted at number two on the album charts. That's what makes the success of "Home" even more impressive.
Despite the fact that the album was incredibly successful in 2007, Shelton gambled that he could make it even better. And his version of "Home" did just that. Not only did Lambert introduce Shelton to the original, but she also collaborated with him on his cover.
She sang backup, making "Home" the first Shelton-Lambert collaboration they would make during their relationship.
Blake Shelton learned a lot from Miranda Lambert
Shelton owes Lambert for more than his number one hit. Even though Shelton was an experienced musician when he met Lambert, she was still able to show him up on stage. Shelton accompanied his then girlfriend on a tour in 2008, and he was amazed at her command of the audience.
Without her influence, Shelton wouldn't be the performer he is today. "I've been doing this much longer, and it used to be, 'You just listen to me.' But damn, this is a girl who steps out on stage and has complete control of the audience. It's pure artistry."
The list of ways Lambert and Shelton have influenced each other could go on and on. Almost five years after they split, Lambert has now remarried. Her husband is an NYPD police officer. Shelton is in a long term relationship with rocker Gwen Stefani. They may not be together, but Shelton's career is what it is today thanks to Lambert.