Missed Katy Perry on 'American Idol'? How (and When) to Watch Her Perform 'Daisies' Live
Singer Katy Perry is going to perform her new single 'Daisies' again. Here's how you can watch her second live,performance virtually.
Attention, Katy Perry fans! For Katy Cats who missed her latest live performance, you're in luck: there's another on the way. Read on to get the details about the upcoming virtual event featuring the popular singer, and learn more about what might be revealed there.
Katy Perry's new song 'Daisies'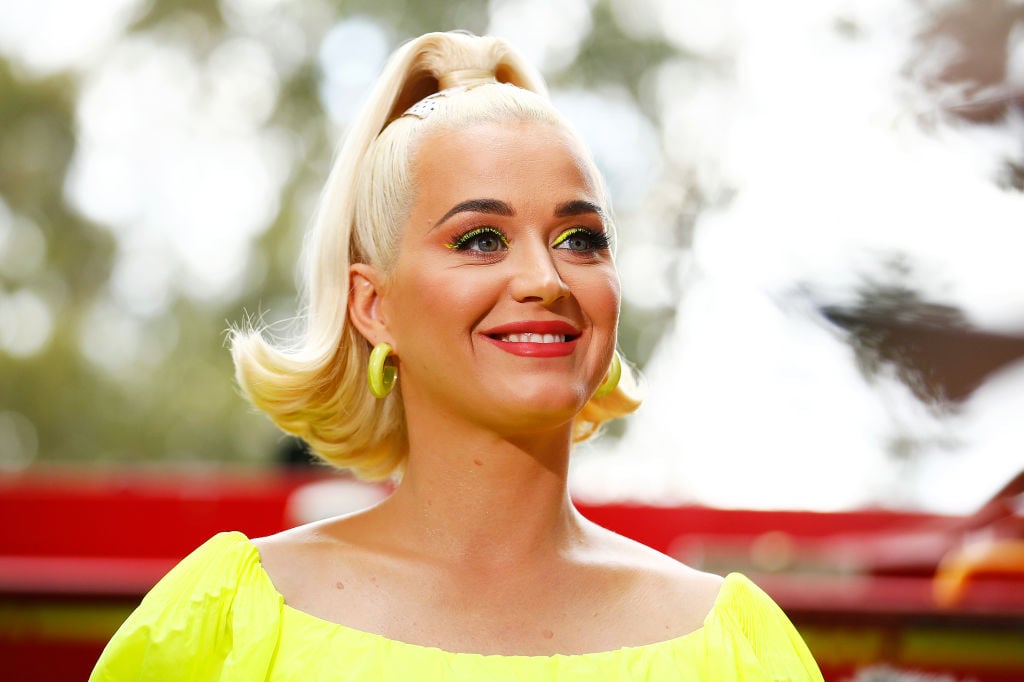 Perry started off 2020 strong. In addition to attending several events, her single, "Never Worn White," was released in March. She used the music video to reveal she's pregnant with her first child with fiancé Orlando Bloom. But she wasn't done yet.
Two months later, Perry announced the first single off her new album would be titled "Daisies." Given how the artist had taken to wearing a lot of yellow and floral patterns in recent months, it was clear that this was a reveal that was in the works for some time.
She dropped a music video
In fitting with its spring-inspired name, "Daisies" dropped on May 15. In addition to the song, Perry also released a music video. While the musician is known for her bright colors and intricately produced videos, this one was a deviation from the norm.
Because of the stay-at-home-order put in place due to the coronavirus (COVID-19) pandemic, Perry filmed her music video without the aid of a large crew and set. Instead, as she told Radio Disney, she had to take "a more naturalistic approach," and have the video shot in her backyard from a safe social distance.
Perry performed live on 'American Idol'
Perry, as you may know, is a judge on the latest iteration of American Idol. While the celebrity judges are officially there to, well, judge the contestants (and give them helpful critiques) it's also common knowledge that they often use this platform to promote their own new releases.
That's exactly what Perry did — albeit in a very unique way. Again, due to coronavirus, the live portions of the show have taken place remotely. And so Perry performed "Daisies" live for the first time in a very unique way — utilizing "brand new technology" to create an experience that was entirely fresh.
Perry will perform 'Daisies' again for Radio.com
If you missed Perry's live performance, you can still watch it. But there's another opportunity to see her perform "Daisies" live, and likely in an entirely different way. RADIO.COM LIVE is hosting a virtual event, which will include an update on her life and what's next for her.
The performance takes place on Thursday, May 21, 2020, at 6 p.m. EDT/ 3 p.m. PDT. And there are multiple ways to watch. The above link will take you to the stream, or you can watch on social via RADIO.COM's Facebook or Twitter account.
When will she announce more about her new album?
Perry released her last album, Witness, in 2017. The next year, she was focused on collaborations and American Idol. Then, in 2019, she recorded a handful of independent singles, including "Never Really Over." But what fans really want is a new album. And it looks like that's what's coming sometime this summer, as Perry told Radio Disney.
When she originally posted about "Daisies" (above), Perry wrote that it was the first single off her next album. So when will we learn more? It's hard to say, but the RADIO.COM stream teases that "Perry will welcome viewers into her home, delivering an update on life and her upcoming album."