Missing 'Schitt's Creek'? Get Your Eugene Levy Fix With These Movies Starring the Johnny Rose Actor
Actor Eugene Levy of 'Schitt's Creek' has been in a lot of notable comedy films. Here's a list of some of his best that you can watch now.
Eugene Levy is one of the stars and co-creator of Schitt's Creek. The beloved series, which earned multiple Emmy nominations, came to an end in April 2020 after six seasons. Levy portrayed Johnny Rose, the patriarch who grows closer to his children after losing everything.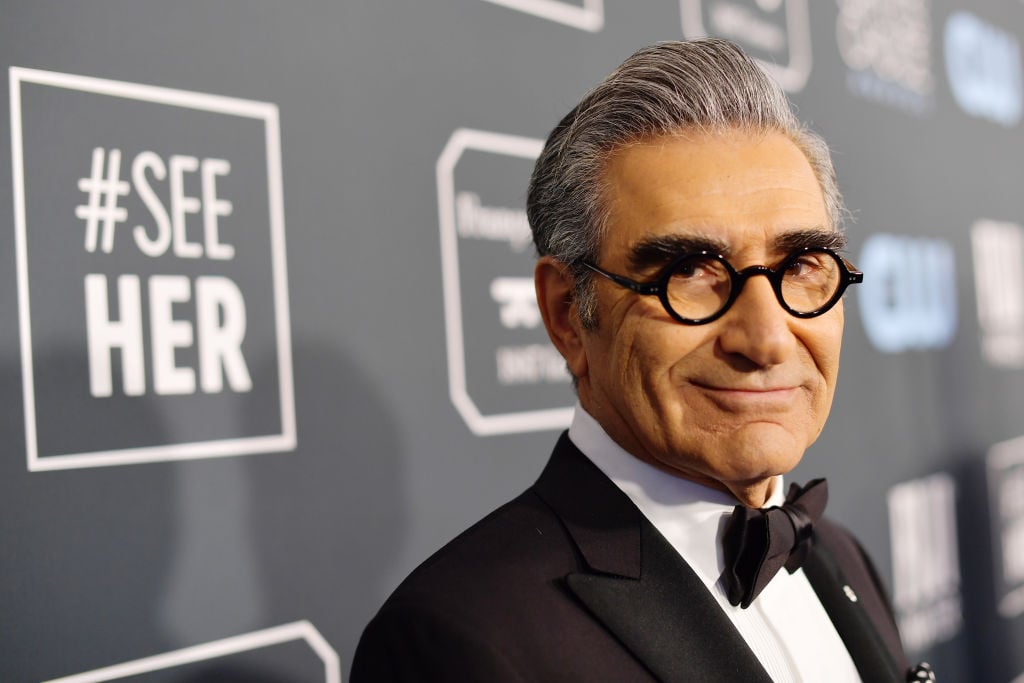 Fans may be struggling now that Schitt's Creek is over. But fear not — there are plenty of films featuring Levy to keep you occupied during this time. Take a look at a few of our favorites below.
Christopher Guest films
Levy is perhaps best known for starring alongside in a selection of largely improvised mockumentary comedies directed by Christopher Guest. This began with Waiting for Guffman, a musical co-written by Guest and Levy. Catherine O'Hara, who plays Moira Rose in Schitt's Creek, also had a role.
The 1996 film was followed by 1998's Almost Heroes, 2000's Best in Show (again, with O'Hara), and 2006's For Your Consideration. Levy co-wrote the latter two with Guest. Sadly, none are available for free on any major streaming services, but all can be rented cheaply on YouTube, iTunes, or Amazon Prime.
The 'American Pie' movies
In more mainstream film, Levy is often recognized for his role in the American Pie franchise. He first starred as Noah Levenstein in 1999's American Pie. He stole the show as the overly involved father of Jim (Jason Biggs). Levy went on to appear in American Pie 2, American Wedding, American Reunion, and four direct-to-video entries within the franchise.
'Splash'
One of Levy's early prominent roles was in the 1984 comedy Splash. He stars as Dr. Walter Kornbluth, the scientist whose search for the mermaid Madison is at the center of the film. He's sort of the villain at first, but he ends up working with Tom Hanks to save her in the end. Unlike many films on this list, Splash is available to watch for free on Disney+.
'Father of the Bride' and its sequel
Though Levy was in both the 1991 comedy Father of the Bride and its 1995 sequel, Father of the Bride Part II, he played a different role in each. In the first, he is a singer who auditions to perform at the wedding of George Banks' (Steve Martin) daughter, improvising a song.
In the second film, Levy has a more substantial part. He portrays Mr. Habib, who buys their house from them. There's a notable scene in which George argues with him when he discovers that Mr. Habib plans to demolish his house, and eventually buys it back. Both are available to rent on Prime Video.
'Josie and the Pussycats'
Like most actors, Eugene Levy has had some interesting cameos in his career. He portrays a version of himself in the 2001 musical comedy Josie and the Pussycats. Levy is shown in a video clip that teaches world leaders about subliminal message in rock music, which is a focal point of the oddly intricate plot. The movie can be rented via the usual services.
'New York Minute'
Levy has certainly done the rounds in teen comedies. His role in the 2006 teen comedy New York Minute has him once again playing an antagonist, this time a truant officer chasing after Mary-Kate Olsen's Roxy as she runs around the city. The movie can be watched on Amazon Prime, either free (with ads) or for rent.