'Modern Family' Co-Creator Christopher Lloyd Breaks Down the Decision Behind That Shocking Death
Modern Family co-creator Christopher Lloyd recently opened up about Frank Dunphy's (Fred Willard) bittersweet death. As the series gets closer to its grand finale, fans said goodbye to Phil's (Ty Burrell) light-hearted and gregarious father. The death was heartbreaking for fans, but Lloyd shed some light on why Frank met his end ahead of the series finale.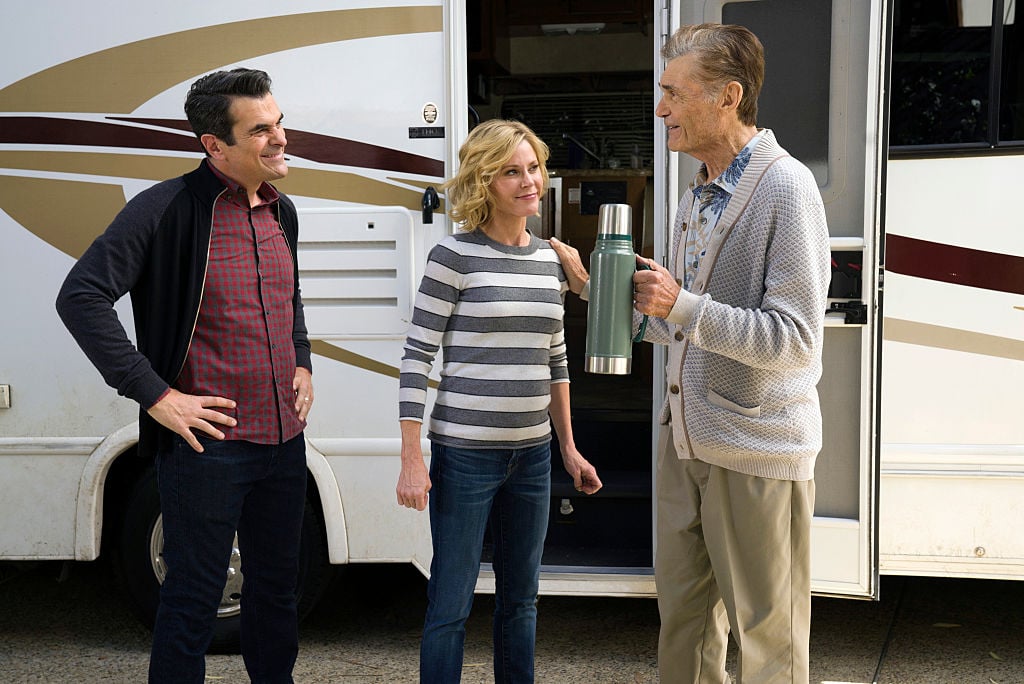 Fans bid Frank farewell
Frank was in 14 installments in the past 11 seasons of Modern Family. In the episode, "Legacy," his journey ended after Phil flew to Florida to check on his father.
Phil had heard about Frank wandering around his old grocery store and feared that dementia had set it. Luckily, his dad was okay, and Phil ended up spending the entire day with Frank.
The father and son shared a special moment on when Phil cut Frank's hair. After Phil asked Frank if he ever regrets not having another child who could have taken over the store, Frank told him, "Well, you did take over the family business, didn't you? Keeping life light, making it fun for everybody."
Phil then told his father that he learned everything from him, which prompted a loving embrace from Frank.
Following the heartfelt scene, Phil revealed that his father died shortly after. Modern Family fans then watched Phil speak about his dad at a memorial service, reinforcing the idea that people should let others know how much they appreciate them while they are still alive.
'Modern Family' co-creator breaks down Frank's death
In an interview with Entertainment Weekly, Lloyd opened up about how the decision to kill off Frank in the show's final season.
Lloyd revealed that it was a very difficult decision, mainly because Frank is a Modern Family character he has always loved. But in the end, Frank's death offered an opportunity to explain some of Phil's characteristics, including why he is so goofy.
"And even more important than that, it gave us a chance to really take a look at how Phil came to be Phil. Phil has, in many ways, been really dead-center of the heart of the show. But he's a little bit of this manchild. It was a chance to lend some dimension to that. That isn't just Phil being goofy, that's actually a choice," Lloyd stated.
The Modern Family co-creator added that Phil learned a lot of his behavior from his father, especially the importance of being a light in a community.
Although it was heartbreaking to see Frank go, it was nice to learn the origins behind some of Phil's characteristics. That said, it is sad to know that Frank won't be around to add some comedy relief to the show — at least for now.
Is Frank really gone for good?
Although we have seen how Frank dies, Lloyd was asked about the chances of seeing Frank via flashbacks in the final few episodes of Modern Family.
Lloyd revealed that it is entirely possible that fans will see Frank in a flashback in an upcoming episode. The series has been using more and more flashbacks this season, so we could see Frank in a scene with other characters, like when Phil was a child.
"It's possible. Through the season and even as we move forward, we have been adding flashbacks to the episodes, just as a little nostalgic layer that we've put on the season," Lloyd added.
Lloyd went on to say that they have yet to film the final few episodes of Modern Family and are still working out how the series is going to end. Although fans would love to see Frank pop up one last time, Lloyd revealed that they have not shot any other scenes with him.
Luckily, Lloyd and his team still have another month to figure things out before the finale is scheduled to air.
Sarah Hyland talks 'Modern Family' ending
Speaking of the Modern Family finale, Sarah Hyland recently talked about filming the final three episodes and revealed that her hairdresser, Jessica, cannot stop crying about the show's ending.
"We have three episodes left to shoot," Hyland stated. "Jessica, who does my hair, can't stop crying. I love you, Jess!"
Hyland noted that the finale of Modern Family is due to premiere at the end of February, giving the cast and crew plenty of time to get things wrapped up.
Like Lloyd, Hyland admitted that she still does not know how Modern Family will end in February. She also revealed that she does not read the scripts ahead of time, at least not the scenes that do not include her character.
If Hyland keeps that up, then she will not know how the series ends until the finale airs on ABC next month. Hopefully, the series will do all of the characters justice and fans will get to see Frank one last time before the end.
New episodes of Modern Family air Wednesday nights on ABC.