'Modern Family' Star Sarah Hyland (Haley Dunphy) Reveals She Would be the Villain if She Went on 'The Bachelor'
It's no secret that Sarah Hyland from Modern Family is engaged to The Bachelor alum Wells Adams. What you probably didn't know was that Hyland believes she would be the villain of the season if she ever went on the show.
Let's take a look at what she told The Bachelor host Chris Harrison and Lauren Zima from Entertainment Tonight during an Instagram Live "Group Date."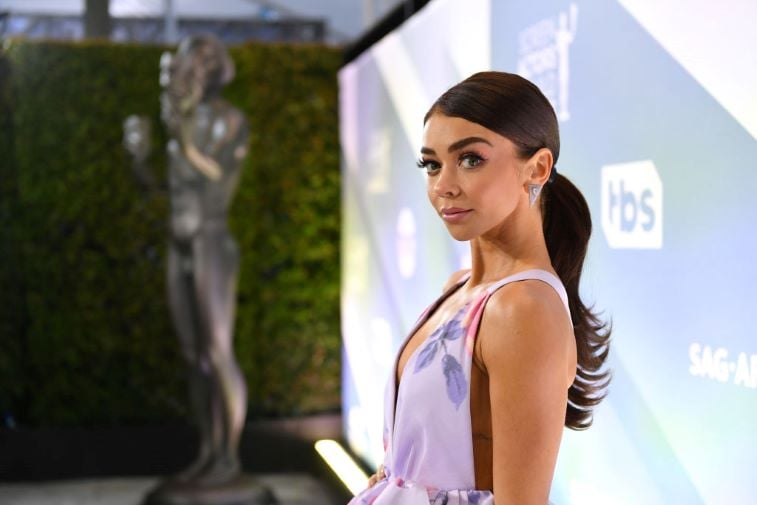 How did 'Modern Family's Haley Dunphy (Sarah Hyland) meet 'The Bachelor' Wells Adams?
Luckily Hyland did not have to go on the reality television show The Bachelor to meet Wells. However, she is a massive fan of the television show. She first laid eyes on Wells when he was on Joelle "JoJo" Fletcher's season of The Bachelorette in 2016.
Throughout the season, Hyland often tweeted about Wells. She was immediately drawn to him. Wells appeared again on her television during The Bachelor in Paradise Season 4 when he became the bartender for the couples in Mexico. The pair began exchanging flirty messages on social media.
"Have you seen those memes of 'Slide Into the DMs'? That. He slid into my DMs," The Modern Family star told Jimmy Kimmel. "I was single, obviously, and was like, 'This is really awesome. You're very forward, and it's sexy and not aggressive, but very confident and sexy,' and I liked that."
In November 2017, the couple announced their relationship on Instagram. On July 16, 2019, they announced their engagement.
Why does Sarah Hyland believe she would be the villain on 'The Bachelor'?
During a group date interview on Instagram Live, Zima asked Hyland what kind of contestant she would be if she went on The Bachelor. 
"I would be a lot," Hyland explained. "I think I would be hated because I don't have a filter, and I also get really really close to women. If someone does something that pisses me off to make me think they are a bad person. I'm like they are done. I would band together with my women."
A quick dive into Hyland's Instagram account, and you will find her pictured with a few close girlfriends very often — evidently banding together.
"I would like to say that I would slink into a corner, but I know that I wouldn't," Hyland continued. "I have a tequila personality, but I drink wine."
Will there be a Haley Dunphy 'Modern Family' spin-off series?
Over the past 11 seasons of Modern Family, fans have come to love Haley Dunphy. Viewers continually beg for a spin-off of the character. However, it looks like it won't be happening anytime soon. Hyland is set to star in a new sitcom from The Big Sick with writer Emily V. Gordon. 
Gordon and Hyland will executive produce the show together with co-showrunners Isaac Aptaker and Elizabeth Berger from This Is Us. The new show will begin filming after the final season of Modern Family wraps.
The project is inspired by both Gordon and Hyland's real-life experiences. No further details about the series are known at this point.
Read more: 'Modern Family' Star Sarah Hyland Says She Is Used to Being Quarantined — This Is Her Third Time