The Most Surprising/Historic Moments From the 77th Golden Globe Awards
One of the most fun awards shows of the year is the Golden Globes, which brings together both film and TV stars for a night. And the 2020 Awards were as interesting as ever. From the winners to Taylor Swift and Amy Poehler presenting together and talking about how "tiny mice" make animated movies, here's a look at them.
Bill Hader and Rachel Bilson walked their first red carpet together
One of the most talked-about rumored couples of the past couple of months is Bill Hader and Rachel Bilson. The two actors seemed to be a little bit of an odd pairing, but they were spotted together frequently, and so fans were pretty sure it was legitimate.
They essentially confirmed this at the Golden Globes. Hader and Bilson walked the red carpet and posed together. Hader was in attendance as a nominee for his series, Barry.
Ellen getting the Carol Burnett award
Kate McKinnon presented Ellen DeGeneres with the Carol Burnett Award for Excellence in Television. The Saturday Night Live comedian spoke about how DeGeneres inspired her, saying, "She risked her entire life and her entire career to tell the truth. And she suffered greatly for it. If I hadn't seen her on TV I would have thought I couldn't be on TV," said McKinnon.
After a clip of career highlights, DeGeneres took the stage. She joked about how it was different for her since she knew she was going to win the award, and she can just keep talking as long as she wants. It was also very heartfelt as DeGeneres spoke about how she's "an open book," and even talked about Burnett herself.
Quentin Tarantino's acceptance speech
Look, everyone hails Quentin Tarantino for his films. But Once Upon A Time In Hollywood drew some interesting responses, and not all of them were good. Regardless, the famed writer-director won for Best Screenplay, and he gave a speech that was quintessentially him.
First, he talked about how he doesn't really have anyone to thank since he wrote it himself. "But this time more than usual, I had a fantastic cast," Tarantino said, saying that they "added another layer to the script." Oh, and he announced that his wife is pregnant.
Tom Hanks won the Cecil B. DeMille Award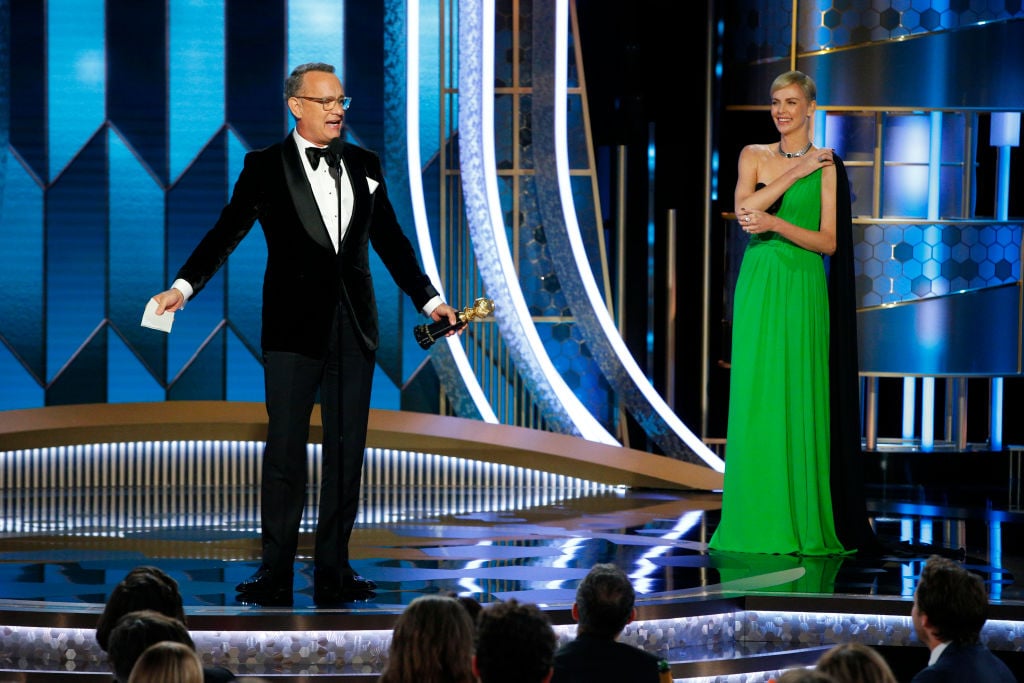 You may not have expected this mash-up. But as Charlize Theron pointed out, Tom Hanks gave her one of her early roles in That Thing You Do! back in the mid-90s. She said that she had a coveted VHS tape of Splash growing up, and that during her audition, Hanks noticed she needed time to collect herself and excuse himself without putting the onus on her to ask.
"He stands for all the quality we aspire to both on-screen and off," said Theron. "He has made easy work of breaking out hearts and stealing our tears," she continued, adding, "he makes the world a better place."
To his credit, Hanks' speech continued this tone. He had a bad cold and even started crying as he told his family how much they love him. "You're a dope if you don't steal from everyone you ever work with," Hanks said, citing all of the incredible people he's worked with and bringing it back to Theron's comment.
Michelle Williams' acceptance speech
No one gives an acceptance speech like Michelle Williams. At the Emmys in 2019, she spoke about how women's pay in the entertainment industry (and beyond) is so important. Williams continued to champion women's rights by focusing on the issue of abortion this time around.
"When it's time to vote please do so in your own self-interest. It's what men have been doing for years. Which is why the world looks so much like them," said Williams, who recently announced she's both engaged and pregnant with her second child.
Brad Pitt's acceptance speech
Yes, we all know who Brad Pitt is. But he's also one of those actors who, despite being hugely famous, doesn't often win awards. So seeing him get up on stage and make a speech was a fun and unique experience.
After thanking director Quentin Tarantino, he thanked his co-star Leonardo DiCaprio. He then made a Titanic joke, saying "I would have shared the raft." Additionally, Pitt thanked his parents"I wanted to bring my mom but they say anyone I'm standing next to I'm dating." At this point, the camera panned to his, ex-wife, Jennifer Aniston, laughing and smiling in the audience.