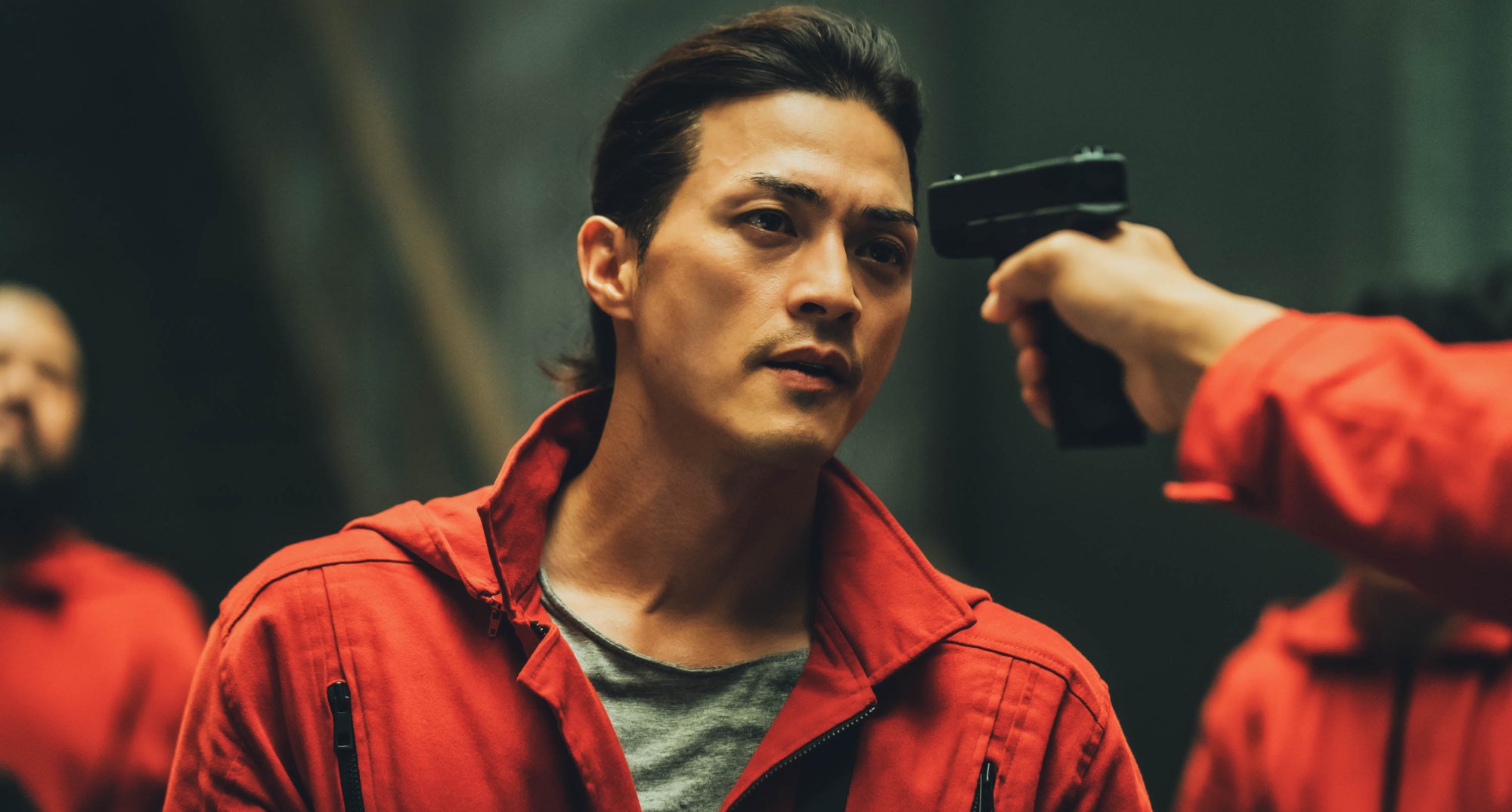 'Money Heist: Korea': Erotic Sex Scene Between Two Characters Breaks K-Drama Rules
Like the Spanish original, Denver falls in love with a Mint employee. By the finale of 'Money Heist: Korea,' the two characters go all the way in a sex scene that breaks the rules of K-drama nudity.
One of the most scandalous things that could happen in a K-drama is a sex scene. Fans are well aware intimate scenes follow a strict guideline of almost no nudity or eroticism. It is one of the main reasons why K-dramas became so popular for their steaming kiss scenes. With Squid Game breaking the mold, Money Heist: Korea – Joint Economic Area furthers in pushing the envelope with a sex scene between Denver and a hostage.
[Warning: This article contains spoilers for Money Heist: Korea.]
Denver's romance storyline with an employee at the Mint is the same in 'Money Heist: Korea'
In the Spanish original, Denver (Jaime Lorente) is not great at love or picking the right woman. But he is kind-hearted and has good morals. It led him to take pity on Royal Mint employee Mónica Gaztambide (Esther Acebo) when Berlin (Pedro Alonso) ordered him to kill her. Knowing she is pregnant and not at fault, Denver fakes her death, tends to her wound, and falls in love. In Money Heist: Korea, Denver (Kim Ji-hoon) is one of the characters who get the same romance story as the original.
On their way to start the heist, fans learn about the affair of Royal Mint employees Cho Young-min (Park Myung-hoon) and Yoon Mi-seon (Lee Joo-bin). Mi-seon is also pregnant, but Young-min does not believe her because he is sterile. As the heist occurs, Denver develops a soft spot for Mi-seon, learning she is pregnant and how Young-min has treated her.
He becomes her protector, and like the original, Denver fakes her death when Berlin orders him (Park Hae-soo) to kill her for trying to contact the police. With the help of some of the team members, they save her life, and they fall in love.
In K-drama finale, Denver gives her a speech about forgetting the heist, moving on, and finding a decent guy. But Mi-seon says she is quitting, which angers Denver until Mi-seon kisses him. The following is Money Heist: Korea's jaw-dropping sex scene.
'Money Heist: Korea' sex scene breaks the rule of exposure and nudity in K-dramas
When looking at the more notorious sex scenes in K-dramas, there are a few similarities. In particular, audiences never see any nude part of the male actor besides the torso. The characters also do not go into detail when enacting a sex scene. But the erotic sex scene between Denver and Mi-seon in Money Heist: Korea takes the cake.
Mi-seon's kiss was the go-ahead for Denver. She also developed feelings for him in the chaos of the heist. The sex scene goes through a lot of the typical motions and movements one would expect. But there is one addition that is not often seen. Denver shows, through facial expressions, that he has reached his peak.
The scene goes further as the two characters change positions, and this is where the Money Heist: Korea sex scene will baffle fans. The camera pans to show Denver's abs, a large scar down the middle, his face, and Mi-seon's passionate emotions.
The money shot is when fans get a full-frontal image of Denver and Mi-seon on the metal table naked. The biggest rule break is that fans can see Denver's posterior in all its glory. But perfectly placed limbs and angles have Mi-seon's intimate areas fully covered.
Why the K-drama's sex scene is different from 'Squid Game' and 'My Name'
Sex scenes in K-dramas are hard to come by, especially ones that cross the PG-13 rating. Squid Game was the first when two players have sex in the bathroom out of need instead of love. The scene became a hot topic as it is the first time a K-drama shows a drastically more explicit scene than what fans are used to.
After Squid Game's success, Han So-hee's My Name revenge drama also surprised fans with a sex scene in the finale. The scene was also "explicit" for K-dramas due to the lust, bare upper torsos, and overall expressions. But the two scenes have one main rule: no bottom half nudity.
It is common for a male character to show off their torso or for a female character to be shirtless. But camera angles cover her chest to create a sense of modesty. The sex scene in Money Heist: Korea breaks the rule entirely. It is one of the rare and likely the first times a sex scene shows a male character's naked backside. Much less a full shot of the naked characters.
Money Heist: Korea – Joint Economic Area furthers is available on Netflix.