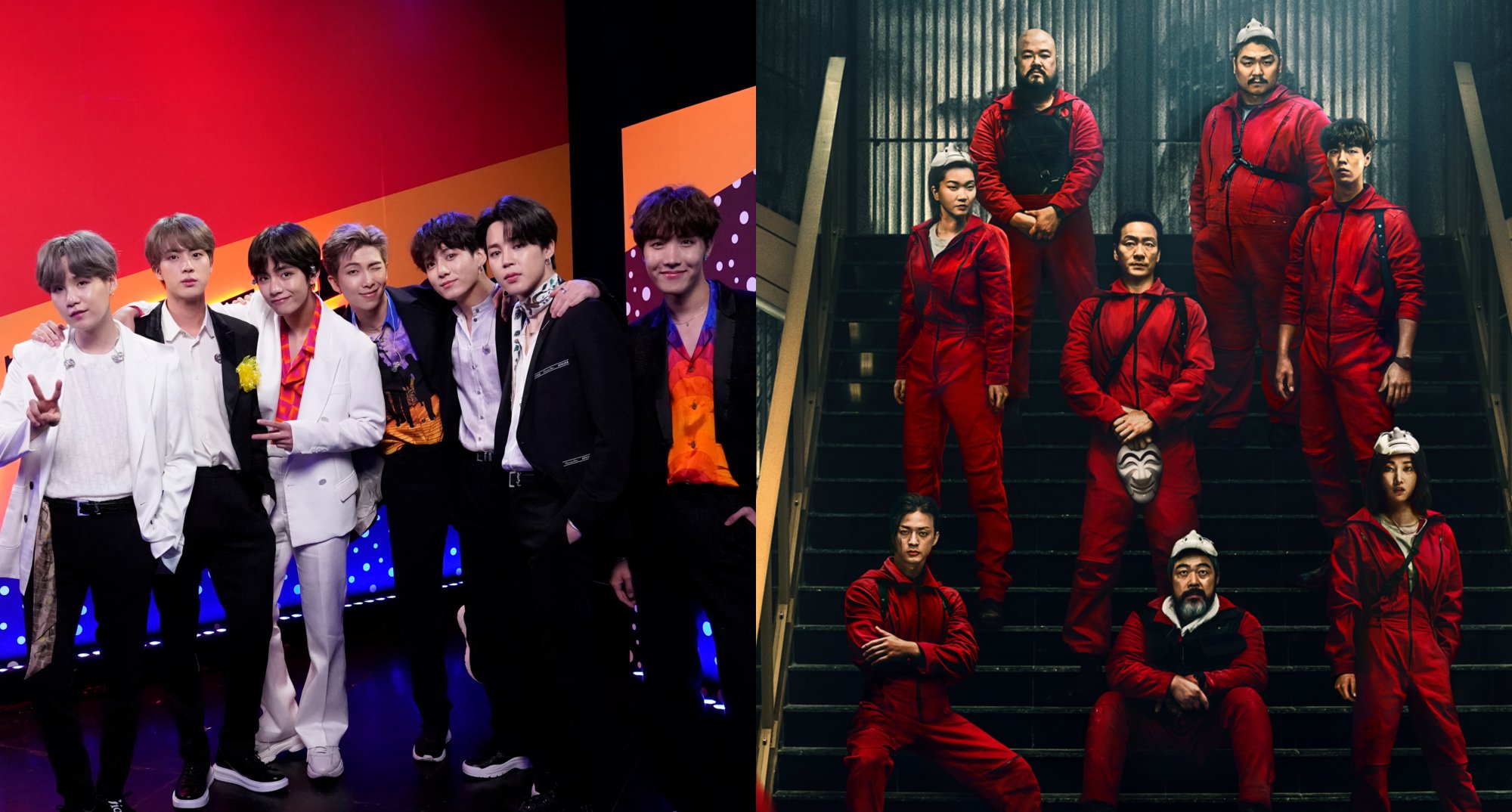 'Money Heist: Korea' Shows BTS and the ARMY Fan Base Some Love
The narrator of 'Money Heist: Korea' is an ARMY and watched South Korean drama and listened to K-Pop in secret. BTS reigns supreme as the K-drama remake also has the K-Pop group at the height of fame.
Netflix's newest K-drama, Money Heist: Korea – Joint Economic Area, is a remake of the Spanish series that became a global sensation. The original series took place in Madrid, Spain. But the K-drama is set in a near-future where North and South Korea have unified. Money Heist: Korea shows the clash of cultures and Korean history but displays the resonating impact of global K-Pop group BTS, regardless of country or political turmoil.
[WARNING: This article contains mild spoilers for Money Heist: Korea Episode 1.]
The K-drama remake takes a group of renegade thieves on the biggest heist in history
Money Heist: Korea is all about pulling off the impossible. Following a similar storyline to the original series, the Professor (Yoo Ji-tae) recruits a group of thieves with varying skill sets. Tokyo (Jeon Jong-seo) is the K-drama's narrator with a drastically different backstory to Úrsula Corberó's version.
Tokyo is joined by her teammates, who all take on city codenames and keep their real identities a secret. The plan? Rob the Royal Mint in the Joint Economic Area that produces a unified currency for North and South Korea. Before the K-drama begins, fans get a backstory of what led to the unification and Tokyo's life. But K-Pop fans will jump in glee as Money Heist: Korea pays homage to BTS uniquely.
Tokyo is a huge BTS fan during her youth in 'Money Heist: Korea'
The first episode of the K-drama remake begins with the story of Tokyo in North Korea. In a strict country, some rules and regulations must be upheld. Fans see as Tokyo is a spitfire willing to bend the rules for some fun.
Money Heist: Korea begins with a teenage Tokyo listening to none other than BTS's "DNA" as she dances the choreography down the steps of her university. But she is careful as the people around her look at her disdainfully. But Tokyo could care less. The K-drama opens with Tokyo saying, "Fans of the K-Pop boy band BTS are called ARMY. They're all over the world. Of course, ARMY members are in North Korea too."
The scene shifts to Tokyo practicing the choreography in her room as she explains she has been secretly watching K-dramas and listening to K-Pop from South Korea. In the North, Korean entertainment is prohibited. But Tokyo explains one key difference between her and other ARMY members. She had to join the real army.
Money Heist: Korea also mentions BTS during another instance related to their global fame. As Tokyo moves to South Korea after the army, she hits rock bottom. While working as a waitress, she sees a news report stating BTS's Pyongyang concert is sold out. Even in a fictional K-drama, BTS is still at the height of fame.
Tokyo's fascination with K-Pop dwindles in the K-drama
After the life she wanted for herself does not come true, Tokyo becomes a thief that targets loan sharks. But fans do not get to see her love for BTS again in Money Heist: Korea. In one small scene, fans can see she still has some likeness to K-pop. When the team meets officially for the first time, they all pick their codenames and learn the rules.
The youngest member picks the name Rio (Lee Hyun-woo). In the Spanish original, Tokyo describes him as a genius when it comes to hacking but a baby when it comes to everything else. In the K-drama, Tokyo describes him as a "guy who looks like a K-pop idol."
BTS fans and the ARMY can watch the K-drama for the fun shoutout to the boy group and see how they still reign supreme even in a fictional storyline. Money Heist: Korea – Joint Economic Area is available on Netflix.