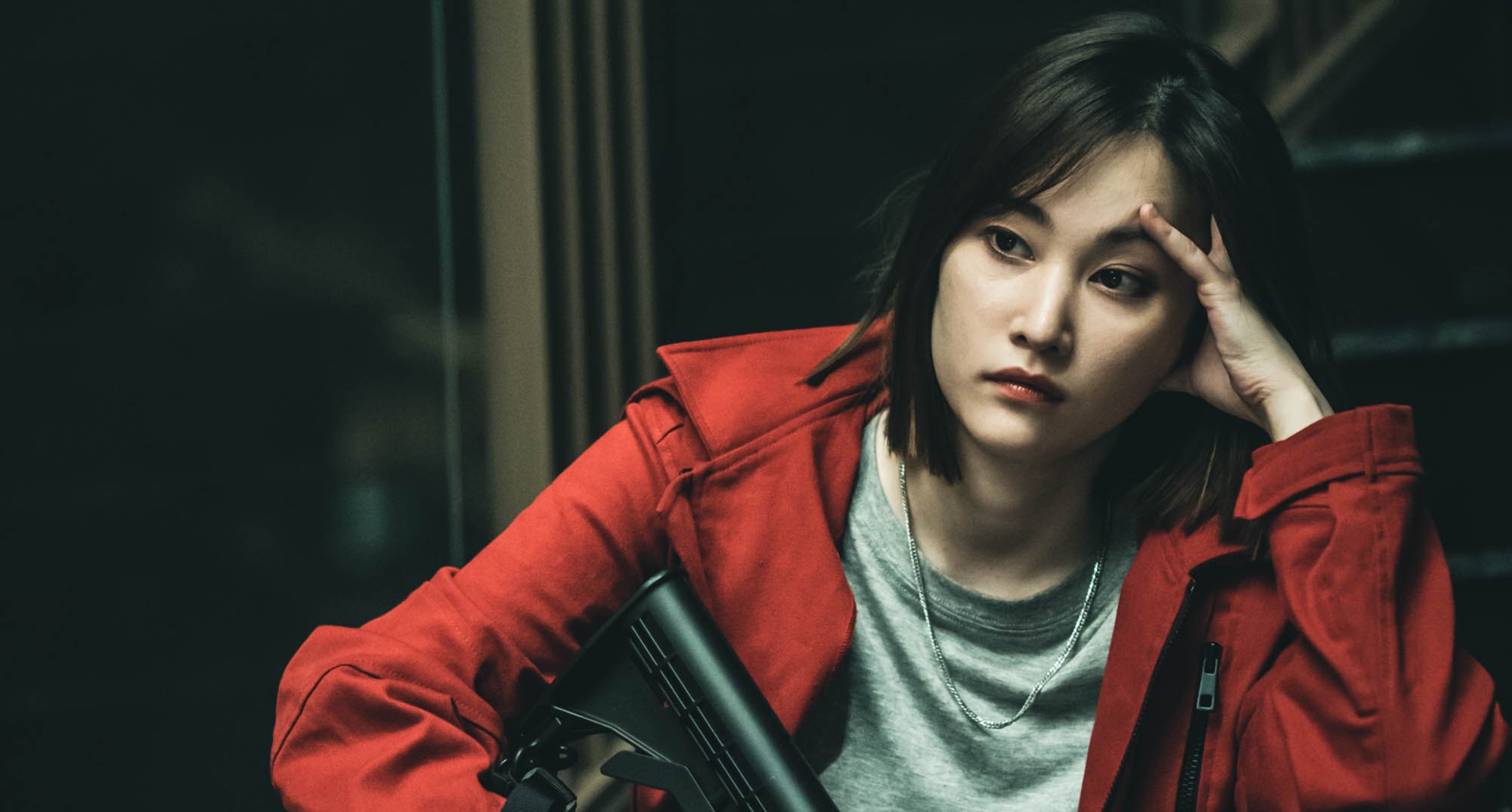 'Money Heist: Korea': Tokyo's Backstory Is Nothing Like the Spanish Original – Here's Why
In the Spanish original, Tokyo grieves the loss of her lover and plans to become a fugitive. But in 'Money Heist: Korea,' Tokyo is a trained soldier, who becomes a form of Robin Hood.
The first person fan gets to meet in Money Heist: Korea – Joint Economic Area, is the K-drama's narrator. Actor Úrsula Corberó initially played Tokyo, but Jeon Jong-seo took on the role for the K-drama remake. In the Spanish series, a tragic death due to a heist went wrong leads Tokyo to the Professor. In Money Heist: Korea, Tokyo's story is changed to fit the economic and political circumstances of the K-drama.
[WARNING: This article contains major spoilers for Money Heist: Korea.]
Tokyo loses her fiancé due to her decisions in 'Money Heist'
The series is told with the narration of Tokyo as she and the characters go through the planning stages of the heist and its execution. One rule set by the Professor is that none of the thieves know each other's real names or backstory. In real life, Tokyo is Silene Oliveira, a thief since the age of 14. As a teen, she joined her 28-year-old boyfriend in planning and pulling off a total of 15 heists.
Tokyo falls madly in love with her boyfriend and gets engaged, but their new heist results in tragedy. With her boyfriend, they rob a Prosegur pickup truck. But the plan goes wrong and leads to a shootout, resulting in the death of three people, including Tokyo's fiancé.
She becomes a fugitive on the run and one of the most wanted thieves in Spain. Tokyo has a set plan to escape on a boat but decides to see her mother one last time. The Professor approaches her and explains police have her mother's home surrounded.
He offers her the opportunity to join the heist alongside the other thieves. Still troubled by her lover's death, Tokyo vows not to mix love and the heist but fails. Money Heist: Korea completely changes Tokyo's story to fit the economic setting and turmoil.
Jeon Jong-seo's Tokyo was a North Korean soldier who becomes a thief in 'Money Heist: Korea'
Money Heist: Korea begins by introducing its narrator and protagonist, Tokyo. In North Korea, fans see a young Tokyo jamming out to BTS and is a self-proclaimed ARMY. But the country's strict rules forbid South Korean music and entertainment.
"The only difference between me and the other ARMY was that I had to join the real army," explains Tokyo. The scene shows Tokyo among other soldiers doing target practice. She is a perfect shot. In the flashback, she explains its been years since the summit between North and South Korea and the United States. When hope dwindled, the government announced the North and South would become a unified country.
Tokyo was determined to start a new life and heads to Seoul after her discharge. The year is 2025. Her new life does not go as planned as an immigration broker ran off with her money and job. Tokyo starts to work as a waitress and hostess, keeping men company.
She visits the gangster she owes money to when his thugs bring in a severely beaten woman. The woman is the waitress Tokyo worked with. When Tokyo tries to save her, the gangster hits her and plans to assault her and the girl. Tokyo uses her training to kill them, save the girl and rob them. She becomes wanted by the police for a series of thefts against loan sharks.
Tokyo is not grief-stricken by loss when she meets the Professor
There is one slight similarity in how Tokyo meets the Professor. Both the Spanish version and the K-drama version meet him at their lowest point. They see him as a guardian angel. In Money Heist: Korea, Tokyo sees the news report about her, but her bloody hand reveals she is gravely wounded.
In an empty alley near a church, Tokyo decides there is no way out and plans to take her own life. The Professor (Yoo Ji-tae) appears and entices her with a plan to pull off the biggest heist in history. The Professor explains if she is willing to throw away her life, why not put it in his hands.
Unlike the Spanish original, Tokyo's backstory is not tied to a past love. Instead, the K-drama Tokyo is grittier due to her harsh past and has more combat training. As Tokyo does not have the same rule about love as the Spanish version, this means romance does not play a role for her.
Money Heist: Korea – Joint Economic Area, is available on Netflix.