'Money Heist' Part 5: What's Up With a New Season and Fan Predictions
Compare notes with other Money Heist/La Casa de Papel fans and you'll find everyone can tell you how many days it took them to binge on part 4.
Three days or less is the typical range, and immediately after, people googled "Money Heist Part 5." It's an undeniable fact that we are ready for the next chapter.
While news is fairly scant on the follow-up installment to the explosive part 4, there are some hints out there that point to a new season. For starters, that ending left too many loose ends.
With that in mind, fans also have a few predictions for Money Heist Part 5; here's a peek at what's known and what's being theorized.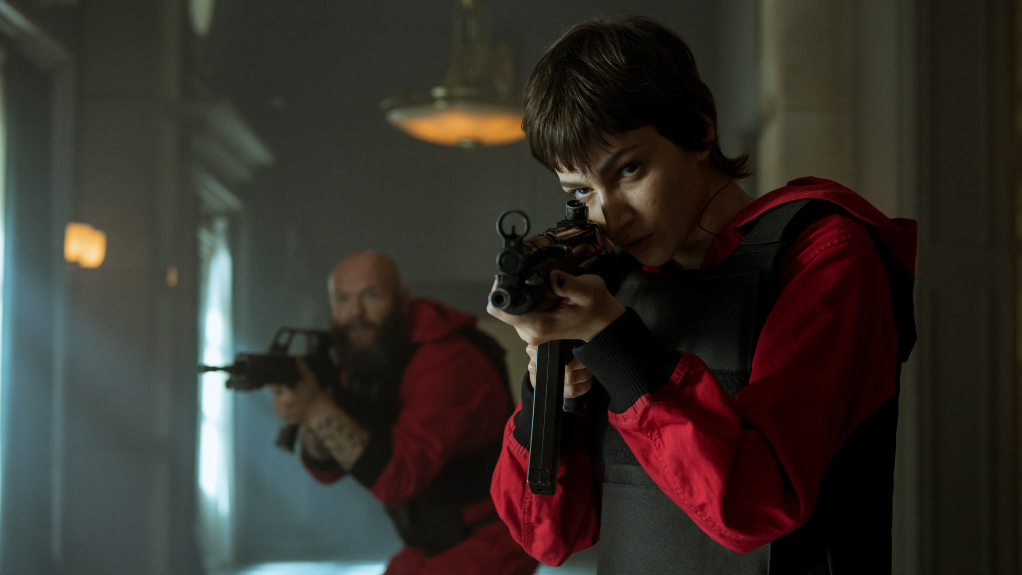 'La Casa de Papel' has been unofficially confirmed
We've mentioned it on this site before, but in late January, Spanish outlet Bluper reported that Money Heist received the green light for 16 more episodes. That equates to two more parts, indicating that a fifth and sixth installment are on the way.
Initially, it was believed that production would begin this spring, but due to the spread of coronavirus in Europe and all over the globe, plans obviously changed. According to Bluper, creator Álex Pina's company, Vancouver Media, is already committed to more episodes.
Additionally, actress Itziar Ituño (Lisbon) did an interview with Identity magazine and was asked to weigh in on fan questions being answered for part 4.
She hinted that the story isn't finished. "It might answer some but leave them hanging with even more questions until the next one. That one I don't know about!"
One fan theory poses that a new leader will take over
The Professor was caught by Inspector Sierra at the end of part 4, leaving things up in the air as far as leadership. Palermo's ego resulted in a mutiny, and Tokyo was also gunning to be leader.
Yes, Palermo is all for sticking to the plan and there could be a power struggle, but some fans believe neither he nor Tokyo will be second in command.
Who, then? Now that Lisbon is back with the band, some viewers are betting her smarts, expertise, and closeness with Professor position her to be in charge heading into part 5. Is Raquel up to the task?
Another fan theory counts on Sierra
There are a handful of characters that drew the ire of fans in season 4, and Alicia Sierra was one of them. A small contingent of the fandom (see Reddit) believes that Professor will convince her to join their side. She is in trouble, out of a job, and the gang still needs to get out of the bank.
This alliance seems unlikely due to Sierra torturing Rio and attempting to murder Nairobi with a sniper. However, we all want to see how Sergio gets out of this conundrum with her. They are both sharp, but she's holding the gun.
A 'Money Heist Part 4' prediction is still standing for part 5
She didn't make an appearance in part 4, but fans are holding out hope that Berlin's wife, Tatiana, will pop up next season. What role would she play in the scheme?
We've seen the Professor's lineup of dial-up squads who help the team get of out a jam, but there are still too many unknowns surrounding Tatiana, her knowledge of the heists, and her relationship with the crew.