Monica Raymund Wanted Her New Role Because It's so Different From Gabby on 'Chicago Fire'
The former Chicago Fire star is continuing to move on from playing Gabriela Dawson. Monica Raymund is now starring on a show that centers around a murder. Find out what she said about wanting to do something different from former role.
Monica Raymund left 'Chicago Fire'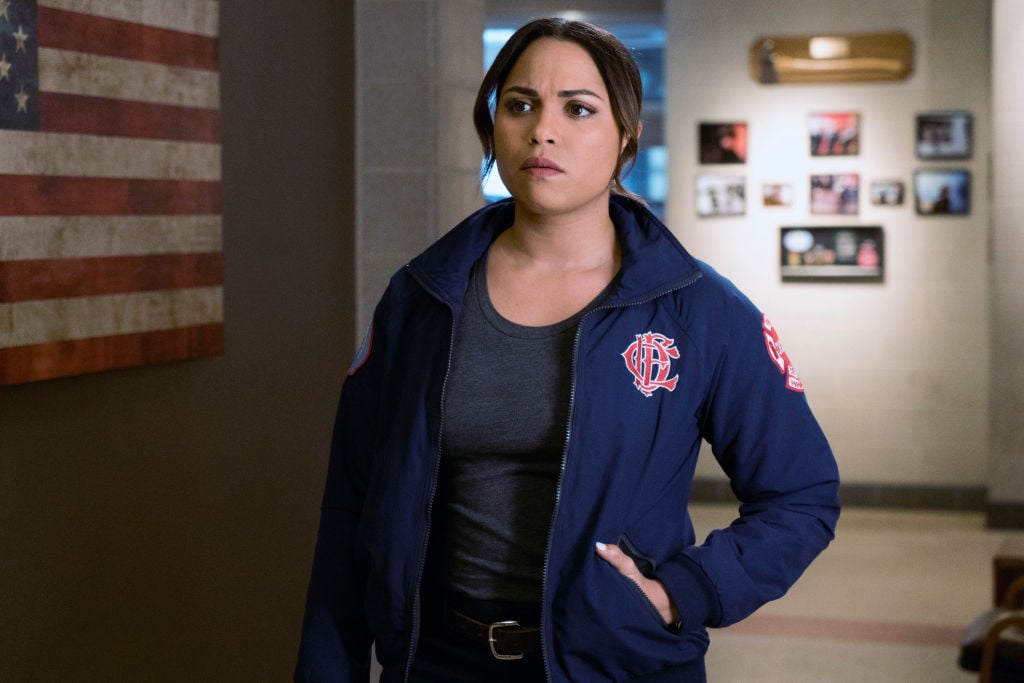 RELATED: 'Chicago Fire': The Reason Monica Raymund Left the Show
Raymund played Gabriela Dawson for years on Chicago P.D. and Chicago Fire. She eventually decided to quit the show in 2018.
"I'm not sure the exact moment when it happened," she explained to The Chicago Tribune "but I knew that my six-year contract was coming to an end and I felt like I was hungry to explore a different role, a different story. I wanted to explore a different world. I had been in Chicago for five years and just personally where I was in my life, I was ready to create my home and kind of plant some roots in Los Angeles."
The actor went on to praise the production company behind the shows. "I've gotta say, Wolf Films, the producers were really accommodating to me," she added. "I had the idea to see if we could flirt with Gabby Dawson going on the firetruck and they wrote me on the firetruck for two years! I did not know that they were going to take that bait and they did!"
Her new role is in 'Hightown'
RELATED: Is 'Chicago Fire' Canceled or Renewed? What We Know About Season 9 So Far
Hightown is a new Starz show following a woman named Jackie Quiñones, who is struggling with getting sober. It also doesn't help that she stumbles on the body of a dead woman on the beach. Jackie tries to find out what happened to this woman.
Raymund is playing the main character. She talked about why she wanted to play this kind of character in the interview with Us Weekly.
"I mean, Gabby Dawson for six years and then 180 degrees to Jackie. It couldn't be more different. That's was attractive to me," she said. "I wanted to shake it up. My whole point of doing this business is that I want to tell a lot of stories, as many as I can before I die. I'm really excited because this is so different than what I've been doing and I believe in it."
Raymund talked about still being involved with Chicago Fire and Chicago P.D. She recently appeared in an episode of the firefighter show and directed episodes of the cop show.
"I don't know what it is, but the Wolf Pack and I, we are intertwined for the rest of my life," she said. "The producers over at Wolf [Entertainment] are the ones who have given me the opportunity to direct and I mean, I have to give props to that because there couldn't be anything more feminist than giving me the opportunity to stretch as a female director."
Jackie certainly does look like a completely different character from Gabby. Fans will soon get to see the new show. Hightown premieres on Starz Sunday, May 17, at 8 p.m. EST.