Monica's 'Verzuz' Outfit is This Year's 'The Dress' — Thanks to Solange and Tyler, The Creator
Brandy and Monica's much anticipated Verzuz battle was a dose of nostalgia that so many people needed at a time like this. The two R&B divas went through over two decades of hits, talked about their longtime feud, and gave fans plenty of viral moments.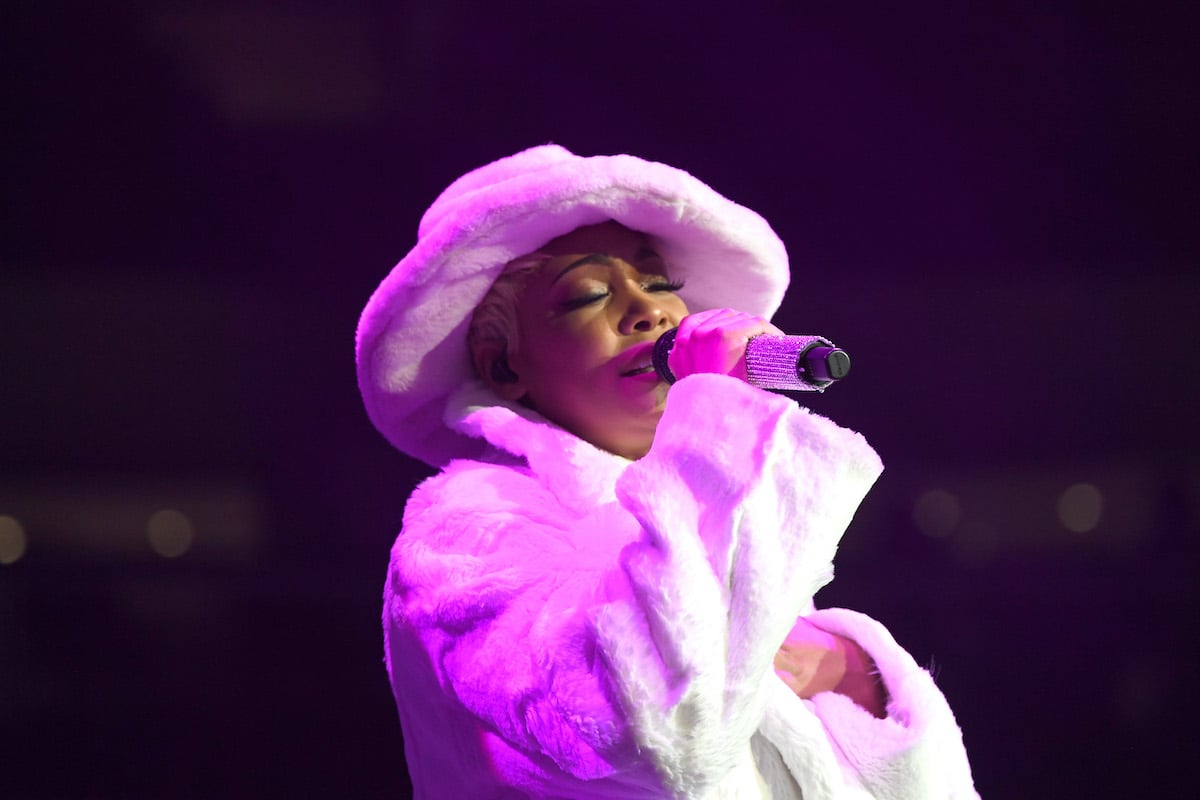 What is Verzuz?
With he COVID-19 pandemic still keeping venues shut for the foreseeable future, many artists have had to adapt to the times and find new ways to connect with their fans and with each other. The concept behind Verzuz is simple: two big-name artists go live on Instagram together and play 20 of their greatest hits as hundreds of thousands of fans watch.
Even though Verzuz is structured as a competition, it's all done in good fun. In this era of being physically apart, most artists are just happy to connect with others in the industry.
Verzuz first began with hip hop superproducers Timbaland and Swizz Beatz, and has since expanded into rap and R&B. There have been plenty of highlights and iconic battles. Snoop Dogg and DMX faced off in a battle between West Coast rap and East Coast rap. Alicia Keys and John Legend went head-to-head in a special Juneteenth battle earlier this summer. And Nelly vs. Ludacris was a long-awaited trip down memory lane.
RELATED: Monica Admits She Doesn't Listen to Any of Her Own Music
Brandy and Monica's Verzuz battle was a long time coming
The reason Brandy and Monica's Verzuz battle was such a historic moment is because of the two singers' rocky relationship that dates back to the 1990s. Both were just young teenagers when they began their careers in the mid-'90s. It all came to a head when they released their smash single "The Boy is Mine."
Brandy and Monica allegedly struggled to share the spotlight after "The Boy is Mine" took over the world, selling millions of copies and becoming both singers' first No. 1 hit on the Billboard charts.
Tensions boiled over the night of the 1998 MTV Video Music Awards when they performed the song together for what remains their only TV performance of the hit. Monica admits to punching Brandy backstage at the show. They since have made up and released new music together, had another falling out, and now appear to have patched things up for good.
Was Monica wearing boots or pants?
Even though things may have been awkward between Brandy and Monica at points throughout the three-hour Verzuz session, it was clear that they both were happy to be together in the same room for the first time in nearly a decade. But there was one thing on-screen that fans couldn't ignore: was Monica wearing boots or pants?
Her beige leather bottoms puzzled everyone watching, including many celebrities.
Solange and Tyler, The Creator chime in
Solange and Tyler, the Creator were among the celebrities watching, and they both had strong opinions about whether Monica was wearing boots or pants. Solange asked her Twitter followers to decide and they chose pants. "They pants, Tyler," she commented on the Verzuz stream.
Tyler's response was adamant. "NAH SOLANGE, I THOUGHT THEY WERE PANTS, BUT MAN, I SPOKE TO SOME FOLKS… THEY MIGHT BE BOOTS DAWG," he said in response.
Unlike the infamous "dress," there was only definitive answer here: Monica was indeed wearing leather pants.