'Monsters at Work': Why Does Randall Hate Mike and Sulley?
Mike and Sulley are a pretty successful team, but that's not the only reason why Randall doesn't like them. Randall first met Mike and Sulley while in college, as seen with the Disney and Pixar animated prequel, Monsters University. 
Here's what we know about these characters and how their rivalry started.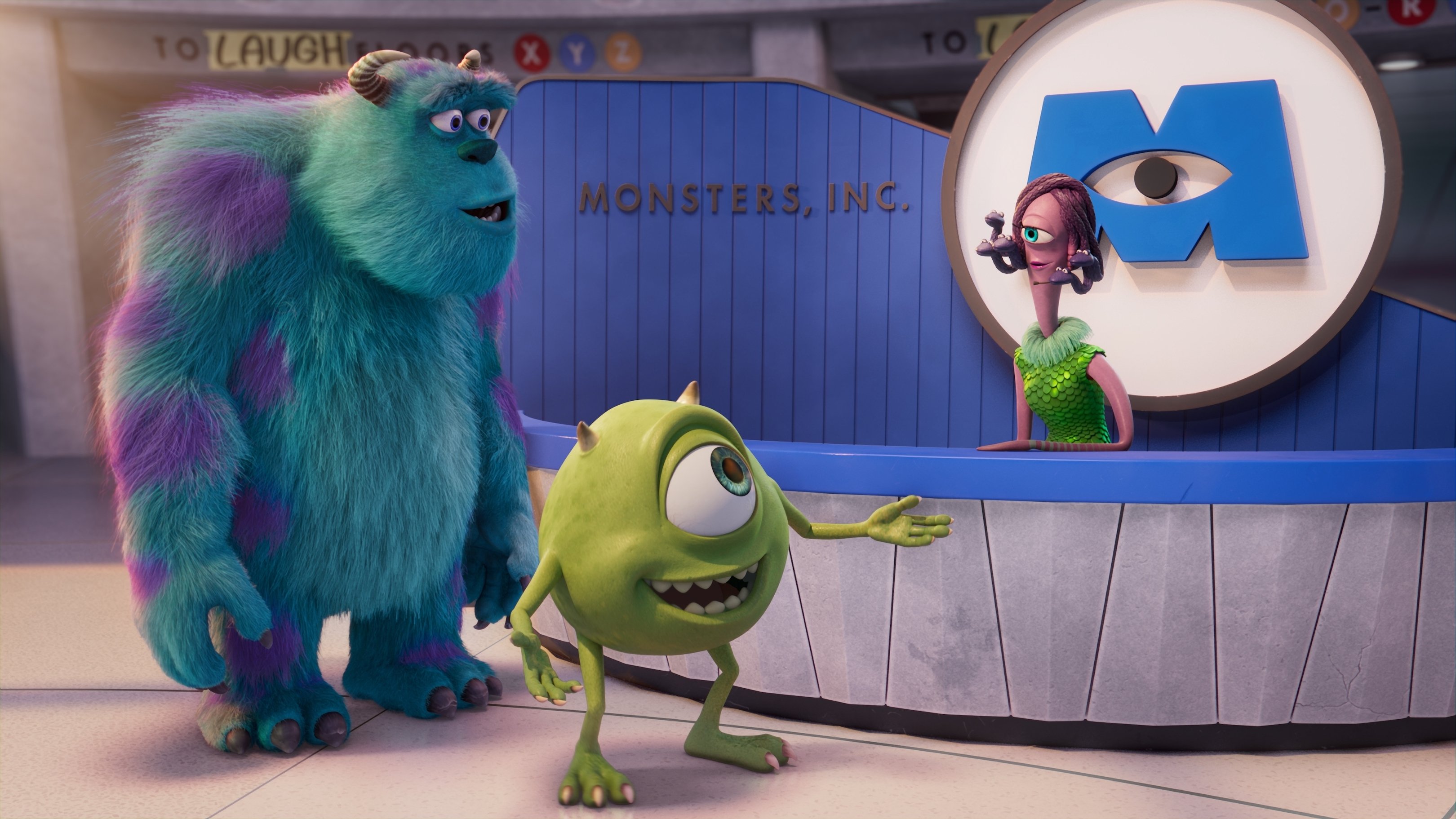 Randall appeared in 'Monsters Inc.' and 'Monsters University'
They scare because they care. Disney and Pixar fans first met Mike, Sulley, and Randall with the animated movie Monsters Inc. Mike and Sulley weren't close friends with Randall. Regardless, all three of these characters returned for the prequel, titled Monsters University.
Before they worked on the scare floor, Randall and Mike were college roommates and "scare students" at Monsters University. As two underdogs in a pretty competitive program, the two quickly became friends. More than anything, though, Randall wanted to be one of the "cool kids."
That led him to join the top fraternity on campus, Roar Omega Roar. Mike joined a rival fraternity, Oozma Kappa, and competed against his roommate for the annual Monsters University "Scare Games."
RELATED: From 'Monsters At Work' to the 'Loki' Finale — Here's What TV Shows to Watch on Disney+ in July 2021
Randall competed against Mike and Sulley during the 'Scare Games'
After weeks of competition, it came down to Roar Omega Roar and Oozma Kappa for the final challenge of the Scare Games, which was the scare simulator. With two separate rooms, these scare students showcased their talent. Sulley went head-to-head against Randall.
Randall started strong, camouflaging into his surroundings. However, a roar from Sulley caused their character to change colors and score poorly. After returning to his purple hue, Randall turned to his competitors and mumbled, "That's the last time I lose to you, Sullivan."
Of course, that wasn't the last time Randall lost to this scarer. Mike, Randall, and Sullivan eventually became coworkers at Monsters Incorporated. Randall and Sullivan competed for the "top scarer" position. When Mike and Sulley discovered the power of laughter, Randall was out of a job.
RELATED: Disney+ Original 'Monsters Inc.' Inspired Series, 'Monsters at Work' Has Been Delayed
Mike and Sulley returned for the Disney+ original series, 'Monsters at Work'
Mike and Sulley sent Boo home. This dynamic duo also sent Randall to the human world, where he was mistaken for an alligator and beaten with a shovel. With the Disney+ original series Monsters at Work, viewers learned what was next for these employees at Monsters Incorporated. 
With Randall out of the picture, Mike and Sulley were put in charge of the energy company responsible for collecting laughter instead of screams. This new position came with plenty of challenges, but it also brought these characters even closer.
Episodes of Monsters at Work are available on Disney's streaming platform, as are Pixar movies like Monsters University and the original animated film Monsters Inc. To learn more about Disney+ and to subscribe, visit their website.