'Moon Knight': Ethan Hawke's Arthur Harrow Villain Only Appeared in 1 Marvel Comic in 1985
'Moon Knight' trailer revealed Ethan Hawke as Arthur Harrow, a villain so obscure, he only appeared in one comic, and he's not the only obscure foe Marc Spector will face. 
Marvel Studios has shown a willingness to pull obscure characters into the Marvel Cinematic Universe. However, the Disney+ Moon Knight show has reached peak obscurity, casting Ethan Hawke as the villain Arthur Harrow and Gaspard Ulliel as Midnight Man. Even comic fans rushed online to search "Who is Arthur Harrow?" because he only ever appeared in a single comic during the "Fist of Khonshu" storyline in 1985. Here's everything you need to know about Oscar Isaac's Moon Knight villain Arthur Harrow.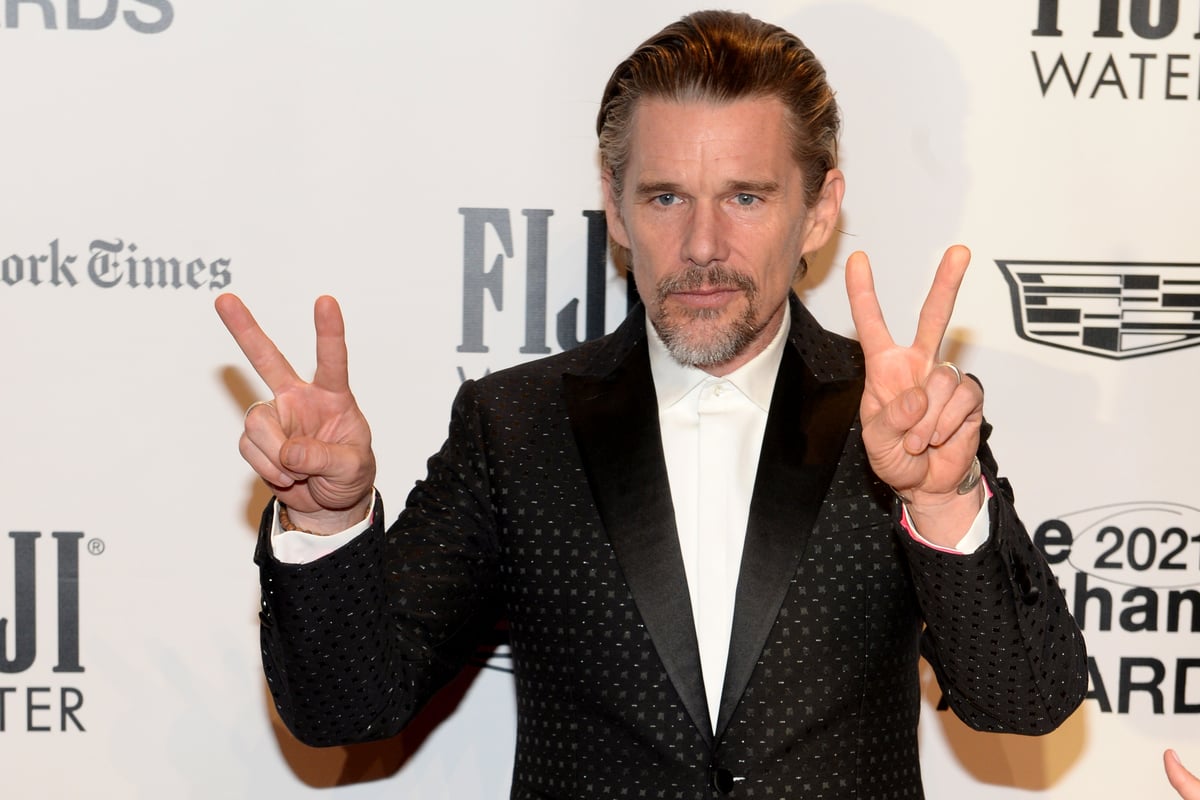 Who is Ethan Hawke's Arthur Harrow in Marvel's 'Moon Knight' comics?
Ethan Hawke's Moon Knight villain Dr. Arthur Harrow started as a Nobel Prize candidate for his medical work in pain theory. According to Harrow, he used humane study methods with only limited testing on animal subjects.
However, Dr. Victoria Grail traced his research and found that Harrow was backed by scientists connected to Auschwitz-Birkenau. She enlists Marc Spector, aka Moon Knight, to help her stop Arthur Harrow's human experiments.
As the comic goes on, though, it turns out that Harrow is not working alone. A mysterious organization called O.M.N.I.U.M. funded him. And when we say 'mysterious,' we mean that Marvel Comics has not even revealed what the acronym stands for in nearly 40 years.
Moon Knight and Dr. Grail tracked down Arthur Harrow, but he escaped to what seemed like O.M.N.I.U.M. headquarters, where it seemed to imply he could continue his research elsewhere.
And then he never appeared again. Could O.M.N.I.U.M. have connections to Kingpin? A.I.M.? Readers never found out because Arthur Harrow never appeared again after issue 2 of the "Fist of Khonshu" storyline in 1985.
It does not seem like Ethan Hawke has much to work with regarding Arthur Harrow in Moon Knight comics. However, if Sony can pull Morbius from obscurity, maybe Moon Knight can do the same.
What does using obscure characters like Arthur Harrow and Anton Mogart, aka Midnight Man, in 'Moon Knight' mean for the Disney+ show?
Ethan Hawke as Dr. Arthur Harrow in Moon Knight could hint at Marvel adapting some of the earliest stories of the vigilante. Moon Knight's tales from the '70s and '80s had that classic Batman feel to them, long before actors like Michael Keaton reinvented the hero in the Batsuit.
Another obscure character, Anton Mogart, aka Midnight Man, did not have many more appearances than Harrow.
Moon Knight cast Gaspard Ulliel as Anton Mogart, aka Midnight Man. He only appeared in four issues of Moon Knight's first run in 1980.
However, while these characters might not have appeared much, their effect on the Moon Knight mythos left a lasting impression, even more than when he first met Spider-Man.
Gaspard Ulliel's Anton Mogart and Ethan Hawke's doctor could provide explanations of Marc Spector's powers and allies
"The Fist of Khonshu" storyline that Ethan Hawke's Arthur Harrow debuted in established a unique aspect to Moon Knight's powers. Since the Egyptian god Khonshu give him his abilities, his power grows exponentially during the full moon.
As for Gaspard Ulliel's Anton Mogart, aka Midnight Man, while he did not cross paths with Moon Knight much, his son became a sidekick.
After Anton Mogart died at the hands of Moon Knight, Jeff Wilde took up the mantle of Midnight. Jeff went after Moon Knight for revenge before reforming and working with him.
While shows like the Disney+ Hawkeye adapted a more popular character run, Moon Knight headed straight for the obscure.
Fans most likely cannot even begin to predict what's in store.