'The Morning Show' Season 2 Episode 8 Recap: 'Confirmations'
Another Morning Show episode recap is here. The Morning Show Season 2 Episode 8: "Confirmations," has everyone on the show within the show scrambling. Searching for information on Mitch Kessler's (Steve Carell) whereabouts, the latest episode of the AppleTV+ original series picks up right where the Oct. 29 episode left off. That means Mitch's fate after that cliffhanger's revealed. 
[Spoiler alert: This article contains spoilers from The Morning Show Season 2 Episode 8: "Confirmations"]
Chip Black still hasn't heard from Alex Levy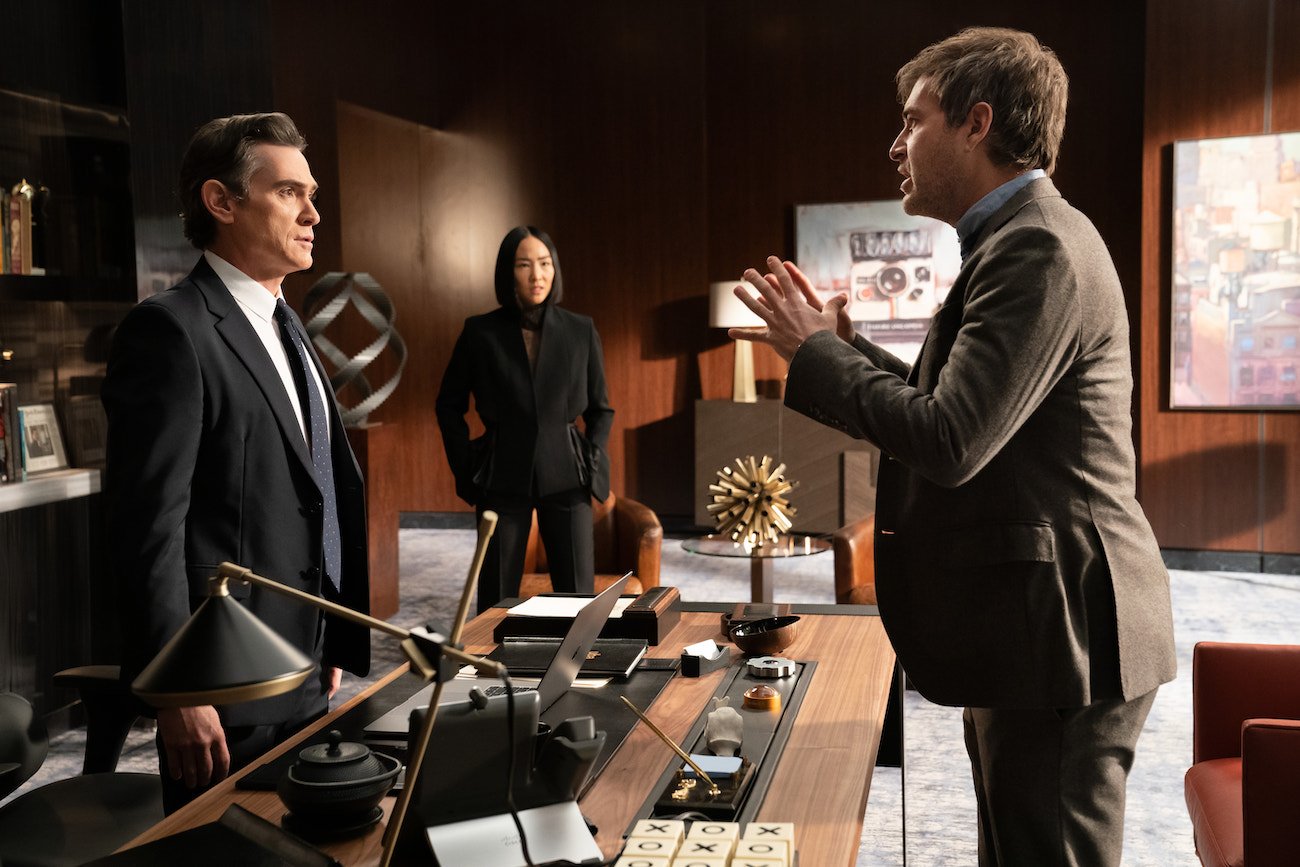 Chip Black (Mark Duplass) still hasn't seen or heard from Alex Levy (Jennifer Aniston) since she ditched the presidential debate in the Oct. 15 episode "Ghosts." What he doesn't know is that the lead anchor for TMS traveled to Italy to visit Mitch.
Everything changes when Cory Ellison (Billy Crudup) and Stella Bak (Greta Lee) sit in on a call from a reporter at a small Italian news outlet. They ask one question, would they like to comment on Mitch's death. Immediately Stella and Cory mobilize everyone in the studio to figure out if there's any truth to the rumor.
When they tell Chip to get Alex in the studio immediately, he sets about tracking her down. He digs through her office, leaves voicemails, calls her credit card company, and contacts a hospital in Italy. By the end of it, he's concerned Alex may have been hospitalized — or even killed — along with Mitch.
'The Morning Show' episode recap: The show needs 2 confirmations on Mitch Kessler's death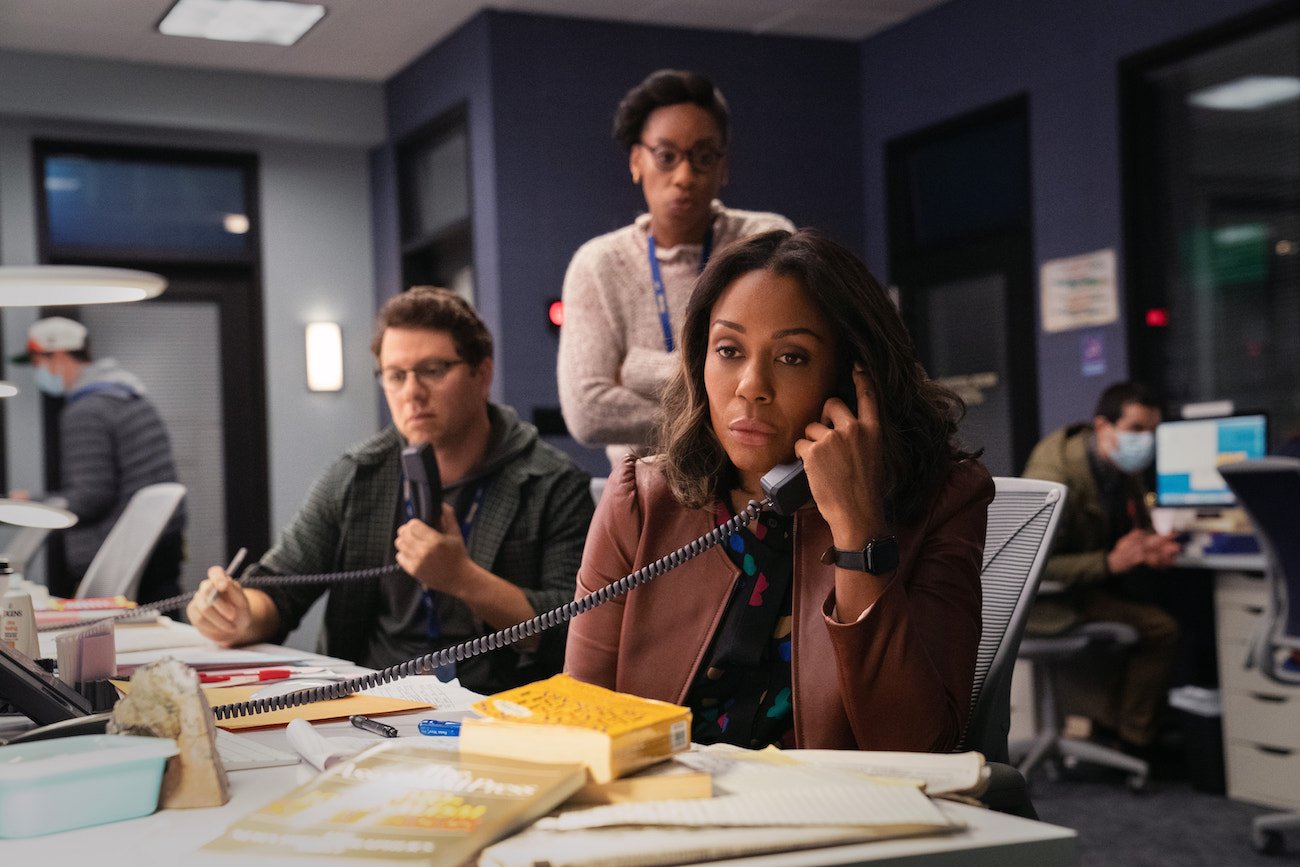 While Chip attempts to reach Alex, everyone else, according to AppleTV, works frantically to verify whether or not Mitch is dead. Mia Jordan (Karen Pittman), the show's executive producer, hands off the live show to staff while she and a few others get to work. Once they have two confirmations that Mitch has died then they'll announce the news. But it's difficult to get any information. 
Coronavirus (COVID-19) has hospitals in Italy inundated with patients. They even check Twitter for clues and eventually get one confirmation from the person whose house Mitch had been staying in. Later, after receiving the second confirmation a shocked and saddened Mia sits down to write the death announcement.
Alex Levy tells Mitch's family and asks Bradley to make the on-air announcement
Meanwhile, Chip heads to the airport. Thanks to her credit card history he learns she booked a flight from Italy. So he waits on the tarmac to see if she gets off the plane unharmed. She does and Chip visibly relaxes. Then he tells her the bad news. Shocked because she'd just seen Mitch, Alex calls Paola Lambruschini (Valeria Golino). The documentarian confirms that Mitch did die after sustaining injuries in a car accident.
Instead of going to the studio to break the news herself, Alex decides to tell Mitch's family. After an awkward conversation with his ex-wife, Paige Kessler (Embeth Davidtz) where Alex confirms she had sex with Mitch twice, Alex calls Bradley Jackson (Reese Witherspoon). Alex tells her co-anchor she's the right person to make the announcement on the air. So, with Laura Peterson (Julianna Margulies) sitting next to her, that's exactly what Bradley does.
Watch The Morning Show Season 2 on AppleTV+. A new episode is released every Friday at 12 a.m. PT, or 3 a.m. ET, on Apple's streaming platform. 
RELATED: 'The Morning Show': Julianna Margulies 'Kept Tearing up' in a Season 2 Scene With Reese Witherspoon