The Most Powerful Grammys 2020 Moments, From Kobe Bryant Tributes to Demi Lovato's Comeback
This was a very different kind of Grammy Awards, to say the least. Just hours before it began, the world began to mourn former NBA athlete, Kobe Bryant. He played for the Los Angeles Lakers in the very venue, the Staples Center, where the awards show took place. Read on to learn about the various tributes and other important moments from the 2020 Grammys on Jan. 26, 2020.
All of the Kobe Bryant mentions
Lizzo kicked off the show saying, "Tonight is for Kobe," before launching into her medley. It was an incredible performance to begin the night on, and she mentioned him later in her speech for Best Pop Solo Performance.
"We're literally standing here in the house that Kobe Bryant built," said host Alicia Keys in her opening speech. She then began to sing along with Boyz II Men, belting out their hit "It's So Hard To Say Goodbye To Yesterday." He was also included in the graphic shown at the end of Nipsey Hussle's tribute.
Everything about Lil Nas X
No one did the Grammys like Lil Nas X. He won before the telecast began. He had four or five outfit changes, all of which involved a cowboy hat, naturally. And then there was his performance of "Old Town Road."
It began with a Bryant tribute (the player's No. 24 Lakers jersey was displayed in the bedroom set). He was then joined by BTS, who danced with him during the chorus. Then Diplo and little Mason Ramsey chimed in, and Billy Ray Cyrus came aboard. Finally, Nas joined him on stage for a "Big Nas and Little Nas" moment.
Father-daughter love was a theme
Camila Cabello sang a very different kind of song, about how she's grown up and in love, but reflects upon her relationship with her father. She sang the song directly to him and even walked down into the audience to hold his hand. He and everyone around him were crying, and you could even see Ariana Grande down the row sniffing, as she sat next to her own dad.
In her own performance, Grande switched up some lyrics. Her hit, "Thank U, Next," usually goes includes the verse, "One day I'll walk down the aisle, Holding hands with my mama/I'll be thanking my dad, 'Cause she grew from the drama." But she changed it to "'cause my dad is awesome."
The duets (and outfits) that made us smile
Not everything of note was grindingly serious. Gwen Stefani and Blake Shelton's duet was highly anticipated. They sang "Nobody But You." She wore a dress that looked a lot like a wedding gown covered with heart accents and gold all over it.
Then there was Billie Eilish, who took the stage with her brother, Finneas O'Connell. They wore matching Gucci suits, which is Eilish's designer of choice. While she sang her song "when the party's over," O'Connell played the piano.
Demi Lovato's triumphant return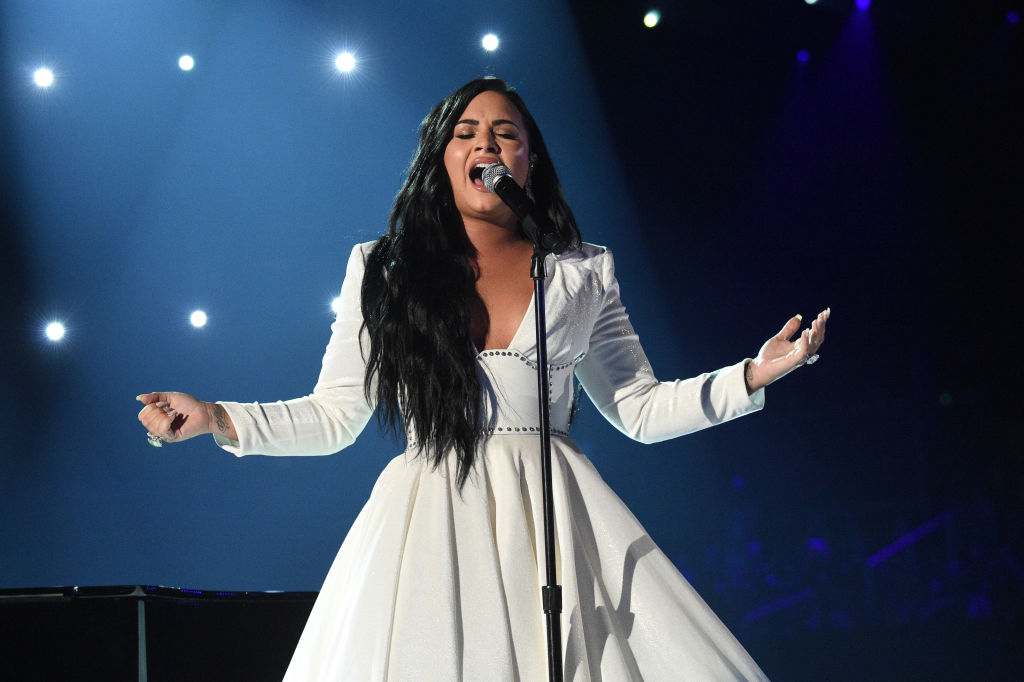 Making her return to the stage after a couple of years, Demi Lovato got choked up as she began, but started over with encouraging applause from the audience. Her lyrics began "I tried to talk to my piano, I tried to talk to my guitar." Lovato's emotional performance was beautiful, despite the fact that she had tears streaming down her face.
The song is called "Anyone," and it's about her struggles before her 2018 overdose. The deeply personal tune touched upon her inability to have faith during this time. It received a standing ovation and they even brought the house lights up. Lovato immediately dropped the song on streaming services after her performance.