The Most Replayed Steamy Moments From K-Drama's Top Kiss Scenes, According to Youtube
Nothing beats a K-drama kiss scene that has built up enough tension to have fans squealing when it finally happens. Youtube has included a feature in their videos that lets K-drama fans know the most-replayed moment from some of K-drama's most memorable kisses. Dramas like What's Wrong With Secretary Kim? and BL K-drama kisses have their pinnacle moments fans will rewind for.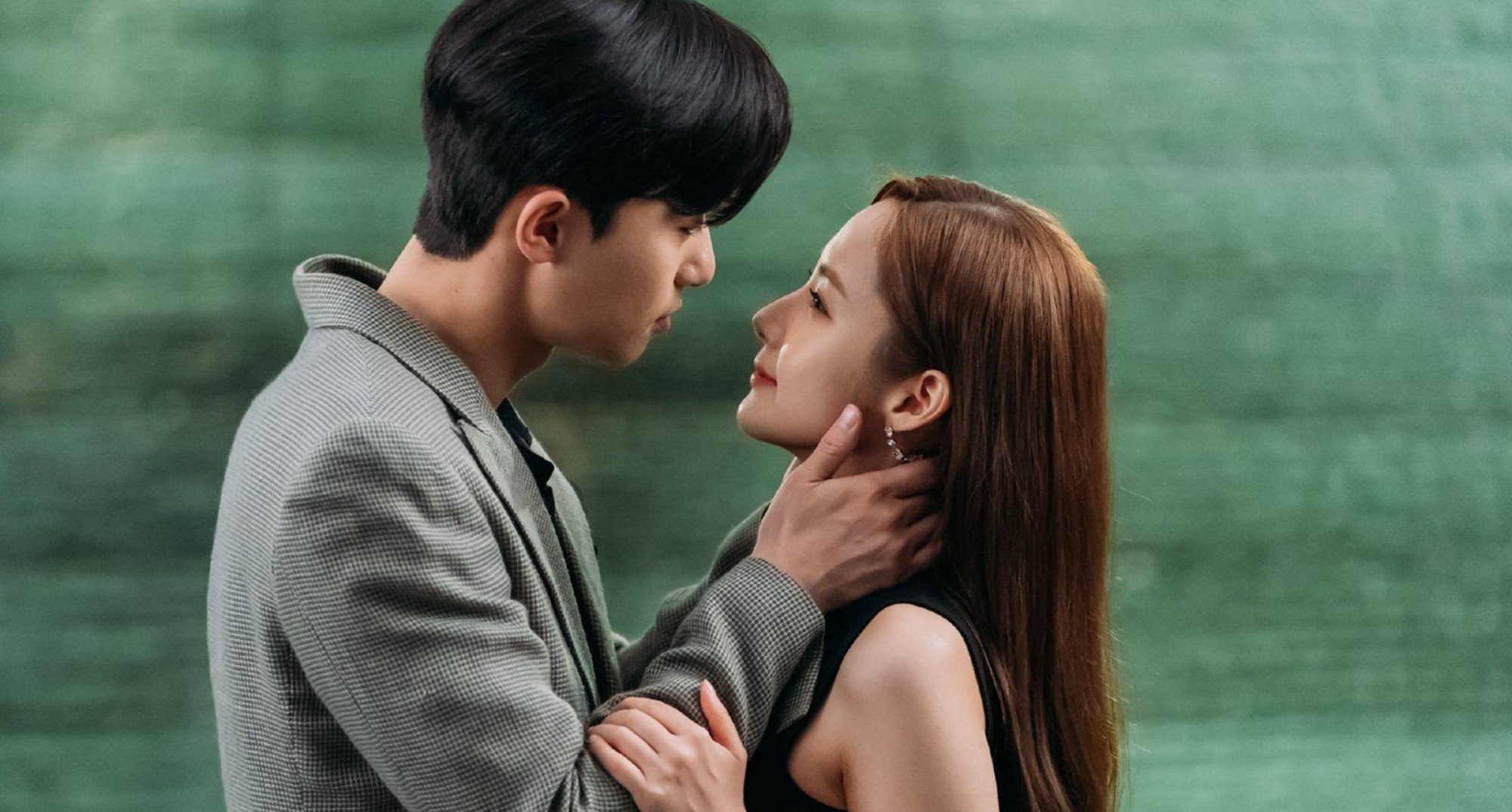 Park Seo-joon made every fan swoon in 'What's Wrong With Secretary Kim? 'kiss scene
There is no denying that What's Wrong With Secretary Kim? is one of the GOAT regarding K-dramas. It helped define the boss-employee romance trope and skyrocketed Park Seo-joon as a heartthrob. But one aspect fans always remember is the dynamic kiss scenes in the K-drama.
One of the most memorable occurs in episode 13 when the two leads go all the way. Thanks to Youtube's new feature, fans know exactly what moment of the K-drama kiss fans replayed the most. Unsurprisingly, the most-watched scene is not a kiss but a shirtless Park.
In the scene, Park's character rips off his white button-up shirt to reveal a glorious set of tan abs. The female character is shocked and looks away, flustered, before Park's character swoops down to continue the romance.
'Melting Me Softly' K-drama has a shower kiss often replayed on Youtube
RELATED: 4 K-Dramas Where the Female Lead Initiates the First Kiss
Hellbound actor Won Jin-ah has had many notable roles alongside popular Korean male actors. In 2019, she starred alongside The Sound of Magic star Ji Chang-wook in Melting Me Softly. The series was a sci-fi romance where Won and Ji's characters participate in a cryofreeze experiment. They, unfortunately, get frozen for 20 years.
When they wake up, they try to make sense of their lives while keeping their bodies at a temperature that keeps them alive. All the while, they fall in love. The K-drama had many impressionable kiss scenes, but episode 10 takes the cake.
In the scene, Ji and Won's characters take the plunge and kiss. According to YouTube, the most-replayed moment in the K-drama kiss scene is when Ji's character looks into the female lead's eyes. He then cups her face and kisses her. Fans see him pull her in by the waist as they lean against the wall. But kissing poses a problem. Kissing raises their body core temperature.
The second most-watched moment of the kiss scene in the K-drama is when Ji's character turns on the shower to cool them off as they kiss passionately.
'Semantic Error' is a BL K-drama that has an innocent face fall for a bad boy
RELATED: 4 K-drama Sex Scenes That Border PG-13, From 2021 and 2022
BL K-dramas are rising in popularity in the romance genre. Plenty battle head to head with some of the most renowned dramas. Semantic Error is a fan favorite for its storyline of an introverted teen who becomes the target of his university's top bad boy.
The 2022 short-episode K-drama stars Jae Chan as Chu Sang-woo and Park Seo-ham as Jang Jae-young. The two characters have their first kiss in episode seven. While in a bar that Jae-young works for, Sang-woo gets drunk. He confesses more than expected.
Jae-young teases Sang-woo about his crush on him, and Sang-woo grabs and kisses him. Stunned by the innocent Sang-woo's actions, Jae-young takes a moment to respond.
According to Youtube, the most replayed scene of the K-drama kiss is when Jae-young grabs Sang-woo by the neck and kisses him with feverish passion. One fan comments, "This kiss/show really set the bar! I can't tell you how many times I've watched this scene alone. Seoham and Jaechan absolutely killed it!"
RELATED: 3 Seo Yea-ji K-Dramas to Get Hooked on While Waiting for 'Eve' Episodes