Movie Theaters In Movies and TV: From 'It's a Wonderful Life' to '13 Reasons Why'
Some movie theaters have decided to reopen as soon as June 12 and many are gearing up to reopen in July. A lot of film lovers are still not ready to go to a movie theaters, as much as they miss going to the movies. Showbiz Cheat Sheet is here to help you celebrate movie theaters even if you aren't ready to go with temperature checks, social distancing and wearing a mask. 
[Spoiler Alert: This article contains spoilers for the films featured in the list.]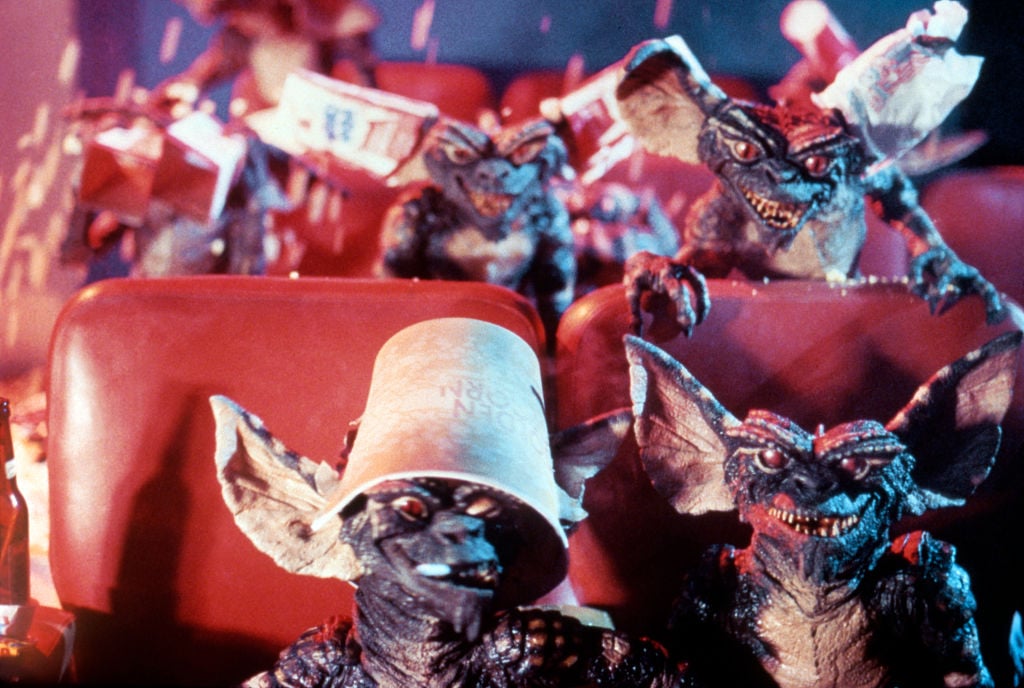 Here are some of the movies and TV shows with scenes in movie theaters. Some used real movie theaters as locations. Others created movie theaters that only exist on the screen. Either way, go to the movies virtually with these shows and movies. 
'It's a Wonderful Life' had a fake movie theater
"Merry Christmas, moviehouse!" Jimmy Stewart ran by the town theater after his Christmas vision of what life would be like if he was never born. That movie theater never existed either. It was a facade in the town square of the Universal Studios backlot. 
The movie theater in 'The Projectionist' is a mystery
The 1970 movie The Projectionist is about a projectionist (Chuck McCann) who imagines himself as the superhero of a movie. Information about which New York City theater was his home is hard to come by, but you can see the old lobby and booth, and Rodney Dangerfield's first movie role, in the film.
Relive seedy New York movie theaters in 'Taxi Driver'
Travis Bickle (Robert De Niro) takes Betsy (Cybill Shepherd) to a dirty movie at the Lyric. The Lyric became The Hilton Theater according to Scouting New York. The Hilton showed Spider-Man: Turn Off the Dark briefly, and became the Foxwoods Theater which was showing Harry Potter and the Cursed Child before Broadway closed due to coronavirus (COVID-19).
The Feel-A-Round movie theater in 'Kentucky Fried Movie'
In one of the sketches in this anthology comedy, a man goes to a Feel-A-Round movie during which ushers manhandle him to simulate the action on screen. That Rialto theater was actually in Pasadena and open until 2007.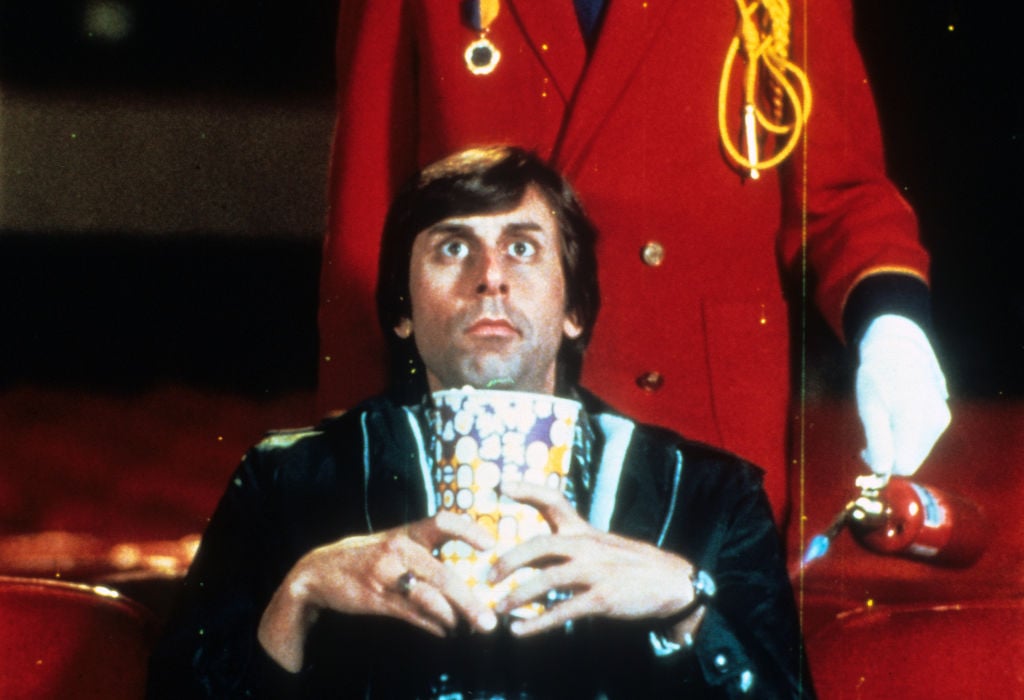 The Los Angeles Historic Theatre Foundation reports plans to reopen the theater, but until then you can see it in its glory days in Kentucky Fried Movie.
Goldie Hawn attends a movie theater in a different city in 'Foul Play'
In Foul Play you can see Goldie Hawn exit what is recognizable to Los Angelenos as the Nuart theatre in Santa Monica, California. It's funny because the film is set in San Francisco. The Nuart is still open showing arthouse movies and midnight performances of The Rocky Horror Picture Show.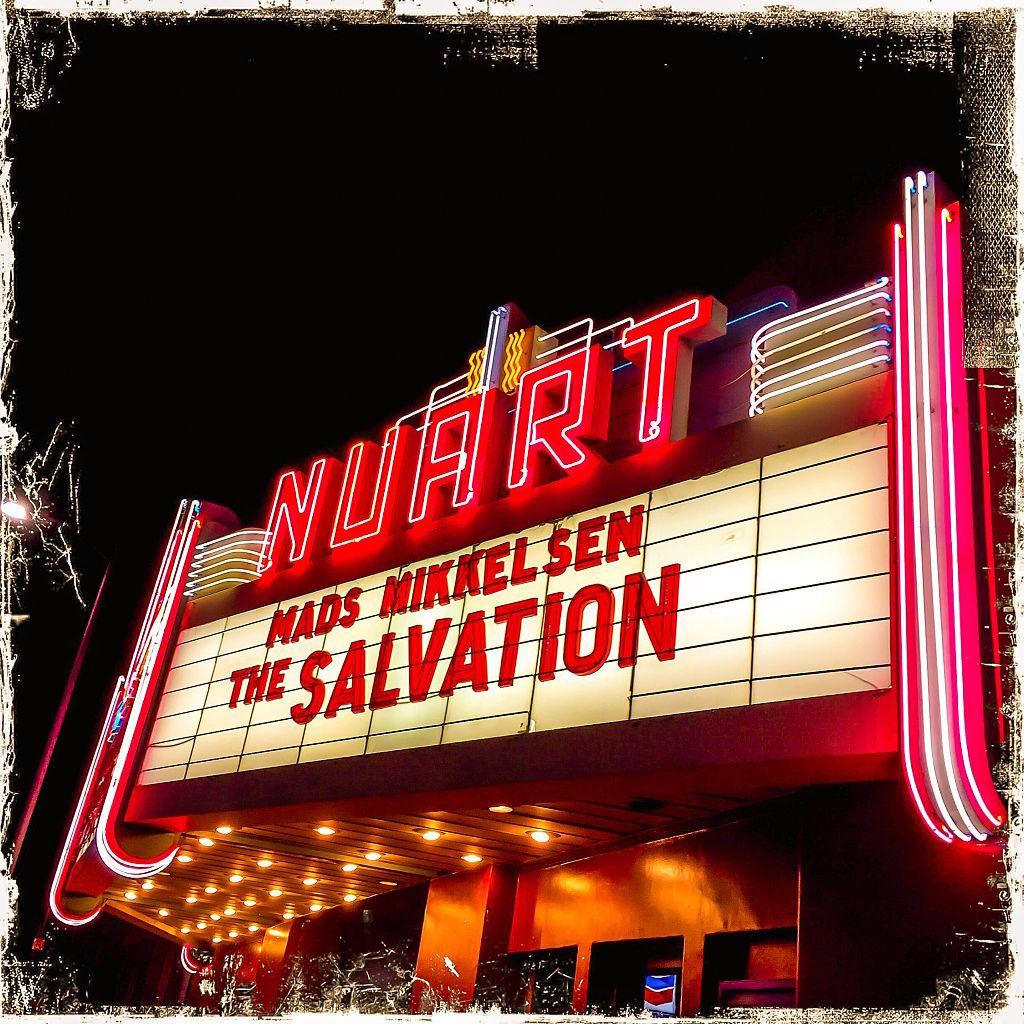 The Kingston Falls theater in 'Gremlins'
When gremlins wreak havoc in the town of Kingston Falls, Billy Peltzer (Zach Galligan) Kate (Phoebe Cates) and Gizmo trap the gremlins in a movie theater. That theater died when the film blew it up. It was constructed on the Universal backlot. 
The movie theater showing 'The Purple Rose of Cairo' still exists 
Tom Baxter (Jeff Daniels) steps out of the movie screen in The Purple Rose of Cairo. New York filmmaker Woody Allen shot the scenes in the Kent theater which is still there today. The Kent Theater still exists and lists their showtimes with Fandango.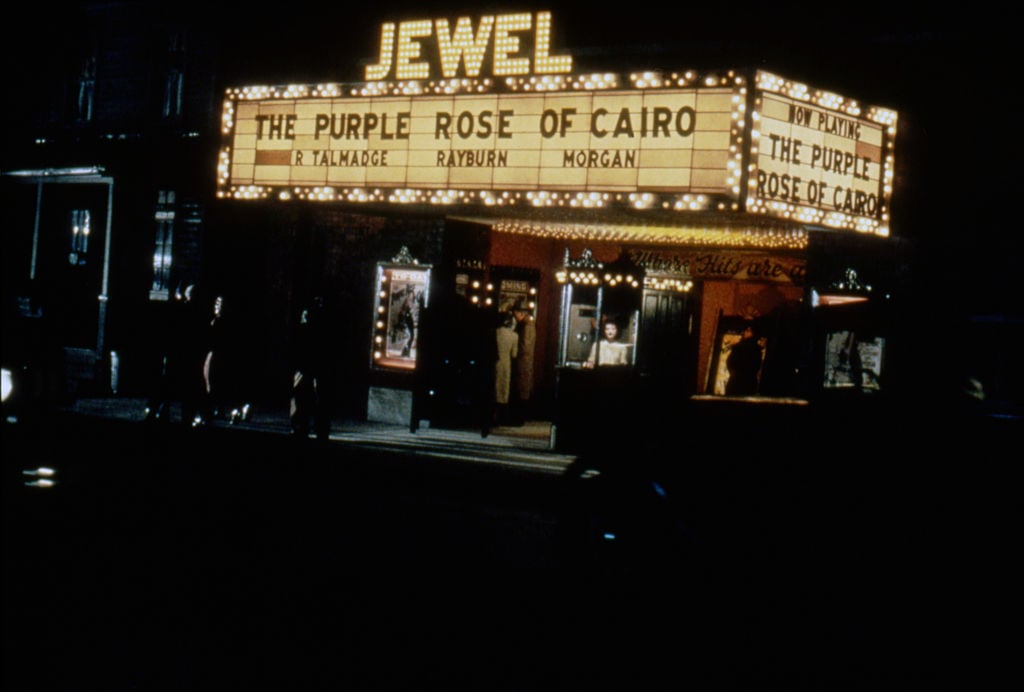 Movies without a theater in 'Cinema Paradiso'
The projectionist in the classic Italian film Cinema Paradiso showed movies in the town square. That's not really a theater and it's not quite a drive-in because no cars. Still, the town square of Palazzo Adriano is still there near Prizzi and Corleone accounting to Movie-Locations.com.
Michael J. Fox saw himself on the big screen in 'The Hard Way'
Nick Lang (Michael J. Fox) is shadowing tough New York cop John Moss (James Woods) to prepare for his next role. They end up chasing the bad guy (Stephen Lang) into a movie theater showing a Nick Lang movie!
They filmed that scene at the Beacon Theatre, according to the April 1991 issue of Premiere Magazie. The Beacon is now a live venue. 
'Taxi Driver' '90s stye in 'Regarding Henry'
Harrison Ford plays a lawyer who survives a gunshot to the head but endures a very long rehabilitation. At one point Henry (Ford) roams New York City unsupervised.
He takes in a movie but doesn't know the difference between a real movie and an adult movie. The Capri Cinema, where Henry watches a porno, no longer exists according to On the Set of New York.
A movie theater inspired Stephen King's 'Sleepwalkers'
King said he got the idea for Sleepwalkers when his son asked out a girl working at a movie theater. Of course, King imagined what if his son was a monster?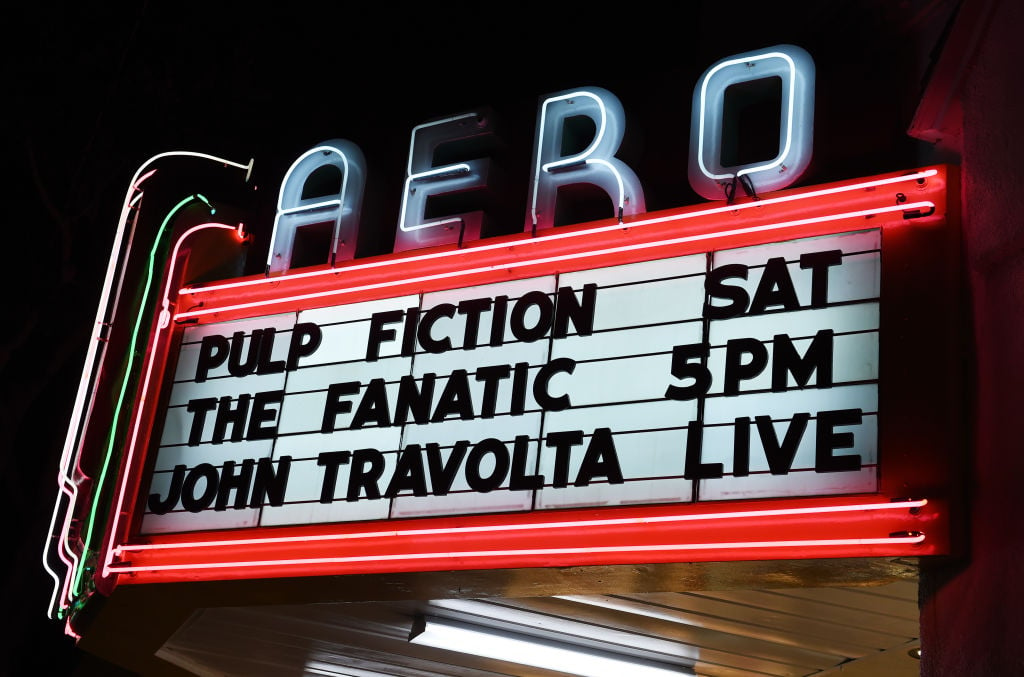 So when Sleepwalkers begins, Charles Brady (Brian Krause) asks Tanya Robertson (Madchen Amick) out while she's working at the Aero theater, which still shows classic movies with guest speakers in Santa Monica, California. 
Two movie theaters played one in 'Last Action Hero'
In Last Action Hero, Arnold Schwarzenegger's fictional character Jack Slater has to save the real Schwarzenegger from a movie bad guy who wants to eliminate him. They go to the premiere of Jack Slater IV. The exterior with the celebrity filled red carpet was the RKO Twin Theatre in New York City.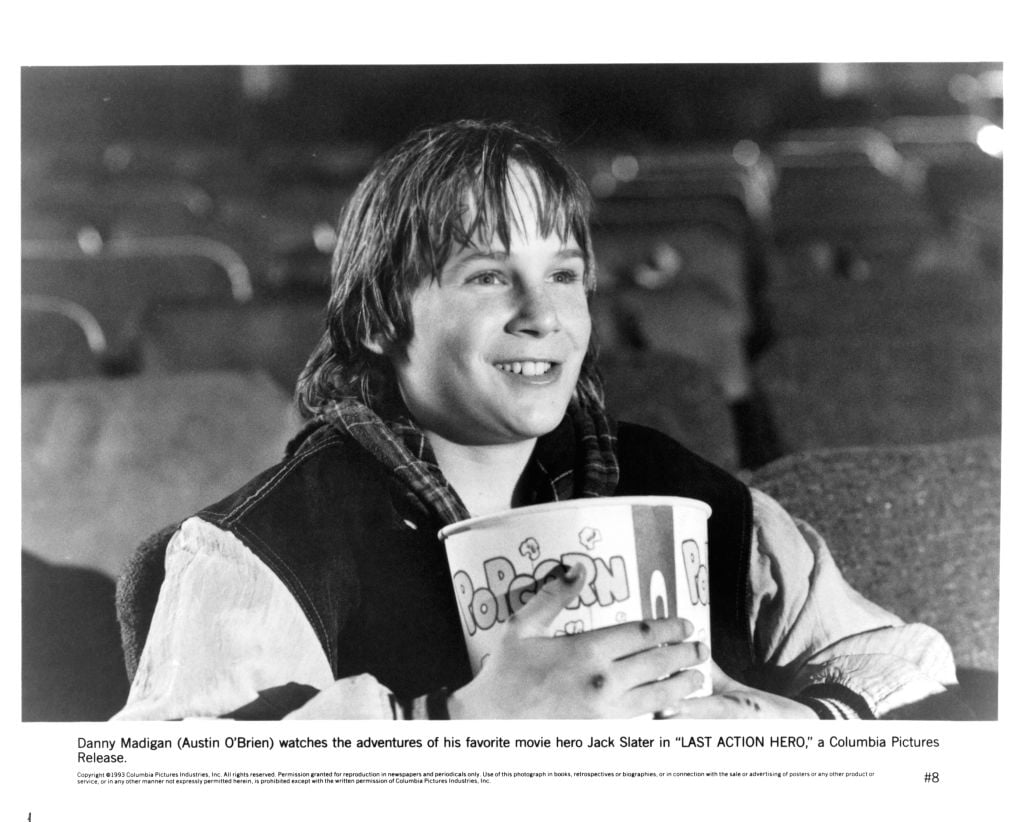 The action sequence inside, in which Slater comes face to face with Schwarzenegger, was the Terrace Theater in Long Beach, California. The "real world" of Last Action Hero actually crossed the country in one edit! The Pandora Theater, where Danny Madigan (Austin O'Brien) watches Jack Slater III and gets his magic ticket was the Orpheum Theater in New York. 
The viral movie theater in 'Outbreak'
This is the very movie that should warn cities about reopening movie theaters. The fictional Motaba virus spreads through the town of Cedar Creek via a sneeze in a movie theater. The fictional State Theater is actually the Ferndale Reperatory Theater hosting live performances in Ferndale, California. 
Revenge against the Nazis in 'Inglourious Basterds'
When the Nazis hold the premiere of their propaganda film Nation's Pride at La Gamaar Cinema, owner Shoshana (Melanie Laurent) hatched a plan to kill them all. Even Hitler (Martin Wuttke) and Goebbels (Sylvester Groth) were in the audience.
Set Decorator Sandy Wasco SDSA and Production Designer David Wasco built La Gamaar Cinema on the backlot and stages of Studio Babelsberg in Berlin according to The Set Decorators Society of America. Like the Kingston Falls movie theater, when Shoshanna burned La Gamaar Cinema to the ground with the Nazis inside, La Gamaar was gone for good.
This movie theater was not 'The Final Destination'
You're not safe anywhere in a Final Destination movie. The survivors try to relax in a movie, but death comes for them causing a chain reaction that blows up the whole fictional Tagert Theatres. 
It's hard to pinpoint the theater that doubled for Tagert, but The Final Destination filmed mostly in New Orleans, Louisiana unless this sequence was part of the Orlando, Florida reshoots. Also note this was not the final Final Destination. Final Destination 5, or Fivenal Destination if you will, came out after.
The movie theater in 'The Shape of Water'
Elisa (Sally Hawkins) lives above a movie theater, where the amphibian man (Doug Jones) took in a show. They filmed those scenes at the Elgin Theater, a live performance house in Toronto, Ontario, Canada. The Toronto International Film Festival still uses it to screen movies.
An '80s movie theater in 'Stranger Things'
Stranger Things turned the Gwinnett Place Mall in Duluth, Georgia into Hawkins, Indiana's Starcourt Mall. Set in the summer of 1985, the kids hide out in a screening of Back to the Future. 
Cinema Treasures lists both a Movies at Gwinnett and Gwinnett Place Movies in Duluth. Movies at Gwinnett was demolished long before Stranger Things filmed there. Gwinnett Place Movies stood vacant until 2019 so it's possible they used those interiors.
The Crestmont Theater in '13 Reasons Why'
Clay (Dylan Minnette) and Hannah (Katherine Langford) work at this movie theater. 13 Reasons Why built the interior in an empty storefront according to Radio Times.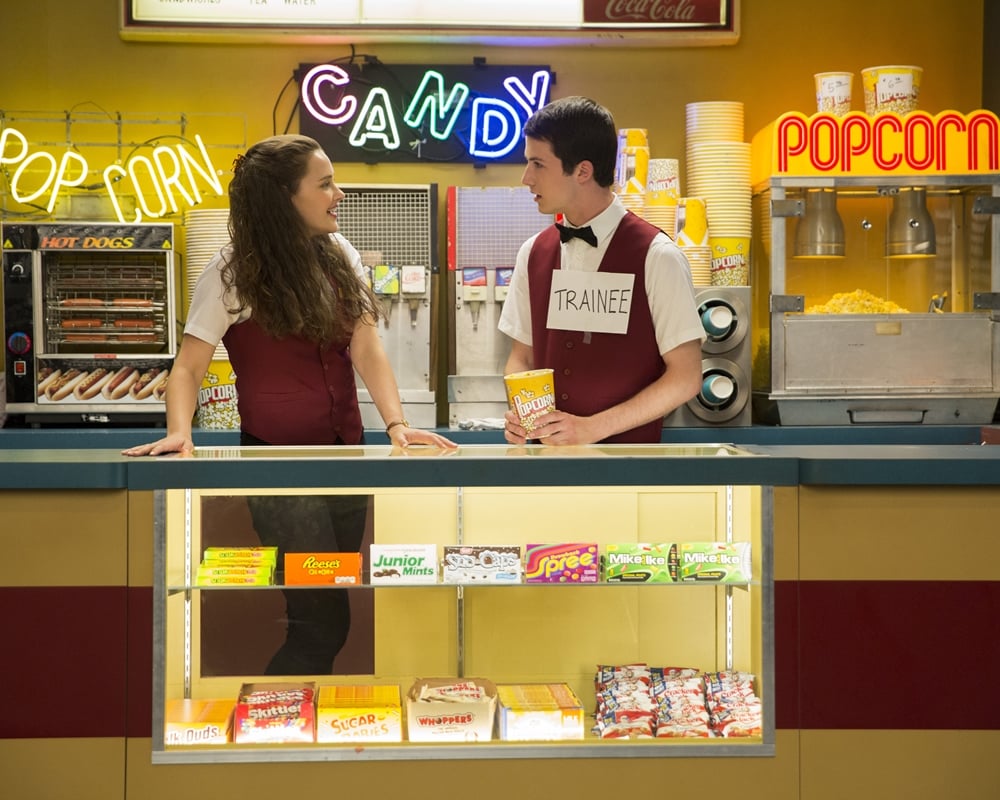 It's a pretty detailed theater lobby for one that doesn't actually sell popcorn to customers or lead to auditoriums. Jessica (Alisha Boe) went to work at the Crestmont in season 3.