What Movies Did Eddie Murphy and Martin Lawrence Work on Together?
Comedians Eddie Murphy and Martin Lawrence have long been close pals, but they have a professional relationship, as well. Back in the '90s, the actors starred in two movies together. Here's more on Eddie Murphy and Martin Lawrence's films and their friendship.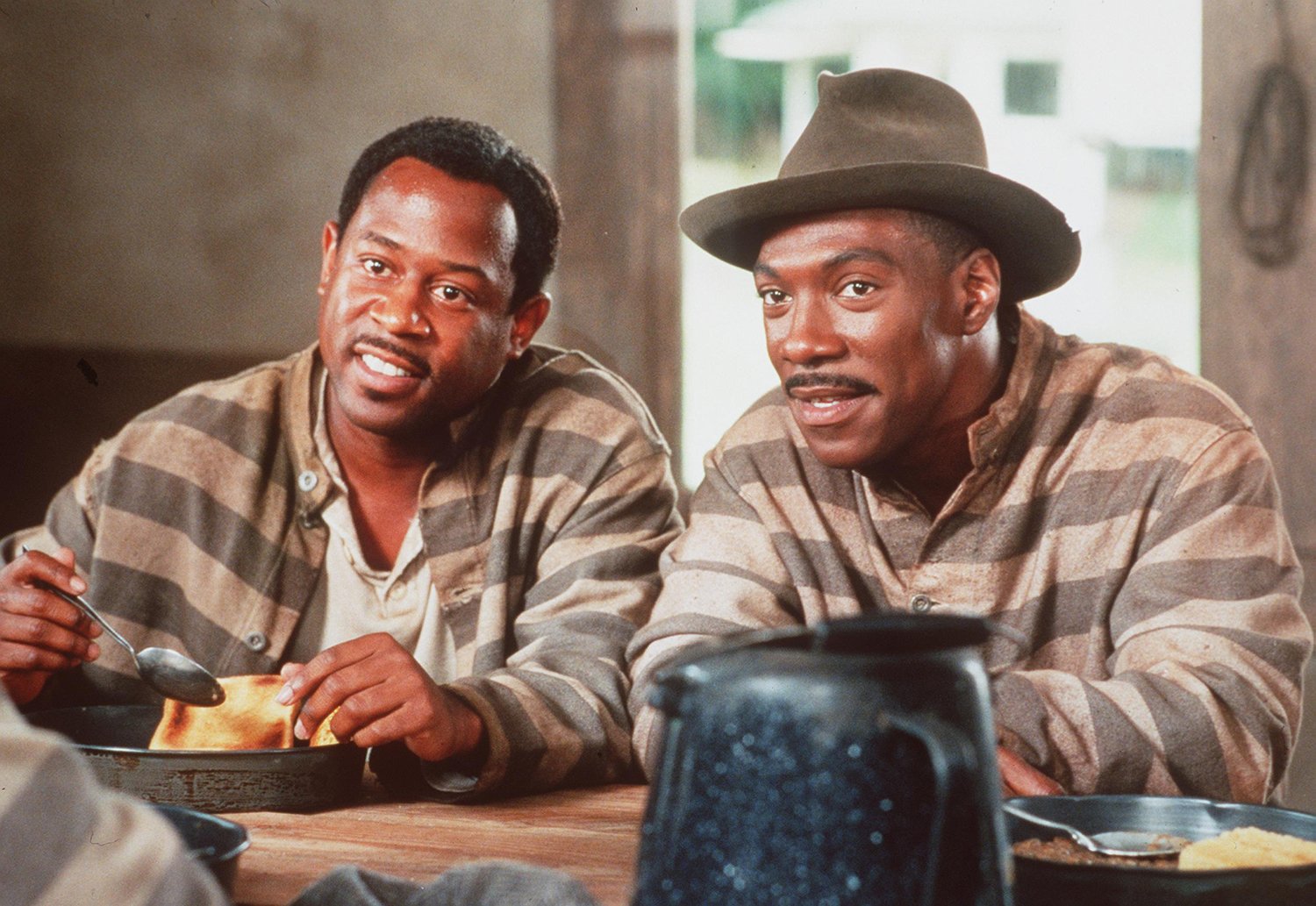 Eddie Murphy and Martin Lawrence first starred together in 1992's 'Boomerang'
Boomerang, a romantic comedy directed by Reginald Hudlin, saw Murphy play an advertising executive and womanizer named Marcus Graham. Marcus notoriously lied to women to seduce them but never wanted to commit to anyone until he found the "perfect" woman who met his very high standards. Meanwhile, Lawrence played Marcus's close friend Tyler, who often tried to convince Marcus that he judged women too harshly.
Marcus's company hired a woman named Jacqueline (Robin Givens) to become his new boss, and Marcus quickly learned that she treated others the same way he treated women. He became determined to win Jacqueline over, but she continued to play with his feelings.
Meanwhile, Marcus sought comfort from his coworker Angela (Halle Berry) and quickly fell for her, too. Much of Boomerang portrayed the businessman's confusion regarding his feelings as he bounced between Jacqueline, someone like him, and Angela, who wanted him to be better.
In an interview with Entertainment Weekly, Hudlin reflected on what it was like to work with Murphy, Lawrence, and other comedian cast members like David Alan Grier and John Witherspoon.
"You have the funniest people in the world. If there was a day where it was Eddie and David and Martin? David and Martin would stand together, and they would just be doing something funny, so you would notice the crew gathering around them because they just wanted to eavesdrop on whatever comedic brilliance they were doing," the director said. "And then when Johnny Witherspoon and Bebe Drake joined the group, it was like now this is literally too much funny. This is a completely unbearable amount of funny."
Murphy and Lawrence reunited for 'Life' in 1999
Later, in 1999, Murphy and Lawrence took on starring roles in Ted Demme's comedy-drama Life. Told from the perspective of a prison inmate named Willie Long (Obba Babatundé), Life followed Willie's friends Ray (Murphy) and Claude (Lawrence). The two inmates were wrongfully convicted of murder after an incident at a bar in Mississippi. At the time, Ray and Claude were strangers, but their friendship grew strong during their time in prison.
Life looked back on Ray and Claude's story after their deaths, starting from the night they met. Claude had been a serious businessman, while Ray was a petty criminal. The two owed money to a Manhattan club owner and decided to transport bootlegged goods to pay off their debt, but the plan went wrong, and they were framed for murder.
From there, viewers saw Claude and Ray's trial and their time at the Parchman Farm prison. The two spent 65 years at the facility, often arguing with each other about a way to escape.
Guy Torry, who played fellow inmate Radio in Life, told VladTV that working with "geniuses" Lawrence and Murphy was "the most fun" he'd had on a movie set.
"For a young comic to work with geniuses like that…I felt like a young Kobe playing with Jordan [and] Shaq," he said.
Murphy's son Eric and Lawrence's daughter Jasmin have started dating
Murphy and Lawrence's ties have since grown even stronger, as the two friends' children have started dating each other. Lawrence's oldest daughter, Jasmin, 25, made her relationship with Murphy's son, Eric, 32, Instagram-official on July 12, 2021.
"Happy birthday, my love! I'm so incredibly blessed to know you, to love you, and to have you by my side," she wrote.
Meanwhile, back in June, Eric posted that he was "head over heels in love" with Jasmin.
RELATED: Eddie Murphy Can Thank Sylvester Stallone for His Breakout Role in 'Beverly Hills Cop'